Yorkshire and England all-rounder Tim Bresnan is on the comeback trail
Tim Bresnan hopes to play a full part in England's schedule after making good progress recovering from his elbow injury.
Last Updated: 03/04/13 3:39pm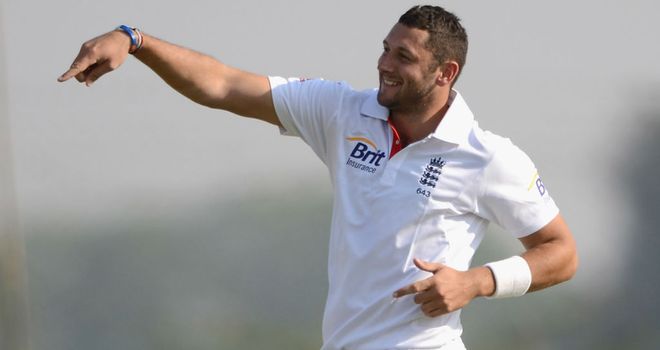 The Yorkshire all-rounder missed England's recent tour of New Zealand after having surgery but feels his elbow is now stronger than ever.
He cannot wait to get back to full fitness and play his full part for Yorkshire and England, as Alistair Cook's side prepare to take on New Zealand at home before back-to-back Ashes series.
Bresnan told Sky Sports: "(I'll be back in) a couple of weeks I think, all being well. We've got a three day friendly against Lancashire so I'm targeting that game, I should be able to play a full part in it.
"It's coming back strong now. I'm back bowling in the nets against the lads so I'm looking forward to getting out there and playing some cricket.
"It's always frustrating being injured. You've just got to take it on the chin, its part and parcel of the game - you are going to get injured at some point, hopefully not that often and hopefully not that severe but the way international cricket is these days, you play so much of it, it's inevitable really."
He added: "I can't wait to get going now, the elbow's feeling a lot better than it was before the operation, even though I'm not fully fit yet.
"So I'm thinking I can bowl like this from 80 per cent, what am I going to be like from 100 per cent? So I'm fully looking forward to getting stuck in."