Warwickshire coach Dougie Brown backs Jonathan Trott to return for England
Warwickshire coach Dougie Brown is confident that Jonathan Trott will return to the England side this summer.
Last Updated: 07/01/14 11:32pm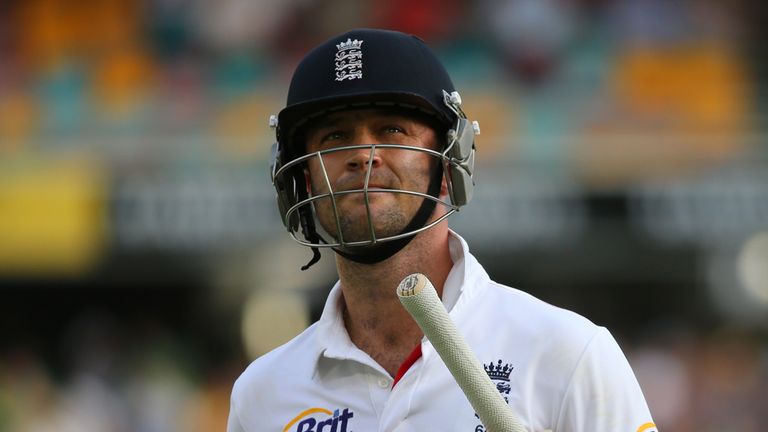 Trott was forced to leave the disastrous Ashes tour of Australia after the first Test after admitting he was suffering from a stress-related illness, and he immediately returned home for treatment.
The England and Wales Cricket Board are currently managing Trott's recovery, and Brown insists the batsman will be given all the help he needs in his rehabilitation.
"We need to make sure all of our players are being catered for in an appropriate way," Brown told Sky Sports News Radio.
"The guys coming back from Australia are going to be pretty downbeat, a little bit wounded, and we need to accept that.
"We've got to make sure when they come back into our environment that we're as positive as we can be and give them everything they need to prepare for the summer.
"I've got no doubt that the likes of Ian Bell and Jonathan Trott will play a reasonable part in the start of our domestic English summer.
"We've not seen much of Trotty at this point. I have spoken to him and we're just giving him the space he needs. He knows he can come into our environment at any stage and we'll be respectful of what his requirements are.
"The ECB are doing really well monitoring his rehabilitation from his situation, and we're leaving them to manage it.
"A lot of our guys spoke to him and spent time with him over Christmas and I think he's recovering pretty well. Just when he's going to get back to cricket full-time, we're not really sure.
"But I'm sure he's in a decent place relative to where he needs to be at the moment, and I've got no doubt he'll be back playing his best cricket for England pretty soon."
Chopra ready
Brown also tipped Varun Chopra for a Test call-up this summer and backed the opener to impress for the England Lions on their forthcoming tour of Sri Lanka.
"When you can bring guys across the finishing line and give them an opportunity to go on and play at the highest level, that's fantastic," Brown added.
"Varun Chopra is a very, very talented player. He's still quite young, but he's scored over 1,000 County Championship runs the last three years and nobody else in the country has done that.
"He's not quite at the end of his journey by any stretch. He's going out to Sri Lanka with the England Lions from the end of January to the beginning of March and let's hope he has a very successful time.
"Listening to the chat coming from the England camp, if people are playing solid cricket going through to the start of the domestic summer, then they put themselves very much in the mix for selection for the Test series against Sri Lanka and India.
"We've no doubt that Varun will go out and do very well, and let's hope he can stick his hat in the ring as well."