Domestic bliss on Sky
Sky Sports will show each county at least three times after confirming 65 live domestic fixtures for 2012.
Last Updated: 18/01/12 10:28am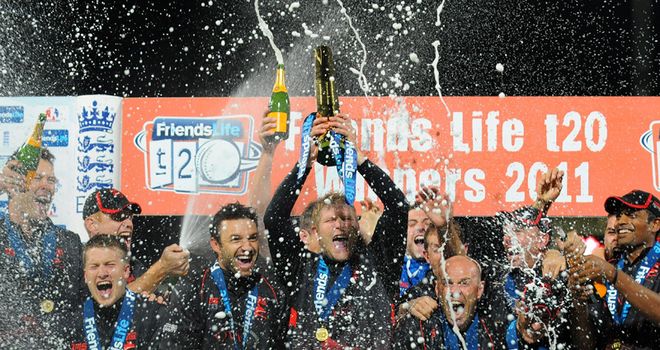 Sky Sports has confirmed 65 live fixtures as part of its 2012 domestic cricket coverage.
Each county will be shown at least three times this summer, in matches from the Clydesdale Bank 40, LV= County Championship and Friends Life t20.
The season starts with a repeat of the 2011 Clydesdale Bank 40 final between champions Surrey Lions and Somerset, two of the most dynamic and exciting teams in the game.
The Friends Life t20 competition begins when three-time champions Leicestershire Foxes play against local rivals Nottinghamshire Outlaws, who will include former Leicestershire star James Taylor.
Plus, two matches from the LV= County Championship will be shown this summer, including the champions Lancashire at Sussex.
The live schedule includes:
CLYDESDALE BANK 40: Coverage begins on May 4 and features 35 live group matches, including 21 day-nighters, both semi-finals and the final live from Lord's in September. For the first time, Sky Sports will show the Netherlands who play against Gloucestershire in Amstelveen live on July 27.
FRIENDS LIFE t20: Friends Life t20 is back to a format of 10 group games with the 18 counties split into three regional groups. Sky Sports will show 25 games live, including seven day-nighters, all four quarter-finals and for the first time, Finals Day is live from the SWALEC Stadium in Cardiff on August 25.
LV= COUNTY CHAMPIONSHIP: The first of two matches from the LV= County Championship to be shown live on Sky Sports is Lancashire at Sussex on May 9-12, which is eight days prior to England's first Test of the summer. Sky Sports will also cover the final round of matches in September.
Paul King, Cricket Executive Producer for Sky Sports, said: "Summer 2012 looks set to be one of our best ever and there are so many stories in the county game. Can Somerset finally win a trophy? Are the glory days back at Old Trafford after Lancashire's County Championship win? Will there be another surprise winner of the t20?
"Our commitment to cricket continues with England looking to retain that number one spot in Test cricket and there's the challenge of the Aussies in the one-day game. There are internationals in Edinburgh and Belfast, four live women's games and the best of the amateur teams in the Cockspur Cup finals day. I can't wait."
2012 County Cricket live on Sky Sports:
Clydesdale Bank 40
Friday May 4: Surrey v Somerset
Sunday May 6: Yorkshire v Kent
Monday May 7: Middlesex v Gloucestershire
Thursday May 24: Sussex v Yorkshire
Thursday May 31: Hampshire v Nottinghamshire
Friday June 1: Kent v Warwickshire
Sunday June 3: Durham v Nottinghamshire
Monday June 4: Essex v Gloucestershire
Tuesday June 5: Lancashire v Worcestershire
Wednesday July 11: Warwickshire v Sussex
Thursday July 12: Welsh Dragons v Somerset
Friday July 13: Northamptonshire v Derbyshire
Saturday July 14: Leicestershire v Worcestershire
Sunday July 15: Hampshire v Durham
Monday July 16: Lancashire v Middlesex
Tuesday July 17: Nottinghamshire v Hampshire
Wednesday July 18: Essex v Middlesex
Friday July 27: Netherlands v Gloucestershire
Saturday July 28: Somerset v Welsh Dragons
Sunday July 29: Worcestershire v Essex
Monday July 30: Lancashire v Gloucestershire
Tuesday July 31: Derbyshire v Kent
Wednesday August 1: Nottinghamshire v Surrey
Tuesday August 7: Warwickshire v Yorkshire
Wednesday August 8: Derbyshire v Sussex
Thursday August 9: Northamptonshire v Yorkshire
Friday August 10: Welsh Dragons v Hampshire
Saturday August 11: Durham v Surrey
Monday August 13: Warwickshire v Kent
Tuesday August 14: Hampshire v Somerset
Wednesday August 15: Sussex v Warwickshire
Tuesday August 21: Surrey v Welsh Dragons
Wednesday August 22: Kent v Yorkshire
Thursday August 23: Essex v Lancashire
Monday August 27: CB40 TBC
Saturday September 1: CB40 Semi Finals (both)
Saturday September 15: CB40 Final
Friends Life t20
Tuesday June 12: Leicestershire v Nottinghamshire
Wednesday June 13: Somerset v Warwickshire
Thursday June 14: Sussex v Hampshire
Friday June 15: Warwickshire v Worcestershire
Sunday June 17: Somerset v Northamptonshire
Monday June 18: Derbyshire v Yorkshire
Wednesday June 20: Surrey v Hampshire
Thursday June 21: Middlesex v Essex
Monday June 25: Lancashire v Durham
Tuesday June 26: Kent v Middlesex
Wednesday June 27: Leicestershire v Yorkshire
Thursday June 28: Essex v Sussex
Saturday June 30: Hampshire v Surrey
Monday July 2: Gloucestershire v Welsh Dragons
Tuesday July 3: Nottinghamshire v Lancashire
Thursday July 5: FPt20 TBC
Friday July 6: FPt20 TBC
Sunday July 8: FPt20 TBC
Tuesday July 24: FPt20 Quarter Final x 2
Wednesday July 25: FPt20 Quarter Final x 2
Saturday August 25: FPt20 Finals Day
LV= County Championship
Wednesday May 9 - 12: Sussex v Lancashire
Tuesday September 11 - 14: TBC
Click here for all of Sky Sports' confirmed live cricket fixtures
County cricket is part of Sky Sports' live cricket schedule for 2012, which includes all of England's home Investec Test Series, NatWest Series One-Day Internationals and NatWest International T20 matches against the West Indies and South Africa. Sky Sports will also show England's NatWest International ODI matches against Australia and an ODI against Scotland in August.
The England Women's team, current holders of the ICC Women's Cricket World Cup, will feature in four NatWest Women's International t20 matches live on Sky Sports over the summer. They will play two matches against the India Women's side in June, live from Canterbury and then Chelmsford. September sees England face the West Indies Women's team in two t20 matches at Emirates Durham ICG and then Old Trafford.
In the Sky Sports commentary box for county cricket are some of the biggest names from the sport including Michael Atherton, Nasser Hussain, Bob Willis, David Lloyd, Michael Holding, Nick Knight and Paul Allott. County coverage is presented by Ian Ward and Charles Colvile with daily reports, news and views featured on Sky Sports News HD and skysports.com.
Viewers can also keep up-to-date with Sky Go which allows Sky TV customers with Sky Sports access across a range of devices. Customers are be able to watch live streaming of every Sky Sports channel on laptops, computers, tablet and mobile devices. Sky Sports customers will be able to watch an outstanding line-up of live cricket on the move and free of charge.