The Ashes: Steve Magoffin not expecting a belated chance to shine with Australia
Prolific Sussex seamer Steve Magoffin accepts his chances of ever getting an Australia call are all but over.
Last Updated: 15/10/13 11:57am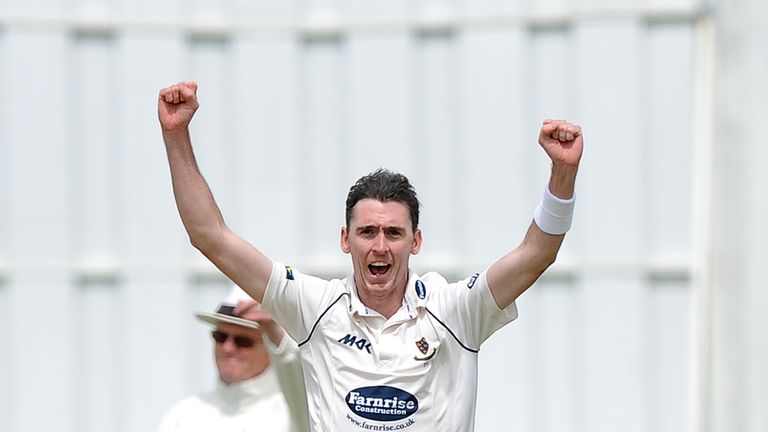 Magoffin hoped the inclusion of Chris Rogers in their Ashes squad this summer put him back in the frame for a belated debut, but he ended up enjoying a second wicket-filled season for Sussex instead.
The 33-year-old claimed 63 Division One wickets, a total beaten only by England discard Graham Onions, but it appears likely that neither will be involved in the reverse Ashes series which starts next month.
In an interview with the ECB website, Magoffin said: "I'm probably in a different scenario to Chris Rogers where I've probably made the move over here to England on a permanent basis as much for cricket but also for family reasons as well.
Finished
"I've had an out-block of time since I played domestic cricket in Australia and I guess that probably means I might not be available for selection any more but I'm not to sure what the rules are.
"The time was right for me to stop playing (Sheffield) Shield cricket back in Australia. They've only since gone down the road of picking guys like Rogers, who had performed well over long periods of time.
"In hindsight, if I'd stayed another year or two perhaps another opportunity might have come up. I spent nearly 10 years playing domestic cricket in Australia.
"It feels like I gave it my all in those years and performed well at certain times to perhaps get a call-up, but it didn't arrive so I can't really do much about that.
"It was the right time for a lot of reasons for me to finish playing back in Australia. I've had a long career with Western Australia, which finished, and then I had one more year back with Queensland and had some success in the shield there.
"And it was probably a nice way to cap off my career over there and take up a new challenge over here. It's been a great challenge and one I've really enjoyed. I'm certainly hoping for a few more years over here as well."