County Championship: Division One guide
Click here for Division Two guide
Last Updated: 04/04/14 1:51pm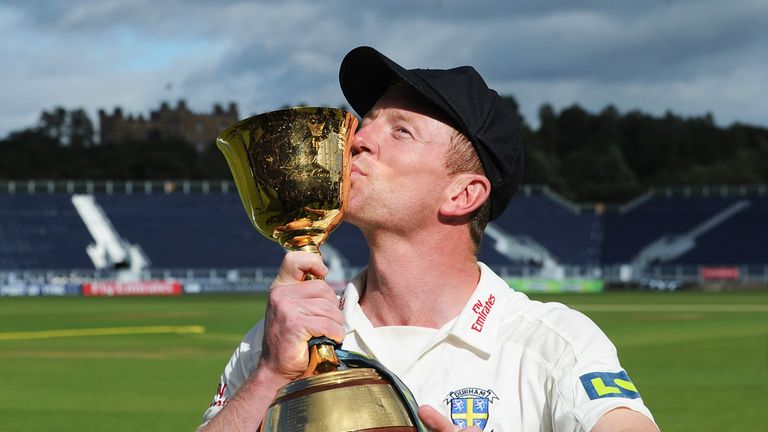 DURHAM
Captain: Paul Collingwood (LVCC), Mark Stoneman (limited-overs)
Head Coach: Jon Lewis
Ins: Stuart Poynter, Graham Clark
Outs: Steve Harmison (retired), Will Smith (Hampshire), Mitchell Claydon (Kent), Callum Thorp (released)
Overseas: John Hastings
Sky Sports exclusives:
Onions: I'm good enough for England
Lewis: We're getting better
Durham were a class apart in Division One last year, winning the title by 24.5 points thanks to a continuation of the superb form that began late in the previous season when Paul Collingwood took over the captaincy and steered them out of relegation trouble.
The third County Championship triumph in the north-east county's 22-year first-class history was founded on their home form at the Riverside, where an all-conquering seam attack led them to six of their 10 wins.
Graham Onions was the leading wicket-taker in the top flight with 70 and received excellent back-up from Chris Rushworth (54) and Ben Stokes (42).
Onions was overlooked for England's dismal Ashes tour, one of the few bright spots of which was Stokes' emergence as a Test all-rounder, but both could be regularly required by their country this summer, as indeed might leg-spinning all-rounder Scott Borthwick.
Stokes, in any case, will miss the start of the summer due to a broken hand suffered when he punched a locker in frustration at a cheap dismissal on England's pre-World Twenty20 tour of West Indies.
With club legend Dale Benkenstein retiring to take up a coaching role with Hampshire and Callum Thorp, Will Smith and Mitchell Claydon all moving on, there is a clear gap in experience and leadership that will need filling.
To that end, opening batsman Mark Stoneman - who along with Borthwick passed 1,000 first-class runs last summer - has succeeded Benkenstein as limited-overs captain.
The plan remains for Collingwood to lead the side in the championship but, his success as Scotland's coach and a subsequent secondment with England's limited-overs team at the World T20, mean he is in the frame for a permanent role in the post-Andy Flower England set-up.
Durham's only major signing is Australian John Hastings as overseas pro. Hastings is a powerful all-rounder and will join up after the Indian Premier League.
Key man: Graham Onions Since returning to action in 2011 following career-saving back surgery, Onions has been the outstanding bowler in the county game, taking 184 wickets in 35 championship matches. That has not been enough to interest the England selectors, with only one of his nine Test caps coming in the last four years, a situation from which Durham have benefited.
Bob says: "They'll struggle to retain their title with an England recall in the pipeline for Ben Stokes, when he's fit again, and possibly Graham Onions. That will certainly deplete their attack and I can't see Paul Collingwood working his magic again even if Durham's home pitch does help their bowlers. I hope, very much, that some of their youngsters develop. Recruiting John Hastings is a smart move as the other counties close the gap."
One to watch: Scott Borthwick "His selection for England was probably a brainstorm but he equipped himself well and now has a taste for it; he picked up wickets against the MCC in Abu Dhabi recently so all certainly bodes well."
LANCASHIRE
Captain: Glen Chapple
Head coach: Peter Moores
Ins: Jos Buttler (Somerset)
Outs: Stephen Moore (Derbyshire), Gareth Cross (released)
Overseas: TBC
Lancashire returned to Division One at the first time of asking in 2013 and their mission this season will be to stay there.
The bowling attack is solid, with Glen Chapple, Kyle Hogg and Simon Kerrigan all taking more than 50 wickets last season. This year they will also have former Zimbabwe international Kyle Jarvis alongside them, and the fast bowler is a useful addition, particularly as a death bowler in one-day cricket.
Much depends on veteran Chapple's creaking legs. His shrewd captaincy and control with the ball is vital to Lancashire's chances of thriving in the top flight.
It is just as well the bowling is so potent, because the batting looks a little vulnerable. Simon Katich and Ashwell Prince were the rocks last season, but the former has departed, and Lancashire do not yet have a replacement as overseas player.
There is youthful promise in Luis Reece after he scored 722 runs in 10 matches last season - can he cut it in the top flight? But Lancashire's batting order will not be giving Division One bowling line-ups sleepless nights, particularly as the one man who can cause kittens - their eye-catching summer signing Jos Buttler - may not be seen much if England's selectors see him as their long-term Test wicketkeeper.
There is unlikely to be back-to-back four-day titles to celebrate, but Lancashire do look increasingly dangerous in one-day cricket and silverware is not an unrealistic ambition there.
Last summer they reached the last eight of the Twenty20 Cup and finished second in their CB40 group. There is real firepower there with bat and ball, particularly if Buttler is available and Kiwi fast bowler Mitchell McClenaghan returns for the T20 Blast.
Key man: Kyle Hogg One of the most under-rated bowlers in county cricket, he took 60 wickets at 18.42 last season. He was virtually ever-present last year and can score useful runs down the order too. He has to stay fit.
Bob says: "Lancashire have a good squad and Peter Moores, who did an excellent job with them last year, will be expecting more of the same, although I don't know how much longer they can patch Glenn Chapple up with sticky tape! You always suspect that they might be short of runs but the younger players from the Academy have responded well. Weather will always affect Lancashire's chances of progressing in the top flight but I like the look of them. There's an outside chance that they might lose Jos Buttler straight away if he has a better start to the season that Matt Prior."
One to watch: Luis Reece "I was asked on the Verdict show over the winter to name my England side for the first Test in 2015 against the Aussies and I included Mr Reece because he's a spectacular prospect. He's got a very cool head on young shoulders, a little bit like Joe Root. Most Test cricket is played between the ears and I think he's got a very good temperament and I expect him to have a prolific season."
MIDDLESEX
Captain: Chris Rogers
Head coach: Richard Scott
Ins: Harry Podmore
Outs: Tom Smith (Gloucestershire), Corey Collymore, Adam London, Josh Davey (all released)
Overseas: Chris Rogers
Fraser encouraged by Finn form
Robson ready for England
Frustration was the order of the day at Lord's last season when a series of promising performances, most notably in the four-day game, ended with a total of zero trophies in the cabinet.
Sam Robson's emergence as a true England contender was the undoubted highlight, but apart from him and Australia opener Chris Rogers, there were few positives to take from their batting displays.
Players with undoubted talent - Joe Denly, Neil Dexter, Dawid Malan and John Simpson - all averaged 31 or less and with Eoin Morgan barely playing a Division One game is there much cause for extra optimism this season?
On the bowling side of things, injuries were the big problem, with James Harris - not for the first time in his career - and Toby Roland-Jones managing 10 and eight games respectively. They both had success in bursts but that wasn't enough with runs in short supply.
Tim Murtagh was his usual reliable self, taking 60 wickets, and Ollie Rayner emerged as a true spin threat, including a brilliant best of 15-118 against local rivals Surrey, much to the delight of the handful of visiting fans at the Kia Oval.
And then there is Steven Finn. Once England's up-and-coming fast bowler, then a laughing stock for knocking the bails off in his delivery stride and now trying to rebuild his career after leaving the Ashes squad in Australia 'for his own good'.
Add him to Murtagh, Roland-Jones and Harris and you have the makings of a fine seam attack. Question marks on all of them make it tough to be too confident but it appears they are well set if, and it's a big if, their batsmen score enough runs.
Key Player: Sam Robson The opener s key in so many ways. He finished third in total Division One runs last season with 1,180 and those runs would be almost impossible to replace if he gets into the England Test squad. The Australia-born right-handed bat scored three centuries for the England Lions in Sri Lanka over the winter and is sure to be in the mix to face Sri Lanka and India. With that go Middlesex's hopes.
Bob says: "England won't recall Steven Finn straight away although they will be desperate to find a paceman after what Mitchell Johnson did to them in the winter. It would be an amazing transformation to go from 'unselectable' (in Ashley Giles' words) to being an automatic pick for England again. Finn and Toby Roland-Jones, plus Ollie Rayner, make a pretty good attack and there's also James Harris to factor in if he can stay fit."
One to watch: Eoin Morgan
"I'm a big fan of what Gus Fraser is doing as Managing Director of Cricket at Middlesex. Clearly Chris Rogers has been a tremendous asset for them and with Eoin Morgan busting a gut to get back into the Test team I think Middlesex will go well."
NORTHAMPTONSHIRE
Captain: Stephen Peters
Coach: David Ripley
Ins: Graeme White (Nottinghamshire), Maurice Chambers (Essex)
Outs: Lee Daggett (retired), Con de Lange, Sam Sweeney, Luke Evans, Christian Davis (all released)
Overseas: TBC
Sky Sports exclusives:
Ripley relishing step up
What a difference a year makes. After winning just four matches in all competitions in 2012, Northants produced one of their finest hours by landing the Twenty20 title on Finals Day last summer.
It was a remarkable turnaround from a side described at the start of the season as "an embarrassment" by one-day captain Alex Wakely, whose long-term Achilles injury has marred pre-season.
And the season of success didn't end there, Northants also clinched promotion to Division One of the County Championship after a couple of near-misses in recent years.
It seemed almost every member of the squad played their part at some stage. Evergreen duo Andrew Hall and David Sales topped the run-scoring charts while all-rounders Steven Crook and David Willey, plus overseas recruit Trent Copeland, also proved inspirational.
First-class captain Stephen Peters averaged 52.50 in his benefit year, while Aussie pace bowler Copeland, who took 45 wickets at an average of 18 in two spells for the club, was arguably the signing of the season.
Breakthrough player of the year Willey also helped himself to 45 wickets but Northants will be sweating on the eccentric all-rounder's fitness as he continues to battle with an ongoing back complaint.
Worryingly, though, Copeland will not be back this summer. Jackson Bird was signed as his replacement - the promptly broke down on the eve of the campaign. Maurice Chambers could now prove a shrewd bit of business if he hits his straps.
With injuries lingering and Copeland unable to return, staying in Division One and defending their Twenty20 title both look tough asks for Northants, but a solid team with a winning habit could spring a shock or two throughout the summer.
Key player: Steven Crook The Australia-born all-rounder will be keen to show that his 2013 wonder season was no fluke. Wickets and runs will be invaluable in all three formats.
Bob says: "Alex Wakely's injury, which looks like it will rule him out of the whole season, only compounds my suspicion that Northants will struggle. Trent Copeland did a brilliant job for them with the ball last season but I don't think they've got strength enough in either department to avoid going straight back down again. But I'm a huge admirer of Northants. With David Smith as CEO and David Ripley doing the coaching, the David Capel era is well and truly gone and they are performing much better as a unit. I don't think, however, they've got the class about them to trouble the top sides, no matter how hard they try."
One to watch: David Willey "There'll be plenty of people wishing David well and hoping he continues to impress - and not just in the one-day format either. He offers something different and although he doesn't have serious pace he has enough to produce match-winning spells."
NOTTINGHAMSHIRE
Captain: Chris Read
Coach: Mick Newell
Ins: Phil Jaques (Yorkshire), Gary Keedy (Surrey)
Outs: Graeme White (Northamptonshire), Ben Phillips (released)
Overseas: Peter Siddle
A long-awaited one-day trophy provided welcome cheer for Notts, who narrowly avoided relegation from Division One despite being touted as title favourites.
While relegation never looked a possibility until the final stages of the 2013 season a squad boasting the likes of James Taylor, Samit Patel and Michael Lumb will class the campaign as a major disappointment.
The Outlaws mustered just two Division One wins last term - against relegated duo Derbyshire and Surrey at Trent Bridge - as wickets were in short supply away from home.
No bowler passed 50 wickets and it therefore comes as no surprise that Notts have added firepower by recruiting a seamer as their overseas in the form of Australia's Peter Siddle, while Gary Keedy provides an experienced spin alternative to Patel.
Coach Mick Newell, who has publically admitted he has one eye on the England vacancy, labelled Siddle his "No 1 target" and the Victorian will aim to ease the burden on 38-year-old Andre Adams, who has shouldered pace bowling responsibilities at Trent Bridge for the past few seasons.
As batting line-ups go, Notts' takes some beating. Lumb and Patel passed 1,000 runs last summer and Taylor and Steve Mullaney were close. Add in Phil Jaques, who was drafted in as cover for Alex Hales prior to the Indian Premier League auction, and you have quite a top order.
They look primed for another assault on a one-day title, however it is hard to see Notts challenging for first-class honours, especially if England come calling for Taylor.
Key player: Samit Patel He was the main plus point in an otherwise ordinary summer for Notts last year. His runs and wickets remain key in all formats and was the main reason Notts tasted one-day victory at Lord's against Glamorgan in September.
Bob says: "I was surprised they finished seventh last season and they'll do better this time around, surely? Alex Hales and Michael Lumb have both put their county ahead of the IPL and I don't think James Taylor will get his England spot back in the short-term, so that's all in their favour. Peter Siddle is a significant signing because Notts are a bit light in the bowling department - the Aussie will knock over quite a lot of county batsmen - but they need more consistency from the likes of Ajmal Shahzad and Harry Gurney. I don't think Notts will be Championship contenders."
One to watch: Steven Mullaney "Steven is a very handy cricketer indeed - he certainly boxes above his weight - and seemed naturally suited to batting up the order when given the chance last season without detracting from his wicket-taking ability."
SOMERSET
Captain: Marcus Trescothick
Head Coach: Andy Hurry
Ins: Johann Myburgh
Outs: Jos Buttler (Lancashire), Gemaal Hussain (released)
Overseas: Alviro Petersen
Sky Sports exclusives:
Compton chasing early runs
Somerset only narrowly avoided relegation from Division One of the County Championship in 2013 and again came up empty handed in the limited-overs competitions.
Consistency in all formats - if no actual silverware to show for it - had previously been the hallmark of Marcus Trescothick's reign as captain, so the question is whether it was a rare off-year or the start of a trend?
Trescothick, now 38, will carry on for a fifth season in charge but it will almost certainly be his last at the helm unless the club end a trophy drought that dates back to the 2005 Twenty20 Cup win.
Local boy Jos Buttler, England's established first choice wicketkeeper in limited-overs cricket, has left for Lancashire in an effort to improve his Test prospects after being unable to wrest the gloves from Craig Kieswetter in Somerset's championship line-up.
Aside from Buttler's exit, there have been few major changes to a squad that combines an ageing spine and lots of unproven young talent - and not much in between.
South African opener Alviro Petersen returns for a full season as overseas pro and Kolpak all-rounder Johann Myburgh has joined after previous spells with Hampshire and Durham.
An upturn in home form in the Championship is a must. Somerset managed only one victory at Taunton - albeit an important one late in the season that sent Surrey towards relegation - to go with three defeats and four draws.
That provided a measure of revenge for Surrey's rather controversial quarter-final win in the Friends Life t20, a result that ended Somerset's four-year run of Finals Day appearances.
Key man: Craig Kieswetter. A huge talent who needs to add consistency to his game, both in terms of run scoring and his keeping. With Buttler's shadow no longer looming over him, the stage is free for Kieswetter to make his own case for an international recall.
Bob says: "I always tend to think Somerset will fare better in one-day cricket than four-day cricket, especially as it's so hard to bowl sides out twice at Taunton. They can paper over the cracks in the shorter forms but when it comes to the Championship I'm not sure they've got the penetration with the ball to take 20 wickets often enough. They will, of course, get stacks of runs from their powerful line-up. Jamie and Craig Overton are locked into new deals and I liked the look of Lewis Gregory when he first came on the scene but he doesn't seem to have blossomed as he might have done. Maybe this is his time."
One to watch: Nick Compton "Jonathan Trott-like in his ability to churn out runs at county level, he'd love to show the England selectors what they're missing out on. I don't imagine a recall is in the offing but you never know - if England go home early from the ICC World Twenty20, Paul Downton may be of a mind to give the whole set-up a big shake-up."
SUSSEX
Captain: Ed Joyce
Head Coach: Mark Robinson
Ins: Steffan Piolet (Warwickshire), Jon Lewis (Surrey)
Outs: Monty Panesar (Essex), Joe Gatting (Hampshire), Andrew Miller (released)
Overseas: Steve Magoffin, Yasir Arafat (T20)
Sussex drew half of their matches in the County Championship last season but still managed to finish third, their highest position since back-to-back titles in 2006 and 2007.
Runs were not a problem down on the south coast: skipper Ed Joyce and opener Chris Nash both passed 1,000 in the championship, Luke Wells was just short of that mark and four others made at least 600.
The new-ball bowling was also formidable with Steve Magoffin, Chris Jordan and James Anyon sharing 172 Championship wickets almost equally but the lack of a reliable spinner - Monty Panesar had disciplinary problems before being allowed to join Essex - scuppered any chance of a title challenge.
Finishing third in their Yorkshire Bank 40 group and missing out on the semi-finals was slightly disappointing but that was nothing compared with the debacle that was the Friends Life t20 campaign. The Sharks lost all of their home games to end bottom of the South group with just one win, quite a come down for a side that had reached at least the quarter-finals for the previous four years, dating back to their 2009 triumph.
Changes have been kept to a minimum during the winter. The addition of a pair of seamers, Jon Lewis and Steffan Piolet, adds insurance against injuries and the likelihood of Jordan being required by England on a regular basis.
Sussex can expect to see plenty of wicketkeeper Matt Prior early in the season and, needing some strong performances to convince the selectors he merits a Test recall, should help them make a strong start.
Turning draws into victories at Hove will be key to a title challenge and will hinge on their spinners, which is the one area of uncertainty. Former Pakistan A left-armer Ashar Zaidi is Panesar's replacement, while leg-spinner Will Beer is trying to expand from his one-day specialist role.
Key player: Ed Joyce Stating the obvious but Sussex rely on the Irishman for runs and leadership. He didn't disappoint on either front in four-day cricket during 2013 and there is no reason to think that will change. Engineering an upturn in T20 form is the other challenge he faces and one that appears achievable given the talent at his disposal - not least Luke Wright and Rory Hamilton-Brown - and the low bar set last year.
Bob says: "You can't question the talent in Sussex's squad and I wouldn't rule out a finish similar to last year's third place. They've got a raft of good batters and Luke Wright is going to be around for most of the time, as Matt Prior could well be - certainly for the first two months of the season anyway. But bowlers win matches and I rate Steve Magoffin and James Anyon; I don't know if Jon Lewis will get into their side but he's a proven performer."
One to watch: Chris Jordan "A lot of Sussex's hopes depend on whether Chris Jordan is wearing England or Sussex colours. He's a tremendous talent and I hope that he doesn't go down the route of so many people who have burst onto the England scene bowling fast but who end up bowling medium-pace, a la Norman Cowans, Alex Tudor and Steven Finn, to a certain extent. I hope that they encourage him to bowl fast because Dale Steyn and Mitchell Johnson are showing what pace can do at the top level. So good management is essential and Chris is in good hands as Mark Robinson is a highly-respected coach."
WARWICKSHIRE
Captain: Jim Troughton
Head Coach: Dougie Brown
Ins: Richard Jones (Worcestershire), Tom Lewis, Jon Webb
Outs: Steffan Piolet (Sussex), Darren Maddy, Chris Metters (both retired), Tom Allin (released)
Overseas: Jeetan Patel
Sky Sports exclusives
Troughton targets title
Ian Bell exclusive
Given their storied history of success, the 2013 season has to go down as one of the worst Warwickshire have suffered in recent history.
No trophies, no real hope of a trophy for most of the second half of the season and some simply awful one-day performances leave them with plenty to prove this summer.
Most of their batsmen regressed in 2013, with only Varun Chopra passing 1,000 runs in the four-day game, although Laurie Evans came close in only 14 games and averaged 50 after getting a run in the first-team for the first time in his career.
Evans may drop down the order at times this summer, with England batsman Jonathan Trott set to start his road to recovery with a stint in county cricket and Ian Bell likely to be available at times as well.
But they will have to start the season without skipper Jim Troughton, who is recovering from back surgery after playing only half of their Division One games last season.
New Zealand off-spinner Jeetan Patel is back as overseas player, looking to add to the 52 wickets he took last season, and Keith Barker, Boyd Rankin and Chris Woakes all took their wickets at an average under 23.
But rather than play 48 games combined, they were only available for 30 because of injury and international commitments, and for Warwickshire to move up the ladder this season they will need two of them to step up.
Key Player: Varun Chopra The opener has been the one constant in Warwickshire's batting line-up in recent seasons, again passing the 1,000-run mark in Division One last year. With doubts over how much Ian Bell and Jonathan Trott will play he will again be relied on to score heavily...if, of course, he doesn't get thrown into the England mix after performing well for the Lions in Sri Lanka over the winter.
Bob says: "If Ashley Giles is given the England job, I wonder if Warwickshire will be able to put out a team. On a serious note, they'll score plenty of runs with Jonathan Trott and Ian Bell leading the way early on. If Chris Woakes and Boyd Rankin don't get the England call, they've got a potent bowling attack, too. Rikki Clarke is a very fine county cricketer and Jeetan Patel does a decent job in the slow bowling department. Varun Chopra will want to put runs on the board in an attempt to gain England recognition and they'll be hoping for big things again from Keith Barker, who was a bit of a surprise package last year."
One to watch: Jonathan Trott "All eyes will be on him without exception. I think he could get a mixed reception around the place as plenty will share Michael Vaughan's view. Judging by his appearance on the Sky Sports documentary, Trott has still some way to go until he's comfortable with what happened this winter."
YORKSHIRE
Captain: Andrew Gale
Head Coach: Jason Gillespie
Ins:
Outs: Phil Jaques (Nottinghamshire), Joe Sayers (retired)
Overseas: Kane Williamson, Aaron Finch (T20)
Yorkshire impressed on their return to the top flight, making themselves serious title contenders before eventually finishing behind champions Durham. It was a second successive year when they ended up the bridesmaids rather than the bride (they were promoted behind Derbyshire in 2012), so could this finally be their summer to be the centre of attention?
The signs are certainly promising for the White Rose county. Coach Jason Gillespie has plenty of depth in his squad and could be boosted by the availability of some of their England internationals.
Jonny Bairstow, Gary Ballance and Tim Bresnan all appeared during the disastrous Ashes tour during the winter, but none of the trio are certain to be selected again this summer in Test cricket. Joe Root is more likely to be missing, but a broken thumb suffered in the Caribbean has already pushed back the start of his campaign.
Phil Jaques has departed to Nottinghamshire and fellow batsman Joe Sayers has retired, but Yorkshire seemingly have a never-ending conveyor belt of young talent to use. Alex Lees' form in 2013 caught the attention of the national selectors, while the likes of Jack Leaning, Joshua Tattersall and all-rounder Will Rhodes - who did a sterling job leading England Under 19s in the World Cup - could all get first-team opportunities.
New Zealander Kane Williamson is back as overseas after averaging over 50 in five appearances last year, while Aaron Finch's signing is a real coup for the Twenty20 competition. They should be a decent unit in one-day cricket (they always pride themselves on their fielding), but it is the county title that they really want.
The key to Yorkshire's hopes of success in that format will be their bowling. They have options - seam duo Liam Plunkett and Jack Brooks both did well in their debut campaigns at Headingley - but they must help turn a few more of their seven draws in 2013 into an extra victory or two. Such small margins make all the difference in the final reckoning.
Key player: Ryan Sidebottom Even at 36 Sidebottom still shows no signs of slowing down, at least not in terms of his wicket-taking and feisty attitude. He took 53 scalps at an average of under 20 in first-class cricket last year and Yorkshire will look to keep him fresh for the longer form of the game.
Bob says: "They look the quality outfit of the division and would be my tip to win the title. Joe Root, England's 'anointed one', has some runs to score before he returns to international action. I can't see England picking Tim Bresnan in Test match cricket any longer, so he'll add more experience to a bowling line-up that already includes Ryan Sidebottom and Liam Plunkett, then there's Jack Brooks. Their two spinners - Adil Rashid and Azeem Rafiq - are both pretty handy and they rate Adam Lyth and Andrew Gale, not to mention Alex Lees. Jonny Bairstow isn't going to play any cricket for England, so he'll be there all of the time, and I wouldn't pick Gary Ballance as an international batsman. With all that talent in their ranks, they've no excuse not to go well."
One to watch: Azeem Rafiq "A young off-spinning all-rounder, he gives the ball a decent tweak and he's a good competitor too. Yorkshire are going to need some big performances from him in the Championship but he's useful in all forms of the game."