Paul Allott, Dominic Cork and Robert Croft preview Friends Life t20
Can Hampshire hold onto their Friends Life t20 crown? Our expert panel share their predictions...
Last Updated: 26/06/13 11:46am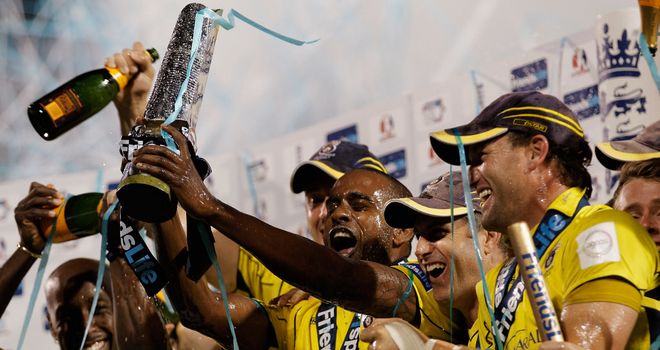 With the top two teams from each regional group and two third-placed sides qualifying for the quarter-finals, competition is going to be fierce.
Who will replicate Hampshire's impressive march to glory this time round? And will we see anyone out-do Scott Styris' incredible 100 off 37 balls from last year's competition?
You'll be able to see all the action unfold on Sky Sports HD, including the highly-anticipated Finals Day, which will this year be held at Edgbaston on August 17.
Here, three of our pundits analyse the three groups and pick out their contenders for the coveted title...
Paul Allott on North Division
Pick to top group: I'll tip Yorkshire. They're without David Miller, who was the second highest run scorer in last year's competition, which is a bit of a blow, but they've got the likes of Gary Ballance, who has just got into England's T20 squad and is a very exciting player. They're well led by Andrew Gale, who is in good form, they've got a whole crop of good youngsters coming through and Adil Rashid has been a revelation this year with his batting. Yorkshire have also been in great form in the County Championship and, although they are completely different games, the confidence of winning transfers into the T20 competition. I expect them to do well - but it's a tough group.
Other contenders: Nottinghamshire have got David Hussey back to captain them and they'll be hoping to transfer the success of their YB40 form to the T20 stage. They've been flying high in that competition with all those wins under their belt and I expect them to be strong in this format, too. They've got England opening pair Alex Hales and Michael Lumb, as well as James Taylor, who is keen to stamp his name on the England selectors minds again, so their batting is very strong. I also like the look of Lancashire, who have signed Mitchell McClenaghan, the second leading wicket-taker in the Champions Trophy. While, Derbyshire have got Albie Morkel, who is one of the best T20 players there's been. There's strength right the way through the group.
Overall winner: Hampshire are an incredibly strong one-day team and have got the pedigree after winning it last year. Like New Zealand, as a whole they are greater than the sum of their parts. Somerset, meanwhile, are always strong; they have some quality T20 players in their team and any side with Marcus Trescothick in is going to have a huge chance.
Ones to watch: Shaun Tait always adds a bit of spark, trying to bowl at nearly 100mph. He'll be good viewing. Essex are actually my dark horses as they may have a bit of Ravi Bopara, plus Tait, James Foster and Graham Napier, who are pretty decent players.
Ten years of T20: It's a fantastic format and I hope it continues to popularise the game. The atmosphere at England's match with New Zealand on Tuesday was incredible and I hope the counties can replicate that.
Robert Croft on Midlands/Wales/West Division
Pick to top group: I think we will see some excellent cricket again this season and the Midlands/Wales/West Division will be one to watch - especially for me as a former Glamorgan/Welsh Dragons player. Somerset topped the division last year and went all the way to the semi-finals before losing to eventual champions Hampshire and I'm sure the bookies will be backing them to do well because of their batting line-up, which includes Marcus Trescothick, Jos Buttler, and Craig Kisewetter.
Other contenders: All the teams have players that can punish bowlers and we should see plenty of boundaries being hit and I am hopeful that Welsh Dragons can be competitive - even though they haven't got out of the group stage since 2008. We have a good mix of experience and youth in the side, and I know we will enter every match in a positive frame of mind, play attacking cricket and try to win. Every game will be a cup final and we will be looking to win all of them.
Overall winner: It is very difficult to predict who might win a T20 competition before it starts and you can only really make an assessment once you are two or three games in. Teams who are flying in other competitions can struggle, while teams who are not doing so well can find their form; Leicestershire, for example, won the Friends Life t20 in 2011 but only managed to win one County Championship match and two in the CB40! Leicestershire have also proved that the smaller sides can outdo some of the bigger counties in the shorter format, so that will give sides confidence that it could maybe be their year and every team will be desperate to get to Finals Day, which is one of the best days of the season.
Ten years of T20: Twenty20 cricket has kept cricket in the UK going for a very long time and it was only a matter of time before it made its way into the professional game. Players love playing it, and over the 10 years of domestic Twenty20 cricket, standards have constantly improved.
Dominic Cork on South Division
Pick to top group: Hampshire can repeat their success of last season. They've got the right balance in their team, know how to play T20 and how to win sticky games. That's what makes them a good team. They also have big-match players, such as Neil McKenzie, Dimitri Mascarenhas with Michael Carberry, James Adams, James Vince and the all-round ability of Liam Dawson and Sean Ervine - players who can single-handedly win a game on their own.
Other contenders: I think the southern division is the hardest division because there are so many good teams in it who can even win the whole competition. Sussex will be up there with Hampshire and Middlesex could join them in the quarter-finals as they always have one competition where they go well. There's a lot of transition at Surrey, which could affect them either way, while Kent might find it hard to get into a qualifying position. Essex aren't playing well in the Championship but you have always got to worry about going to Chelmsford because they've got a very strong home record. They've been to finals day twice and you can never write them off.
Overall winner: They're my former team but Hampshire know how to win one-day cricket tournaments. They have so many talented, big-match players, who I mentioned above, and I think they'll defend their title and will be lifting the trophy at Edgbaston.
Ones to watch: Dimitri Mascarenhas leads from the front with his bowling for Hampshire. People think he's innocuous because of his pace but he knows how to take wickets and he's got a very good record. Their other danger man and one to watch is Neil McKenzie. He's Mr Cool under pressure and can turn a game. That's why Hampshire keep having him back.
Ten years of T20: I remember the first T20 game I played at Headingley against Yorkshire. A lot of people thought 'is it going to last?'. For people who don't like cricket, this is as close to a football atmosphere as you can get. You get the razzamatazz, music, floodlights, white ball and an array of different shots, as well as the slower balls and different deliveries we're now seeing. It's been brilliant and helped cricketers and cricket in general.
Click here for details of Sky Sports' Friends Life t20 coverage.