Durham director of cricket Geoff Cook warns squad to avoid complacency
Geoff Cook has warned Durham to avoid "apathy" as they look to build on their County Championship triumph.
Last Updated: 20/09/13 9:05pm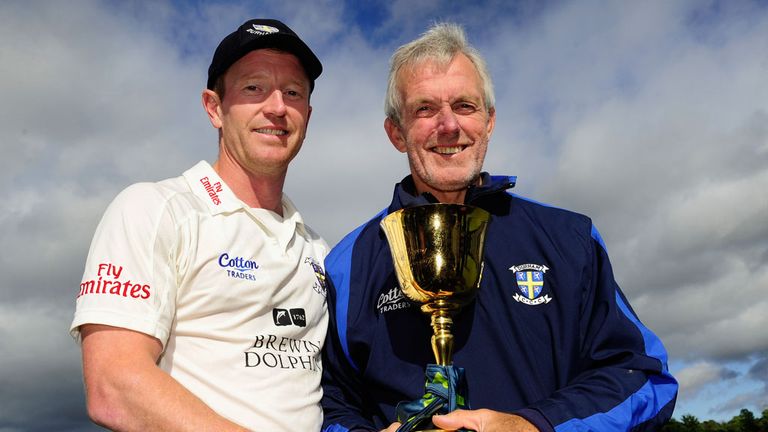 Paul Collingwood's side wrapped up their third title since 2008 with a convincing eight-wicket win over Nottinghamshire on Thursday.
But Cook is anxious to avoid "apathy" among the squad having seen both Notts and Lancashire relegated the season after winning the championship in recent years.
"With no disrespect to other counties, Lancashire won the title a couple of years ago and I don't know if they took their eye off the ball, but they got relegated," said director of cricket Cook.
"Yorkshire had a similar experience, they nearly won the title and were relegated the next season; Notts had a similar experience - title, and relegated. It's important that we don't fall into the same trap.
"We've got to build on what we have now, it's by no means a finished article and the young cricketers are not finished cricketers, they've got a lot to learn.
"We have to make sure that we consolidate our position as a decent team and if we get an opportunity to go on and win something again next year, try and do that.
"I'm determined that that apathy doesn't creep in, that players continue to do the right things, to make sure that they give themselves every opportunity of having a fantastic career."
Potential
Durham managed to retain their title in 2009, and Cook is hoping for a repeat performance next season.
"We gave the team the target of winning it in consecutive years, which they did," he added. "We had some good people involved, (Dale) Benkenstein and (Michael) Di Venuto were high performers and got a massive amount of runs.
"When you get runs and you've got some decent bowlers around you then winning games is a strong possibility.
"We recruited well, with (Ian) Blackwell coming, and we were a good team. Now we have the potential of being a really good team."
Financial restrictions forced Durham to use a host of young home-grown players throughout the season, making their championship victory even sweeter for Cook.
He added: "From the start of the year there was the whole thing about the finances and no overseas (player), we had to make player reductions.
"But credit to every single person in the team, led by Colly who pulled everyone together.
"With a lot of people coming through the academy system, you have that great sense of pride in what you're playing for.
"Sometimes when you're a bit flat you realise that you're representing something that means a lot to you. It's not just your job, there's that sense of local pride."