The power of glove
Nick Knight and Marcus Trescothick hailed Michael Bates as Hampshire won the CB40 Final.
Last Updated: 15/09/12 6:54pm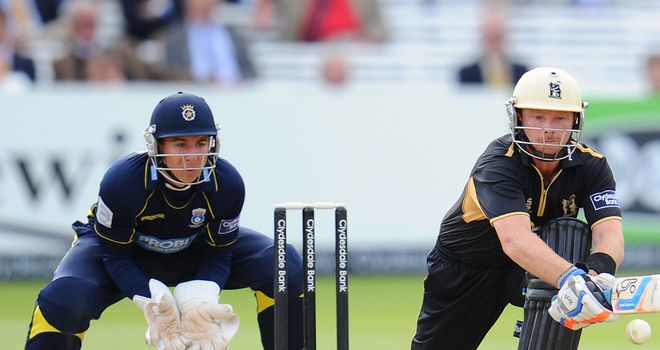 Nick Knight said Michael Bates' performance in the CB40 Final showed the true value of having a top-class wicket-keeper in your side.
Bates was at the heart of Hampshire's stunning victory at Lord's, which was only sealed when he held on to the final delivery of the day from Kabir Ali to deny Neil Carter the one run he needed to take the trophy for Warwickshire.
Click here to read our match report
Bates bats at number eight and has been criticised for failing to contribute runs, but Sky Sports expert Knight says that his consistency behind the stumps more than made up for that.
"Maybe there's a little message there for all people picking sides," he said.
"There's a lot of chat about his lack of ability with the bat and not contributing yet he's almost - but not quite - single-handedly contributed towards winning the game for his side, purely as a gloveman.
"How many times will captains of sides say 'do you know what? You're one of the best keepers in the country and you're in our side regardless of how many runs you get. We'll make up for your runs around you'.
"He puts in performances like that day in, day out, but it's not the modern way. Sometimes your keeper doesn't have to score runs, he has to put in a performance like that."
Take
Marcus Trescothick was also in the Sky Sports studio and compared Bates to James Foster, who briefly broke into England's t20 side only to be dropped in favour of the superior batsman Matt Prior.
And he said the contribution of Bates to Hampshire's victory should not be underestimated.
"He had a great game," he said.
"On numerous occasions he made takes down the leg side that had us all in the commentary box saying 'wow, great take!'
"Under pressure at the end, anything could have happened. The ball could have gone through, it could have hit him on the outside of the fingers or something - but he's taken it clean as a whistle pretty much all day.
"James Foster is another. He stands up to bowlers and he got picked to go into the t20 side a couple of years ago purely on his keeping.
"I know his game has now developed and his batting has massively improved, but having somebody of that calibre wins you games.
"We didn't see any stumpings today, but we could have quite easily had two or three and that would have made the biggest impact on the game in total."