Hampshire's Michael Carberry hopes to take alternative route to international success
Michael Carberry is hoping some more spectacular performances will allow him to gain international 20-over exposure.
By Alex Williams
Last Updated: 06/08/13 2:01pm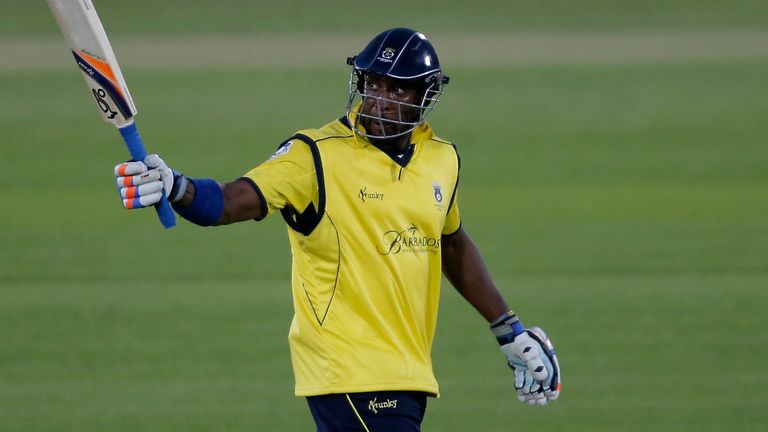 The Hampshire batsman has been one of the stars of the tournament so far and will no doubt be a key player when the Royals take on Lancashire in their quarter-final at the Ageas Bowl on Wednesday.
Having long been overlooked for England selection - unfairly in the opinion of many - the powerful left-hander has been a domestic limited-overs star in 2013, averaging almost 50 in Twenty20s and more than 67 in the 40-over game.
And the 32-year-old is hoping the explosive form can help him make a global impact by earning him a place in some of the lucrative T20 competitions overseas.
"That is maybe the route I'm looking to go down at this stage of my career," Carberry told Sky Sports.
"I didn't get a massive go at international level, which I've already stressed is a disappointment to me, but it is what it is and you've got to move on.
"But I think t20 now has opened up a lot of doors for guys like myself who are performing well in domestic cricket.
"If you keep doing that your name gets around and I'm hoping that somewhere along the line I can get abroad, play some Twenty20 cricket and experience what it's like.
"You're still playing against internationals, and it's always been a dream of mine to test myself against the best in the world."
Reigning champions Hampshire qualified for the last eight of the Friends Life t20 as winners of the South Group and will go into the match with Lancashire as favourites, but Carberry insists any team left in the competition poses a real threat.
"There is just as much pressure on this game as there has been on any other game trying to get through the group. I'm looking forward to the game and it will be a good clash," he said.
"Lancs are obviously a very well-drilled side and have done well themselves in their own group. We are not expecting an easy game but we play well at home and will definitely use that to our advantage."
Carberry added: "At this stage, anyone can win it. Everyone is here for a reason: as the best team of their group or a next best team of their group. Everyone is a threat now and every game is a final.
"If you lose you are out, as simple as that. We've tried to look at our own performance rather than who we're playing or what names are on (the team sheet).
"At the end of the day we know that in Twenty20 cricket, names and reputations go out of the window, it's about trying to win the game."
Although he has been dispatching the white ball to all parts this season, Carberry, who recently passed 10,000 first-class runs, forged his reputation as a dominant County Championship batsman.
When Andrew Strauss retired last year many put his name forward as a potential England replacement, but first Nick Compton and subsequently Joe Root have been preferred at the top of the order.
The prospects of a call-up now look slim even though Carberry has not totally given up on one day adding to his lone Test cap.
"You always have to remain slightly optimistic because that's what gets you out of bed every day but on the same token I'm not sitting here as a 23-year-old, I'm sitting here as nearly a 33-year-old," he said.
"There are not many guys starting international careers at the age I am. Yes, people have said to me, 'look at (Australia batsman) Chris Rogers', but there are two different set-ups.
"At the moment the Australia team is in transition, whereas I'm playing in a country where our national team is very strong at the moment and we are churning out a lot of very good cricketers who are young and the system wants to give them their chance.
"Unfortunately, guys like myself get phased out which is disappointing because I've gone on the record and said, 'I feel I've done everything I can'.
"But it's the way the selectors want to go and I can't change their minds for them. I'm not prepared to sit here and cry over spilt milk, there are other avenues that have opened up."
Reigning champions Hampshire host Lancashire on Wednesday 3 August at The Ageas Bowl, in the quarter finals of the Friends Life t20 competition. For further information and tickets, please visit ecb.co.uk/FLt20