FLt20 Finals Day: Essex, Hampshire, Northants, Surrey chase title
Who'll handle the heat and win Friends Life t20 Finals Day? Sky Cricket's experts preview the action...
Last Updated: 16/08/13 2:49pm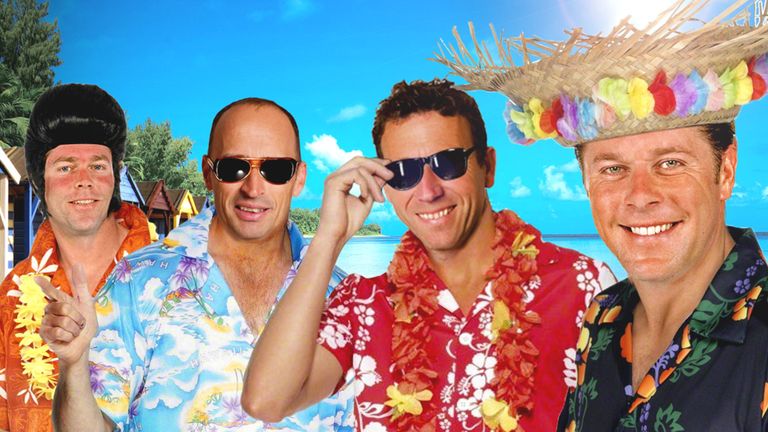 Northamptonshire haven't won a limited overs trophy since 1992 and take on Essex's powerful line-up in the opening match - live on Sky Sports Ashes this Saturday from 10.30am.
The winner will proceed to the final (on air from 6.30pm) where they'll face either defending champions Hampshire or South Group rivals Surrey, who have reached the last four for the first time since 2006. You can watch that clash from 2.30pm.
Right now you can get ahead of the game as Sky Cricket pundits Paul Allott and Dominic Cork preview the two semi-finals.
Paul on Northamptonshire v Essex
Northants have played so well this summer that they'll believe they can win; the fact they haven't won a limited overs trophy for 20 years or so doesn't come into it because this is a completely different set of players. I certainly wouldn't have picked them at the start of the day to have done as well as they have - they've been a surprise package in Twenty20, the YB40 and the County Championship. This isn't a one-off - their whole season has been pretty good. They are obviously playing cricket and are a team that adapts well. I don't think they'll be fazed going to Finals Day at all.
Mohammad Azharullah (24 wickets at 11.37) has had such an impact because he's bowled straight. It's not rocket science! He has also got the ability to bowl late inswing with the older ball. It doesn't seem to matter when he bowls, whether it's with the new ball or coming on first change, he looks to hit the stumps. He's short, he's skiddy and the batsmen haven't seen much of him before because he's new to the game - that always helps; he's also a little bit faster than most batsmen would expect. David Willey (17 wickets at 13.41 and 138 runs at 27.60) is one of the most improved cricketers in the country this year. He's big, strong and fit and he's got the added advantage of being left-arm, which always adds to batsmen's discomfort. Like Azharullah, he attacks the stumps and doesn't mind where he bowls, plus he's got a good slower ball. He's also happy to bat anywhere in the order. We saw him open with Karl Coetzer (319 runs at 31.90) against Nottinghamshire in the quarter-final - the pair putting on 89 with Willey playing beautifully to score 46.
Cameron White (327 runs at 36.33) weighed in with 58no off 32 balls in that game to continue his fine form. It has always puzzled me why he hasn't represented Australia more times than he has because he is a phenomenal striker of the ball in one-day and Twenty20 cricket. He's got a great eye and a good temperament - he's got everything you need from an overseas player.
In Essex, Northants are up against the most mercurial of the four sides taking part in Finals Day. They are quite capable of being rolled over for less than a hundred but equally they are able to rattle up 180-plus as they proved against Nottinghamshire in the quarter-finals after being put in. You'd hope that the high-flying Essex will turn up because their batting line-up is phenomenal with Ryan ten Doeschate (275 runs at 45.83), Ravi Bopara (187 runs at 26.71) and Hamish Rutherford (268 runs at 26.80) to name but three all potential match-winners, although it does look as though Owais Shah (311 runs at 51.83) is going to miss out with a hamstring strain.
They've got all aspects covered when it comes to batting and in the bowling department they've got genuine pace in the shape of Shaun Tait. There's no substitute for a quick, accurate bowler who can break a partnership and wrap up the tail. He was bowling at 90mph consistently at Trent Bridge and was just too hot to handle. You can bet that he'll be saving up a performance for Finals Day. Every side craves a left-arm seamer and Reece Topley (19 wickets at 13.36) has good control, a decent slower ball too and gets bounce as well when he bowls at full pace. Graham Napier (12 wickets at 22.41) has picked up a flurry of wickets in the YB40 this week - just as we've seen him do in T20 cricket. He's slippery at times, bowling at 85mph.
Paul's Prediction: I'm going to go with Northants; I've seen a fair bit of them in the Group Stages but I was really impressed with the way that they played in the quarter-finals. I'm not sure they're good enough to beat my favourites Hampshire in the final, though!
Corky on Hampshire v Surrey
It's hard to look past Hampshire for the title, simply because of their history of winning big games. Lancashire almost toppled them in a close quarter-final but having overcome that hurdle you can see them going on and on because they've got a side that adapts well to the one-day side of the game and is very well led by Dimitri Mascarenhas. In many ways I hope Hampshire win for Dimi because he's been a great servant to Hampshire cricket over the years. Lifting the trophy would be a great way for him to finish off a Twenty20 career that has seen him represent England 14 times and taken him to the IPL and the Big Bash. Throughout he's led Hampshire from the front, whether as captain or opening bowler.
In Michael Carberry (496 runs at 148) Hampshire have a batsman in awesome form - his century against Lancashire was a stunning knock. His technique used to be more suited to four-day cricket but he now has a high flourish to his back-lift which has really helped to push his game on. He's a real danger player at the top of the innings.
Hampshire's batting gives them plenty of options. Neil McKenzie (296 runs at 148) is a big cog in the wheel; he keeps everything together if things don't go well and if they get off to a flyer then he carries it on. James Vince (256 runs at 25.60), Jimmy Adams (191 runs at 19) and Sean Ervine (191 runs at 27.28) combine to make it a very strong batting line-up.
Left-armer Chris Wood (10 wickets at 30.40) has impressed me this season and I know he is on England's radar as well; he's got a strong mind and is very keen to do well. Both he and Mascarenhas make life very difficult for the opposition at the start of the innings. Sohail Tanvir (nine wickets at 27.55) is another left-armer who is difficult to pick up because he bowls off the wrong foot and then there's Danny Briggs (14 wickets at 18.42), who has just signed a new contract. For a 22-year-old spinner he's exceptionally cool under pressure and then you have the likes of Ervine, who on his day bowls very quickly and has a golden arm.
Whereas Hampshire are trying to win their third T20 title in four years, Surrey have reached Finals Day for the first time since 2006 and will be without their captain Gareth Batty who picked up a two-game ban following his altercation with Somerset's Peter Trego in the quarter-finals. Batty is a key player for them - he's a good spinner in all forms of the game - so it's a big loss. I wouldn't say that Surrey's players are as good as Hampshire's but they have some exciting, talented players coming through like Jason Roy (272 runs at 24.72) and Steven Davies (263 runs at 29.22). There is also plenty of experience in there too, regardless of whether Chris Tremlett plays or not.
Corky's call: On paper you'd say that Hampshire should go on and defend their title but in Twenty20 it is not about who has got the strongest team as much as who turns up on the day.
Watch all the action from this year's Friends Life t20 Finals Day from 10.30am on Sky Sports Ashes this Saturday.