Brown ready for comeback
Lancashire batsman Karl Brown admits letting people down after relegation, but is determined to put things right.
Last Updated: 12/09/12 12:00pm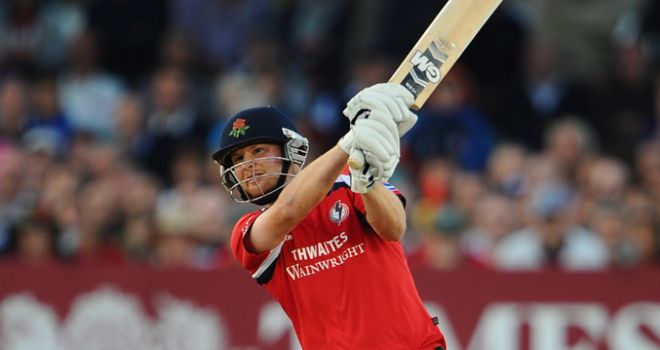 Batsman Karl Brown admitted that Lancashire have let people down this season following relegation, but insists that the players are determined to put things right next year.
Brown claims that the team are determined to reclaim their place back in Division One after Simon Kerrigan was caught at slip to condemn the club to relegation last Friday.
The Bolton-born 24-year-old told the Manchester Evening News that complacency could have been a factor in their relegation.
"I'm a fan as much as a player," Brown said. "I used to watch Lancs when I was a kid so I know first-hand how everyone feels.
"I am massively disappointed and all the lads are gutted with what has gone on, not just last week but all through the season.
"I've heard the word complacency being bandied about and maybe we did get slightly complacent. That's won't happen again. We have let a few people down and we want to put things right next season."
Brown, who was at the crease last season when Steven Croft hit the runs at Taunton which clinched Lancashire's first outright title in 77-years, added: "We won't leave any stone unturned.
"We'll go out there and I think we will get straight back up next season.
"Everyone has seen we have not performed as well as we wanted to. In games in which we have got in good positions we have been unable to capitalise.
"It would be easy to say that everyone's had a bad season and brush it under the carpet. But we have to learn from this, if we don't we are going to be in the same position again."
"Devestated"
The batsman spoke about his faith in the squad and believes the challenge of securing immediate promotion is one that will motivate everyone at the club.
He said: "If the season could start again tomorrow, all the lads would be up for it. Everyone is devastated by what has gone on this year.
"We won't expect anything less than to win the division. We wanted to put up a better show this year. Having won the title last year, we thought we could go close again."
Lancashire paid the price for losing three of their first four Championship matches, which Brown felt left the players on the back foot.
"Having got off to such a good start last year, it showed just how important it can be to get momentum in the first few games," he continued.
"Preparation in the winter went really well, it was top drawer, as it always is with Peter Moores.
"We felt in really good nick and were all confident. We just didn't get going. We know what can happen now if you don't hit the ground running. I'm sure it won't happen again."
Despite his impressive form last season, Brown failed to repeat this success and admitted that it had been a difficult summer for batters to get into a rhythm.
"As a batsman you need time at the crease and you sometimes need an innings to get you going," he explained. "I didn't get that early enough in the season to get on a roll."