Virender Sehwag and Muttiah Muralitharan to captain MCC in Abu Dhabi
Virender Sehwag and Muttiah Muralitharan will each captain the MCC in a series of games to mark the new county season.
Last Updated: 20/03/14 12:43pm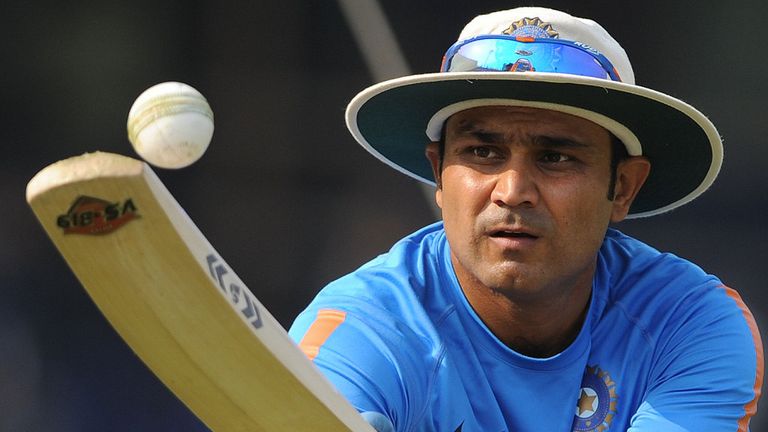 India opener Sehwag will lead the side against Durham in the annual four-day game against last season's Championship winners.
The match will begin in Abu Dhabi on Sunday, two days after Test cricket's leading wicket-taker Muralitharan captains the MCC in a Twenty20 tournament also featuring Lancashire, Sussex and a Kerala Premier League select XI.
Monty Panesar is the most high-profile Englishman in a 12-man MCC Squad which includes another capped player in Samit Patel.
Muralitharan said: "It's a huge privilege to be asked to captain an MCC team, and I was delighted to accept the invitation.
"We've got a very strong squad going out to Dubai for the competition so I'm looking forward to playing alongside them all."
The Durham game is a day-night fixture and will be played using pink balls in a move the MCC hopes will showcase the potential for floodlit Test matches.
Head of cricket John Stephenson said: "MCC has seen some very positive results from past day-night Champion County matches and has provided the game with invaluable insight into the possibilities of playing floodlit Test cricket.
"The recent trials of pink cricket balls in floodlit Sheffield Shield cricket in Australia have continued this trend and MCC believes this will soon translate into day-night Test cricket, which will help to re-invigorate the five-day international game in countries where attendances are low."
MCC squad: Sehwag (India), Muralitharan (Sri Lanka), Robson (Middlesex), Reece (Lancashire), Bell-Drummond (Kent), Patel (Nottinghamshire & England), P Jayawardene (Sri Lanka), Rayner (Middlesex), Adams (Nottinghamshire), Gurney (Nottinghamshire), Hogg (Lancashire), Panesar (Essex & England).