Andrew Strauss admits his surprise at hearing of potential comeback by Andrew Flintoff
Andrew Strauss told Sky Sports News Radio that the return of Andrew Flintoff would be "brilliant" for the domestic game.
Last Updated: 15/05/14 2:06pm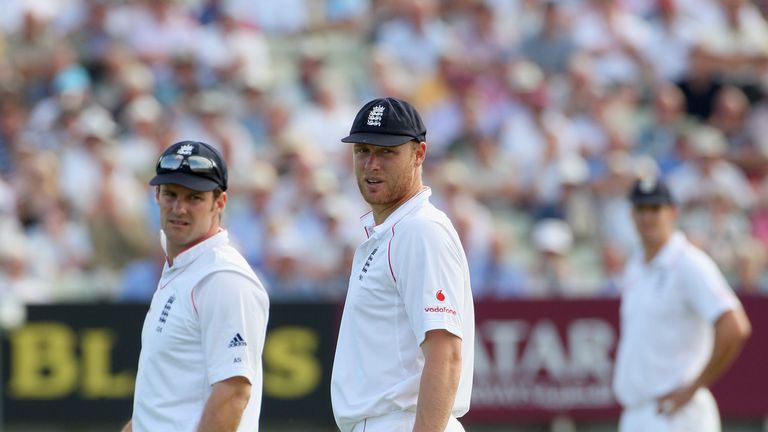 Earlier this week Lancashire confirmed they were holding talks with Flintoff over the possibility of him playing for them in this season's NatWest T20 Blast competition, which gets underway on Friday night.
The 36-year-old retired from the professional game at the end of the 2009 Ashes series due to injuries, since when he has worked in the media and also had one fight as a boxer.
Strauss feels the return of his former England team-mate would not only be a welcome boost for his county but also the game in general, provided he is fit enough.
"It was extraordinary; I couldn't believe it when I read that," he said.
"The number of injuries that Freddie had... he did his boxing and I believe he did his shoulder in then, as well. It was a big surprise to me.
"It's brilliant for Lancashire, brilliant for domestic Twenty20 if he is fit enough to play and fit enough to be able to replicate his form from a few years ago.
"It also speaks volumes for his hunger to get back into the game - he obviously feels there is unfinished business there. If he is fit enough to do it, then it will be great to watch it all unfold."
Support
Flintoff fuelled speculation about a possible comeback by working in the nets with Lancashire recently and while Strauss acknowledges there is a risk in pulling on the boots again, he feels the man who played in 79 Tests and 141 one-dayers for his country should receive plenty of support.
"I think that's always a risk when a player comes back from retirement in any sport, whether it is boxing, tennis or whatever," the ex-England captain continued.
"If Freddie does come back, he's' going into it with his eyes open. I think he's doing it for his own reasons, which is that he loves the game of cricket and wants to be involved again, rather than to re-prove himself as an outstanding cricketer.
"If he's going in for those reasons, we should not begrudge him that. If he wants to play again, then good luck to him.
"I know he will receive plenty of support and it will be thrilling to watch."