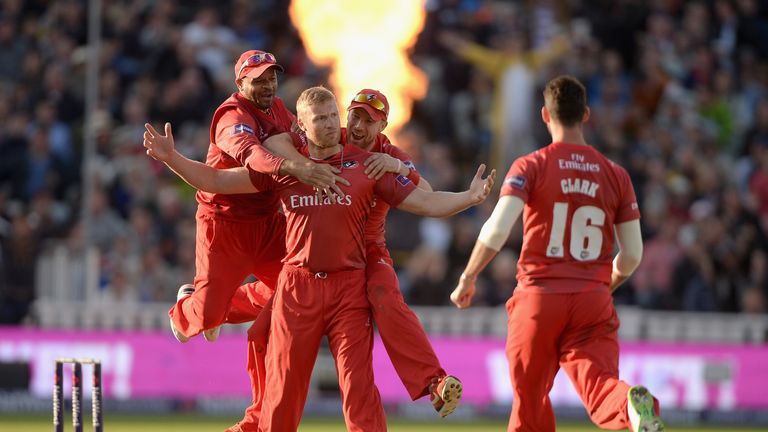 Andrew Flintoff savoured his return to the big stage with Lancashire in the NatWest T20 Blast final but admitted: "If we'd won it would have been a hundred times better."
Flintoff returned to the Lancashire side and came in to hit huge sixes to pull his side off the ropes, but it was not enough as the Birmingham Bears hung on to win by four runs to win the Blast title.
It has been two matches since Flintoff came out of retirement this summer, but he was thrust into the spotlight after Kabir Ali was injured in Lancashire's semi-final win over Hampshire.
The 36-year-old dismissed Birmingham Bears batsman Ian Bell with his first delivery and then went desperately close to winning the match with the bat striking a pair of back-to-back sixes off Oliver Hannon-Dalby at the end of the 19th over.
Flintoff was later moved to apologise to 25-year-old Hannon-Dalby, after having a pop at the bowler as adrenaline rushed through his system.
"I had one of those horrible things where my eyes went a little bit, and I started to get really into it," said Flintoff, speaking on his Flintoff and Holcroft podcast on Sunday.
"I started to think ... 'I can win this, I'm enjoying this, it's brilliant this'.
"I walked past him and he had a big grin on his face and he was staring at me.
"I shouted at him, 'What are you looking at?', but I put another word in.
"It's like shouting at strangers - I didn't even know him. I felt really bad - 'why have you done that?'."
In the end, Flintoff and Lancashire fell short as Birmingham lifted the trophy on their home ground of Edgbaston with a dramatic four-run victory over the Lightning.
"We gave the crowd false hope. Fair play to the Warwickshire lads afterwards. They were deserving winners and I apologised to the big lad for shouting at him," Flintoff said.
"If we'd won it would have been a hundred times better."