Surrey spinner Gareth Batty signs a new two-year deal to remain at the Oval
Spin bowler Gareth Batty has signed a new two-year contract with Surrey.
Last Updated: 24/09/12 1:26pm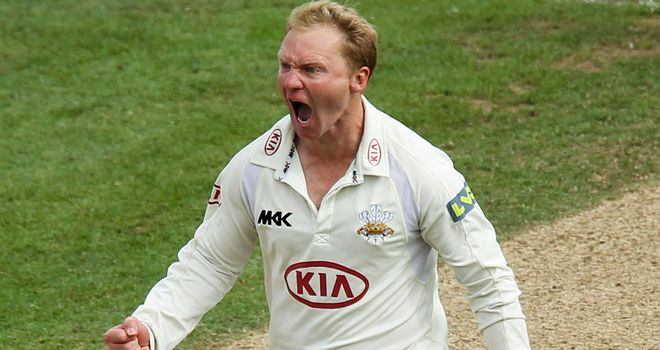 Batty, 34, proved a key man for Surrey last season, taking 30 first-class wickets and acting as stand-in captain after Rory Hamilton-Brown was granted compassionate leave following the death of Tom Maynard.
The former Worcestershire man was also named in England's initial 30 man squad for the ICC World Twenty20, after taking 14 wickets at an economy rate of just 5.22, making him one of the most miserly in the domestic competition.
Batty told Surrey's website: "There's never been a thought since the second time I walked through the gates that I'd play anywhere else. Now I'm back I don't ever see me doing anything other than wearing the brown cap.
"Hopefully we can take the club forward and win a bit more silverware over the next few seasons."
Surrey Director of Cricket Chris Adams said: "The club are indebted to Gareth Batty for the job he did in the second half of this season. At one of the hardest times in the history of the club the character and leadership abilities he showed were absolutely immense.
"As a player he is also a fantastic asset to the club - both as a bowler, a lower order batsman and as a galvanising influence on the field - and I am very happy indeed we have secured his services for another two years."