New Surrey hero Dominic Sibley named in England Under-19 squad
Record-breaking Surrey batsman Dominic Sibley has been named in England Under-19s' winter tour of the UAE.
Last Updated: 02/10/13 2:35pm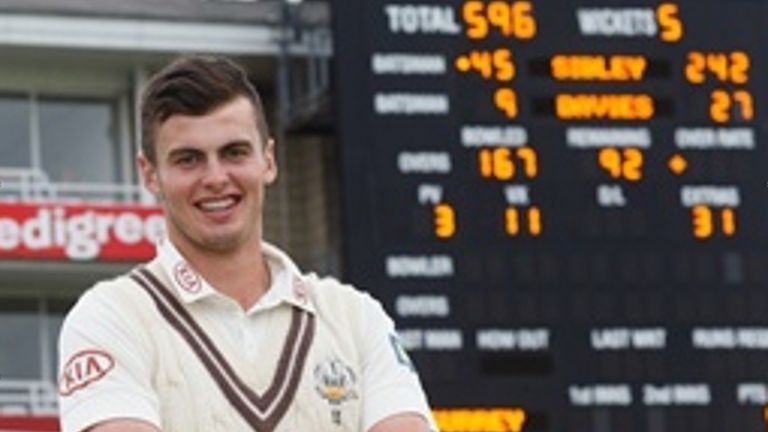 Opener Sibley, 18, became the youngest player to score a double century in county championship history when he hit 242 in the last game of the season against Yorkshire at the Oval.
He is one 18 players selected for a tri-series against Pakistan and the UAE in December, and the group will also form the basis of England's Under-19 World Cup squad.
Yorkshire have more players in the squad than any other county with five.
Matthew Fisher, who at 15 years and 212 days became the youngest county player in history when he faced Leicestershire in the YB40, joins county colleagues Will Rhodes, Karl Carver, Josh Straw and Jonny Tattersall on tour.
David Graveney, chairman of selectors for the England development programme, said: "This winter will offer great development opportunities.
"We will have two competitive England Under 19 tours for the players selected to be involved in, which will be an excellent opportunity for development and also the testing of skills of our best young players under tournament pressure in challenging conditions."
Squad: T Barber (Hampshire), E Barnard (Worcestershire), K Carver (Yorkshire), J Clarke (Worcestershire), B Duckett (Northamptonshire), H Finch (Sussex), M Fisher (Yorkshire), M Hammond (Gloucestershire), R Higgins (Middlesex), R Jones (Lancashire), L McManus (Hampshire), R Sayer (Leicestershire), W Rhodes (Yorkshire), J Shaw (Yorkshire), D Sibley (Surrey), J Tattersall (Yorkshire), K Velani (Essex), J Winslade (Surrey)