County Championship: Charlie Morris signs new Worcestershire contract
Worcestershire fast bowler Charlie Morris has signed a new contract which the club, keeping him at New Road until 2017.
Last Updated: 28/05/14 4:29pm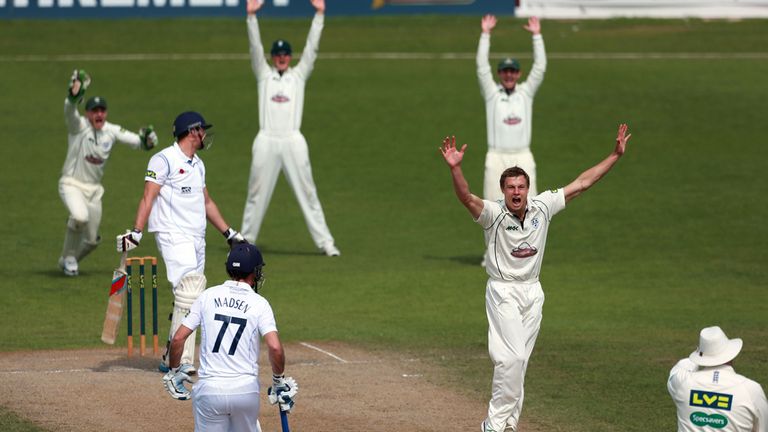 Morris, 20, has made an impressive start to the season, picking up 13 wickets in the opening five County Championship matches of the Division Two season, helping Worcestershire overcome the departure of veteran Alan Richardson.
Director of Cricket Steve Rhodes told the club's website: "We are all delighted with the progress Charlie is making in all formats of the game.
"His attitude is top class and to have his bowling for the next three and a half years is a huge boost for the club."
Morris said: "I am delighted to sign this contract and want to thank Steve Rhodes and (bowling coach) Matt Mason for giving me the chances, without which I might not have had the opportunity to get this contract.
"They have been hugely important. I cannot thank them enough, over the past two years really since coming down and trialling at the club, and the faith they have shown in me.
"They are always there to do extra work and support you whenever. You just need them to ask them.
Gratitude
"I want to show my gratitude by working hard and making the most of the next three years - and hopefully longer.
"Steve and Matt have also been fantastic in helping me combine cricket with my university work and so has (captain) Daryl Mitchell.
"I'm delighted to sign the contract. I didn't expect to be playing at the start of season, not at all. The squad has been fantastic, all the bowlers worked really hard pre-season and we have performed well as a unit.
"I'm hoping to carve out a long cricket career, that's the dream, but the only way to do that is to keep concentrating each week on training hard for the next game and making sure the preparation is solid.
"You learn so much from the senior pros in the side so you've always need to have your ears open tom pick up any advice as it can make a massive difference to you."
Mason said: "Charlie just keeps running in and running in. He has got a big heart. He has been a fantastic addition to our squad.
"He has been a revelation to us all. He is a fantastic lad as he is so determined
to succeed and can bowl as well."