Magical Morgan
Middlesex man Eoin Morgan has cut Gary Ballance's lead at the top of the Sky Sports Sixes League.
Last Updated: 07/08/12 5:08pm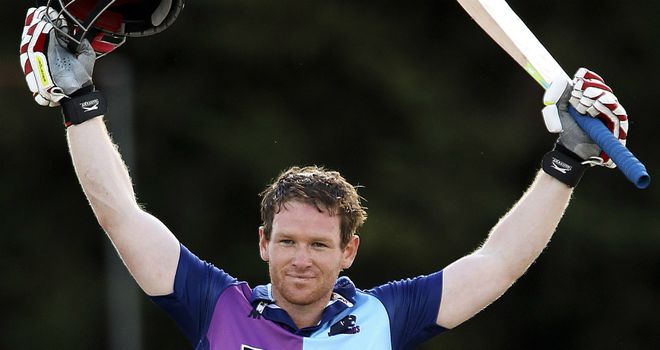 Eoin Morgan may not currently occupy a berth in England's Test team, but he is closing in on top spot in the Sky Sports Sixes League.
The Middlesex man cracked six maximums in his blistering knock of 120 off 80 balls against Worcestershire in a CB40 clash Sunday to cut Gary Ballance's lead to one big hit.
Morgan's side tied that contest at Uxbridge and now sit top of CB40 Group A, but have played three more games than second-placed Lancashire, meaning a passage to the semi-finals is far from secure.
Scott Styris, meanwhile, won the July Sixes League after his nine-maximum showing in Sussex's Friends Life t20 quarter-final with Gloucestershire.
And the veteran New Zealander will hope to be just as dangerous during Finals Day in Cardiff on August 25 to help the Sharks to their second t20 triumph in four seasons.
Season table - as of Aug 7
| | | | |
| --- | --- | --- | --- |
| Name | Team | Sixes | Balls |
| G Ballance | Yor | 21 | 378 |
| E Morgan | Mid | 20 | 197 |
| M Pettini | Ess | 16 | 485 |
| S Croft | Lan | 16 | 547 |
| J Foster | Ess | 15 | 254 |
| D Miller | Yor | 14 | 173 |
| L Wright | Sus | 14 | 381 |
| P Stirling | Mid | 14 | 392 |
| G Maxwell | Ham | 13 | 102 |
| S Styris | Sus | 13 | 117 |
July table
| | | | |
| --- | --- | --- | --- |
| Name | Team | Sixes | Balls |
| S Styris | Sus | 9 | 47 |
| M Lumb | Not | 9 | 112 |
| M Pettini | Ess | 9 | 246 |
| G Ballance | Yor | 8 | 77 |
| R Nicol | Glo | 8 | 143 |
| D Malan | Mid | 8 | 212 |
| R ten Doeschate | Ess | 7 | 75 |
| M Prior | Sus | 7 | 85 |
| C Kieswetter | Som | 7 | 115 |
| G Andrew | Wor | 6 | 88 |
Trending