Alex Hales signs three-year deal with Nottinghamshire after reaching IPL agreement
Alex Hales has signed a new three-year contract with Nottinghamshire after being given permission to play in the IPL.
Last Updated: 04/11/13 7:04pm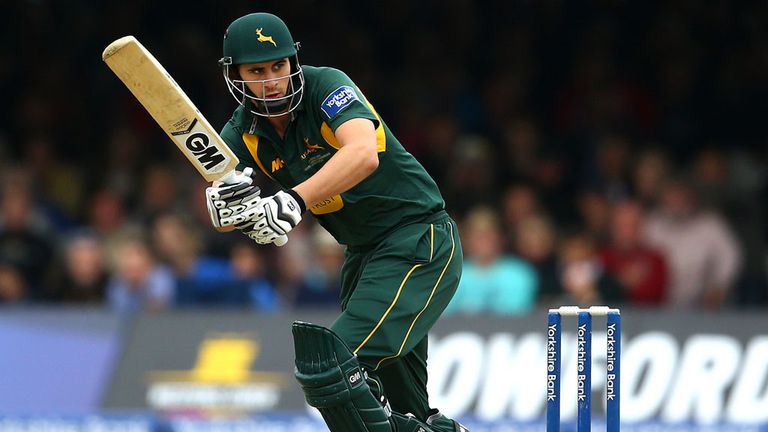 The England opener, who currently tops the ICC world rankings in international Twenty20 cricket, had hinted he would become a freelance player if Notts continued to deny their players the chance to feature in the IPL.
But Notts have relaxed their stance and agreed to release Hales if he is offered a contract worth at least £250,000 from an IPL team over the next three seasons.
Notts have also given England all-rounder Samit Patel the all-clear to play in the lucrative competition if he can also secure a lucrative IPL contract along with Hales.
Director of cricket Mick Newell said: "It's hard for us to deny an individual the opportunity to earn life-changing amounts of money but the team also has to be considered, so it made sense to allow him to enter the auction to see if there is sufficient interest in his services to secure a high-value contract."
Hales has signed for Adelaide Strikers in the upcoming Big Bash tournament in Australia, and he admitted he considered embarking on a roaming Twenty20 career had negotiations with Nottinghamshire collapsed.
Hales said: "I'm pleased to have come to an agreement with Notts because I want to spend my entire career here and I hope that will happen now that I've been given the opportunity to enter the auction.
"I'm not aware of specific interest from any given IPL franchise but I'm focused on performing well in the Big Bash because there are a lot of eyes on that tournament.
"I'm hoping to be involved in the Twenty20 matches between England and Australia which I hope can give me a platform to demonstrate my skills and stir interest from IPL teams.
"It did cross my mind to go freelance and focus on Twenty20 full-time but I've had time to think and I'm still driven to do well in four-day cricket and to break into England's one-day set-up."