NatWest T20 Blast: James Vince inspires Hampshire to win over Nottinghamshire
Last Updated: 04/08/14 8:05am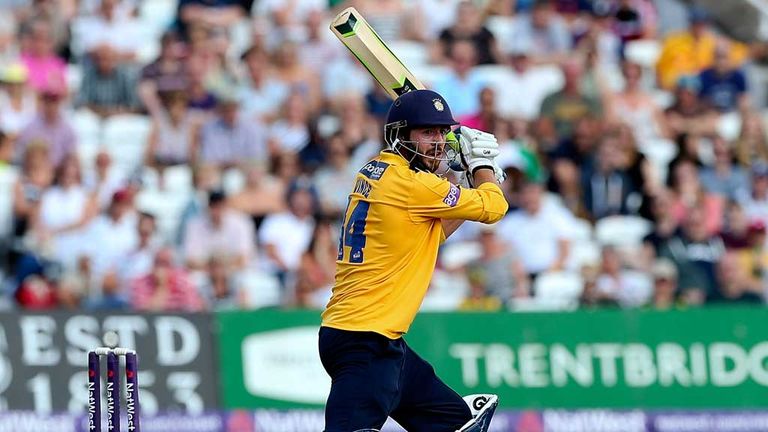 James Vince admitted 'it was a bit special' to guide Hampshire to their fifth consecutive NatWest T20 Finals Day after his match-winning knock of 93 off 51 balls secured victory over Nottinghamshire.
The skipper hit 11 fours and four sixes as Hampshire chased down 198 with with an over to spare in a five-wicket victory at Trent Bridge.
And Vince paid tribute to his team-mates as they look forward to their fifth consecutive T20 Finals Day at Edgbaston on August 23 where they will play Lancashire in the semi-finals.
"Obviously it's my first year as captain so I felt a bit of pressure to get there," Vince told Sky Sports.
"At the halfway stage chasing 200 it was going to be a tough effort but it was a good wicket out there and all the guys that batted were excellent today.
"We've got a great bunch of guys here who love playing together and love winning and it was special to chase a score like that down as well."
Hampshire opener Michael Carberry praised his skipper, insisting the team remained confident of winning after an opening stand of 70 from the first seven overs of their run chase
"It was a good run chase," said the England international. "Vinny played unbelievably well yet again as he has done all year and it was nice to get over the line.
"It was one of those - obviously when you need nearly 10 an over I believe you go one of two ways. You either capitulate or you have a bit of a dip and see what happens and I guess when we got off to a good start we always felt we'd be there or there abouts."
Matt Coles, who took both wickets for Hampshire and scored the winning run, admitted he is looking forward to his first Finals Day.
"It was great to get into a Finals Day. It will be my first one so it will be great to be there," he said.
"It's nice to be at Hampshire and part of a team that's doing well and I'm glad to be a part of helping them get to their fifth consecutive Finals Day."
Nottinghamshire's Samit Patel admitted the manner of the defeat was hard to take, but said his side will make sure they are ready to go again for the remainder of the season.
"We're absolutely devastated to have lost that," he said. "We thought we'd put a pretty good score on the board but just didn't execute our skills properly with the ball.
"This is a bitter pill for us to swallow but we've got some tough characters in that dressing room.
"We are in good positions in the other two competitions and will bounce back."