England v India: Trent Bridge warned by ICC over state of pitch during first Test
Last Updated: 04/08/14 4:05pm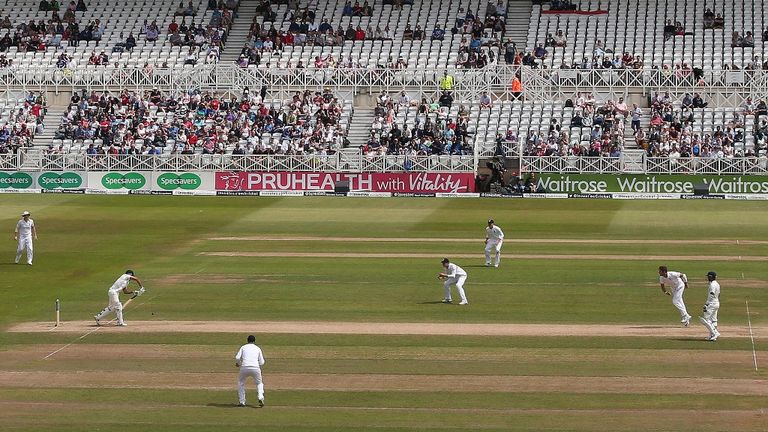 Nottinghamshire have been given an official warning for the state of the Trent Bridge pitch for the first Test between England and India last month.
The International Cricket Council (ICC) ruled that the match was not a fair contest between bat and ball, under the ICC's Pitch Monitoring Process.
David Boon, the match referee, rated the Trent Bridge pitch 'poor'. It was the first time an international pitch in the UK has been rated as 'poor' since the ICC introduced a new process for grading pitches in 2010.

An ICC statement read: "The sanction takes into account the Nottingham venue's history of producing good quality international pitches, that the monitoring of the pitch preparation by the England and Wales Cricket Board (ECB) before the Test was appropriate, and that there was a commitment by both the ECB and Nottinghamshire County Cricket Club to relay the pitch ahead of the next international cricket season.
"In reaching the verdict, the ICC observed that the pitch did not provide a fair contest between bat and ball throughout, and concluded that the pitch prepared for the match was of an unacceptable standard for Test cricket."
The finding was made by the ICC's General Manager – Cricket, Geoff Allardice, and the ICC's chief match referee, Ranjan Madugalle, after David Boon - who was the match referee for the Trent Bridge Test - rated the pitch as "poor."
England made 496 in reply to India's 457 and the match ended early on day five after India declared their second innings on 391-9.
Murali Vijay and Joe Root both scored centuries in the match, while there were 10 other half-centuries, including by tail-enders Mohammed Shami, Bhuvneshwar Kumar, twice, and James Anderson.
Trent Bridge is scheduled to host the fourth Ashes Test against Australia next August.