Twenty20 Finals Day: vote for your favourite catch from our short-list
Can anyone beat the Finch-Lyth combo catches - and which one is the best?
Last Updated: 22/08/14 8:51am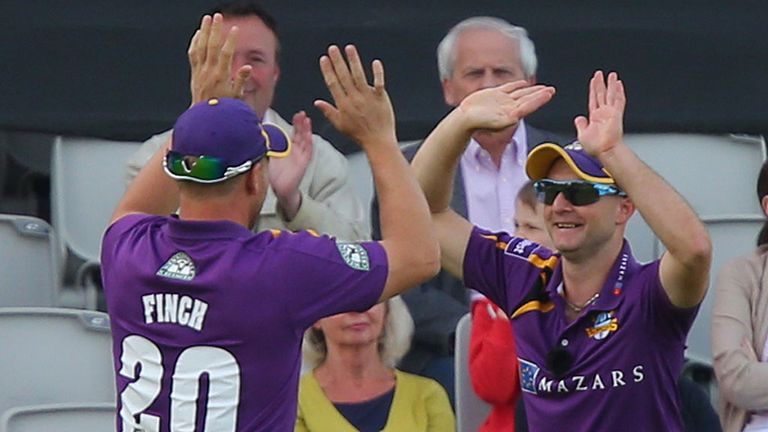 Don't let this chance slip through your fingers!
As part of our build-up to Natwest T20 Blast Finals Day, we've hand-picked five of the best catches so far in the competition and are offering you the chance to vote for your favourite.
Sit back and check out our compilation video below – then select the best from our shortlist and have your say @SkyCricket. But be warned, there are some real beauties to choose from… 
Steven Croft v Nottinghamshire, May 16
Take me through it... Steven Croft showed no opening night nerves as he put in an early contender for catch of the season on launch day, lifting off to pouch a fiercely-powered Samit Patel blow down the ground from a Wayne White delivery that was right in the slot. Patel, already with 56 off 40 balls to his name, was aiming to finish Nottinghamshire's innings in style but instead was transfixed as Croft ran round to jump and intercept the flat exocet, clutching the ball safely in his right hand as he went sprawling a few yards in from the mid-on rope. Patel later got his revenge by bowling Croft for 19 as Lancashire lost by 33 runs.
What they said… Nasser Hussain: "I don't think Patel can believe that. This is pure skill – brilliant, absolutely outstanding."
Aaron Finch (starring Adam Lyth) v Lancashire, June 6
Take me through it... Tom Smith was going great guns at Old Trafford with 55 off 28 to his name, powering Lancashire to 68-1 off 6.5 overs, when he blasted Adil Rashid high into the air. The hang time was only bettered by Sky Insider Adam Lyth, who leapt acrobatically at long-off to grab the ball as he sailed over the boundary before parrying it back to the waiting Finch. The decision went upstairs but Lyth, finger raised in celebration, gave it out himself and Yorkshire went on to win by five wickets.
What they said… Nasser Hussain: "Amazing. That is absolutely remarkable; total cricket awareness from Finch to be there."
Aaron Finch (starring Adam Lyth, again) v Leicestershire, July 1
Take me through it... Lightning strikes twice as the Finch-Lyth combo comes up trumps in the deep again with a vital catch that derails Leicestershire's pursuit of 169 to win. At 61-0 off 6.4 overs, the Foxes seemed well set before Josh Cobb (27 off 19) went aerial with a push-drive down the ground in Adil Rashid's first over. Sky Insider Lyth had to make more ground and less of a leap but was still almost over the rope when he pushed the ball back to Finch, who this time played a greater role with a diving one-handed catch. Practice does indeed make perfect!
What they said… Paul Allott: "I never thought I'd see another one like I saw at Old Trafford but that is even better! That is as spectacular and as brilliant as you could wish to see."
Jason Roy v Kent, July 2
Take me through it... Put into bat, Kent had already lost Daniel Bell-Drummond cheaply when Sam Northeast came down the track in Robin Peterson's first over, stepped to leg and lofted the spinner inside out high towards the Bedser Stand where six-footer Jason Roy – standing tall with perfect posture – took the catch only to feel himself falling back towards the boundary. He nonchalantly tossed the ball in the air, stepped behind the rope and then wandered back in play to collect his own throw. Simples! Roy later rubbed salt in the wound by smashing 79 off 46 balls to propel Surrey to an eight-wicket victory.
What they said… Nasser Hussain: "Jason Roy has done some brilliant things with the bat this series, but how cool was that? The iceman has taken the catch."
Hamish Marshall v Sussex, July 4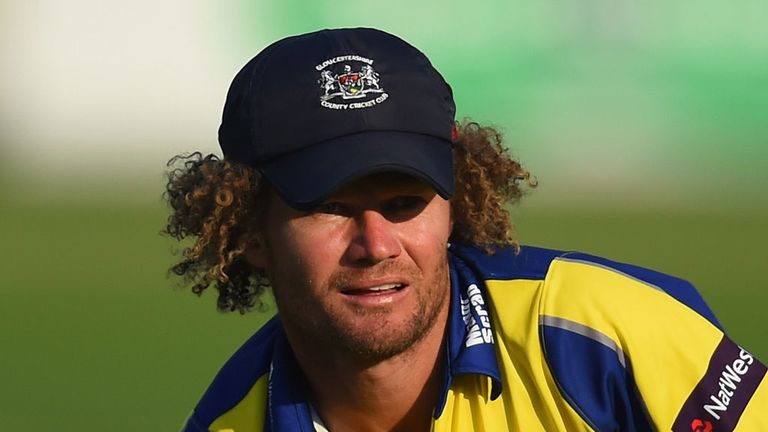 Take me through it... Chalk another one up for the Sky Insider! Sussex were still in the hunt at 124-8, needing 15 off five balls to beat Gloucestershire, when Will Beer clubbed a low full toss from Jack Taylor over mid-wicket, the ball seemingly on its way for six. Marshall then made his move, leaping high to hold the chance high above his head at full stretch while maintaining his balance and keeping on the right side of the rope. The game was up there and then – the result confirmed two balls later when skipper Alex Gidman took a none-too-shabby catch over his head running back, Lewis Hatchett falling first ball to Taylor who finished with 3-12, Gloucestershire winning by 13 runs.
What they said… Paul Allott: "What a catch! He's not the tallest man on the ground but he got off the ground to hold it two-headed above his head right on the boundary rope."
Watch T20 Finals Day this Saturday live from Edgbaston, from 10am on Sky Sports 2.