Compton eager for Lions chance
Nick Compton needs no reminding of the hype he will encounter if he follows his grandfather Denis into Test cricket for England.
Last Updated: 09/05/12 7:06pm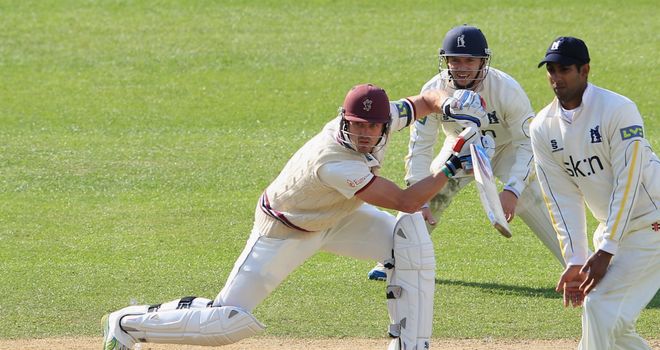 Nick Compton needs no reminding of the hype he will encounter if he follows his grandfather Denis into Test cricket for England.
The 28-year-old has raised just that possibility with a prolific run of form which has not only inked him in for England Lions against West Indies, but put him within striking range of a run-making achievement in classic Compton mould.
It is 65 years since Denis topped 3,000 runs in a season - a tally which has resonated down the generations from that glorious summer all the way to this soggy one, and doubtless long beyond.
Cricket evolution makes 1947 a world as well as an age away. But 2012 may prove Compton's year again - because if Nick can make 285 runs in a maximum six more innings, he will have sounded a significant echo of the past by becoming the first batsman since Graeme Hick almost a quarter-of-a-century ago to top 1,000 in May.
South Africa-born Compton had to leave his first port of call, his grandad's stamping ground at Lord's for Middlesex, to revitalise his fortunes with Somerset after a thrust of promise had taken him as far as two Lions appearances in Bangladesh but then petered out.
It will take a continuation of his current form, against the Windies in Northampton for starters - not to mention hitches for England's middle order this summer - for Compton to be in line for a Test debut.
But it has been his aim to do that since he first travelled to England as a teenage schoolboy, and nothing in the intervening years has changed that - or done anything but increase his appreciation of what the family name still means to millions of cricketers and cricket followers.
Legacy
"It's exciting - great to be part of that legacy," he said. "But none of that is going to get me runs in a Test match."
That part will be down to him - and will be the culmination of much honesty and self-analysis, to restate his case as an England possible.
"You see the results I've been getting now, and people tend to look at the recent past," he said.
"But I think batting is a journey, always has been. For me, it's not just been about one winter; it's the culmination of six, seven, eight, nine, 10 years.
"Some of the winters I'd gone away previously, I was perhaps searching - looking for something better.
"But I found something last year that was pretty consistent. I was quite particular about staying with that, and making what I had last year even better.
"That's what I've tried to do, and I've worked hard at it with some high-intensity practice. I've really tried to push myself out of my comfort zone, so that when you come into these sorts of arenas it's not such a shock.
"It's something I've tried to stick to. In the past, if I criticise myself, I have changed (things) ... but I think that's also part and parcel of the 'journey', learning about yourself and trying to improve.
"I think I actually did arrive at it. But it's the nature of the person I am that I kept wanting to improve - there must be something better out there - and you go searching for it.
"Then you actually forget what you do well. There's so much TV around; you watch great players you want to emulate; you see them doing things and think 'I could hit the ball like that - I want to hit it like that'.
"Actually, (it should be) 'what are my strengths, what are the foundations of my game?' I think I've always known that, but it's something in the human being that always seems to want more than you've got."
Compton still remembers the crushing disappointment after he fell out of the Lions reckoning, and out of favour at Middlesex.
"When you're so young and ambitious, it felt like my whole world had crashed," he added. "Now you look back a little bit more philosophically."