Ballance to boom?
Gary Ballance remains top of the Sky Sports Sixes League - and could extend his lead on T20 Finals Day.
Last Updated: 21/08/12 2:34pm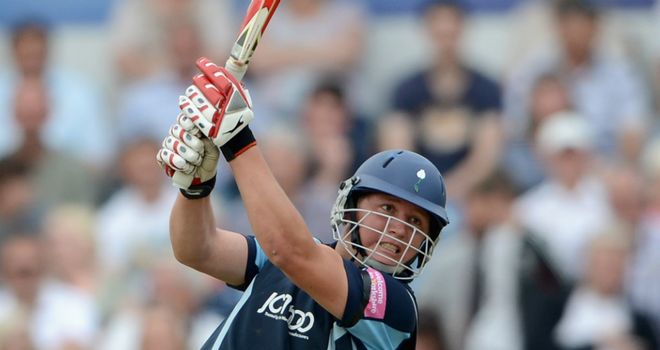 Gary Ballance has a lead of three in the Sky Sports Sixes League and could extend his advantage during Twenty20 Finals Day on Saturday.
The Zimbabwean-born strokemaker, who has smacked 23 maximums so far this term, is sure to play a key role for the Tykes in Cardiff as they search for their maiden Twenty20 title.
Middlesex maestro Eoin Morgan sits second in the standings but could find his chances to cut Ballance's lead limited after being named in England's one-day squad for the upcoming series with South Africa.
Durham's Phil Mustard heads the August standings with 11 big hits, but the wicketkeeper is being chased down by Nottinghamshire star Riki Wessels, who cracked a trio of sixes against Mustard's county on Sunday to move his tally for the month onto nine.
Season table - as of Aug 21
| | | | |
| --- | --- | --- | --- |
| Name | Team | Sixes | Balls |
| G Ballance | Yor | 23 | 500 |
| E Morgan | Mid | 20 | 197 |
| J Foster | Ess | 17 | 302 |
| P Mustard | Dur | 17 | 503 |
| S Croft | Lan | 17 | 624 |
| R Wessels | Not | 16 | 351 |
| M Pettini | Ess | 16 | 487 |
| D Miller | Yor | 15 | 231 |
| G Andrew | Wor | 15 | 243 |
| L Wright | Sus | 14 | 392 |
August table - as of Aug 21
| | | | |
| --- | --- | --- | --- |
| Name | Team | Sixes | Balls |
| P Mustard | Dur | 11 | 156 |
| R Wessels | Not | 9 | 124 |
| N Eckersley | Lei | 7 | 44 |
| E Morgan | Mid | 6 | 80 |
| C Read | Not | 5 | 130 |
| S Piolet | War | 4 | 35 |
| G Andrew | Wor | 4 | 54 |
| P Trego | Som | 4 | 58 |
| A Lyth | Yoy | 4 | 111 |
| S Myburgh | Ned | 3 | 23 |
Trending