Yorkshire Bank 40: Sky Cricket statistician previews opening games
Statistician Richard Isaacs previews the first four Yorkshire Bank 40 games live on Sky Sports.
By Richard V. Isaacs - @RVISkyStatto
Last Updated: 05/06/13 2:53pm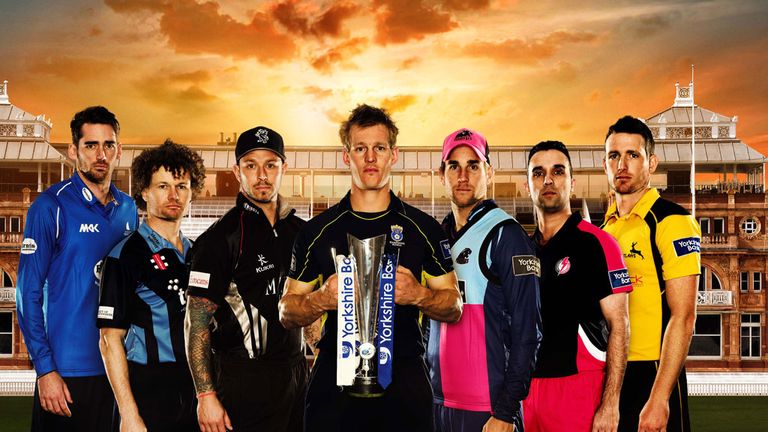 David Lloyd, Bob Willis and Paul Allott have already delivered their verdict on the sides to beat in each of the three groups.
But do their views stack up with the stats? Sky Cricket statistician Richard Isaacs takes a closer look at this week's Sky Live games to give you the lowdown...
Essex Eagles v Hampshire Royals - Group B
Hampshire have not beaten Essex away from home in a one-day match since winning by 85 runs at Southend-on-Sea in 2001 - courtesy of an unbeaten 105 by Zimbabwean Neil Johnson.
The Eagles have won five of the last seven limited-overs matches between the sides - The Royals' wins both coming on home soil by just eight runs in 2006 and two runs in 2007.
Such is the way that the groups have been split over the last few years that this will be the first time that Essex and Hampshire would have played in one-day cricket since 2009.
Welcome to Fortress Chelmsford! Only Lancashire at Old Trafford and Kent at Canterbury have a better win percentage record than Essex do at Chelmsford - winning 62.9 per cent of their home games at their HQ.
Leicestershire Foxes v Gloucestershire - Group C
Look away now Leicestershire! The Foxes' recent record against the West Countrymen is not so good - winning just one of the last nine encounters dating back to 2000.
Rain - unsurprisingly - put paid to the match last season at Grace Road in late August but back at Bristol earlier in the campaign, Gloucestershire recorded their biggest ever runs victory over Leicestershire, crushing them by 164 runs.
Such is the inexperience of the Leicestershire side that none of their current squad has scored more than 600 runs in one-day cricket at Grace Road. Matthew Boyce is the leader on 567 from 23 games.
Gloucestershire's 21-year-old seamer Liam Norwell will hope he is fit for a return to the ground where he claimed his best one-day bowling figures last season - and the best by a Gloucestershire bowler at Grace Road - taking an impressive 6-52.
Durham Dynamos v Essex Eagles - Group B
This will be the fifth one-day match in a row between these sides to be played at the Emirates Durham International Cricket Ground - the score standing level at two wins for each side in the previous four.
There has only been 16 matches between these two counties in one-day cricket - including one match while Durham were still classed as a minor county back in 1973 - but two of the games have finished in ties, in 1995 and 1998.
Dynamos' batsman Mark Stoneman was one of five batsmen to pass 500 runs in the CB40 competition in 2012. He totalled 558 at an average of 69.75 with three centuries.
The Eagles last lifted the title in 2005 and 2006 - one of two counties that have won this competition (in its various guises) back to back twice! Lancashire is the other.
Middlesex Panthers v Glamorgan - Group C
Middlesex and Glamorgan have not met in one-day cricket since 2007. That match was played at the picturesque Eugene Cross Park in Ebbw Vale, which was the last time it was used by Glamorgan in a first XI game.
You have to go back to the last Century to find the last Glamorgan one-day win at Lord's against the Panthers - April 1999 to be exact when the Welshmen won by 35 runs.
Matthew Maynard's 151 not out for Glamorgan against Middlesex in 1996 remains the highest score by a visiting batsman in domestic one-day cricket at the game 'Headquarters'.
Glamorgan were unable to win any of their last four matches in the 2012 CB40 (lost 3, no-result 1), while Middlesex didn't lose in their last four (won three, tied one v Worcestershire).
For full details of Sky Sports' live coverage click here and stay up-to-date with Richard on Twitter at @RVISkyStatto and @SkyCricket.