England bowler Steven Finn admits he needs to work on his bowling action
England bowler Steven Finn admits he needs to work on his bowling action as he prepares to return from Australia.
Last Updated: 17/01/14 8:52am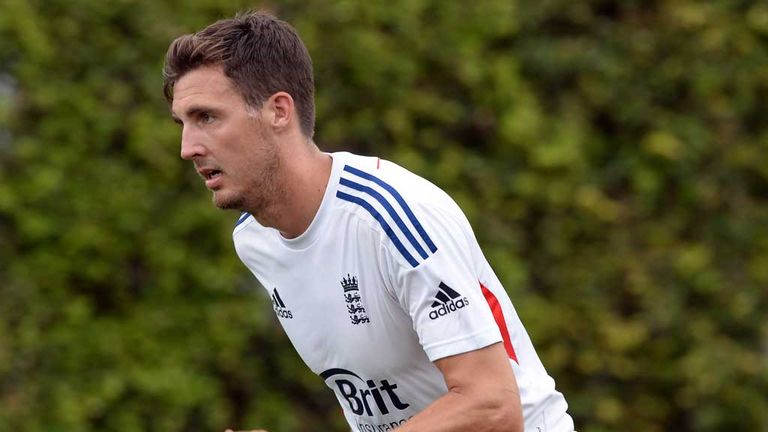 The 24-year-old did not feature in the five Ashes Tests as England were whitewashed by Australia and he also missed out on selection for the opening one-day international.
England's ODI coach Ashley Giles announced on Wednesday that Finn would be flying home as he was currently "not selectable" due to technical problems with his bowling action and the Middlesex paceman admits it has been a frustrating time.
"I've worked very hard on this tour. I've put lots and lots of hours of work in to try to make my bowling action right and I arrived on the tour very confident that I could play a full part in the Ashes series," he said.
"As the series went on and as we moved into the one-day leg of the tour, it's clear that there are a couple of technical issues that I need to address.
"The decision was made by Ashley and (Middlesex director of cricket) Angus Fraser, a liaison between the two of them and people higher above.
"And going home and working on these aspects of my game would be the best place for me to do it, to get away from cricket for a couple of weeks because, at times, it's felt like I've been banging my head against a brick wall, trying to make it right and trying to prepare to play.
Looking forward
"To take myself out of this environment, a competitive environment, to get myself back to Middlesex and work with people that I've worked with for a long time before, I'm really looking forward to it."
Despite his recent problems in the nets, Finn does not feel he is a far away from getting back to his best form.
"There's times on this trip where it's felt like it's so close to clicking, even as recently as a couple of days ago bowling in the nets before the Prime Minister's XI game, I bowled nicely," he added.
"I bowled with decent pace, I bowled quite consistently but it's the infrequency with which that's happened that's probably a little bit of the reason for me going home.
"It's close to clicking and it's not far away and I actually don't think it's going to take too much to get me back to where I want to be."
He added: "I do love the game but at times it's been hard to love it and that's a contributory factor.
"It's tough for me to leave this tour. I'm upset that I'm leaving the tour because I want to be out here helping England win games of cricket and I'm sure the lads will do well in this one-day series and this T20 series because we've got some great players.
Go home
"I'm gutted that I'm not part of that but I think it's best for me that I go home now."
Following the Australia tour, England travel to the West Indies in February for three one-day internationals and three Twenty20 games before the World Cup in Bangladesh in March.
Finn admits he is unlikely to be ready for those trips, but he is eyeing a return to the international scene against Sri Lanka in May.
"As far as the West Indies trip and the Twenty20 World Cup goes, it's going to be difficult for me to put my hand up for selection for those as there is going to be no cricket outdoors for me before that point to put my hand up for selection," he said.
"That might be slightly unrealistic for me. I'm not letting go of the hope that everything might click once I get back to England after a couple of weeks but it will be difficult for me to push my claim for that tour.
"The focus for me is getting back for Middlesex, really enjoying pre-season with Middlesex, playing some early season cricket there at Lord's and around the country playing for Middlesex and then try and put my hand up for those first one-dayers against Sri Lanka."