Cricket: England bowler Steven Finn back to his best says Middlesex assistant coach
Last Updated: 06/08/14 6:41pm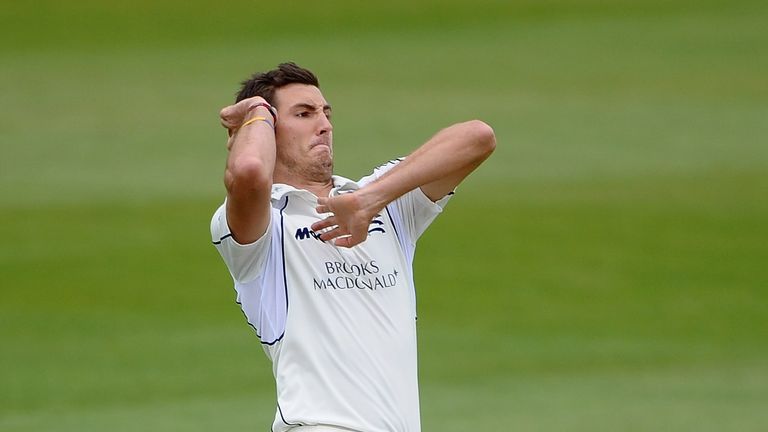 England fast bowler Steven Finn is "back to his best", according to Middlesex assistant coach Richard Johnson.
Finn has been recalled to the Test squad for the fourth Test and is in line to play against India after last featuring for England in that format over a year ago.  
The 25-year-old returned home early form the winter Ashes tour to Australia after former England coach Ashley Giles deemed Finn unselectable.
But Johnson says the Middlesex paceman is hungrier than ever and is now ready to fire on all cylinders.
"From a technical point of view it's the old Steven Finn," Johnson told Sky Sports News. "I think we've got him back to where he was before.
"When you go through something like he's gone through it's massively character building and as a professional sportsman you have to go through bad times to come out the other side to improve.
Discounted Oval Tickets!
Sky Tickets have terrific offers for the fifth and final Test at the Oval. Click here for details.
"When you're a professional sportsman your psyche is to improve, you always want to get better and you don't just stand still and accept what you've got is great. You want to improve.
"I think now from his point of view he will never take for granted bowling a ball and playing for England. I think that sort of feeling then is a good way to go because professional careers can be very short, whether it's injuries or whatever, and I think now he'll appreciate it probably even more than he did before."
Johnson says going to back to basics and working on bowling fundamentals have be key to Finn's rejuvenation.
Confidence
He said: "We assessed him when he came back over the winter and we decided that there were a lot of technical points that were different to where he was before and his confidence was very very low
"If you're on long tours you don't have much time to work on these issues and they become worse and worse over a period of time and mentally it affects you more as time goes on.
"We started the process of almost going back to the drawing board. We had a clip of Steven Finn that we all agreed was him at his absolute best and we worked from that clip.
"It was then just a case of piecing it together from that clip and where he was at the time and working his action back to that point really."