Derbyshire deducted 50-over points for sub-standard pitch
Derbyshire have been docked two points for next season's 50-over competition because of a poor pitch.
Last Updated: 23/08/13 7:00pm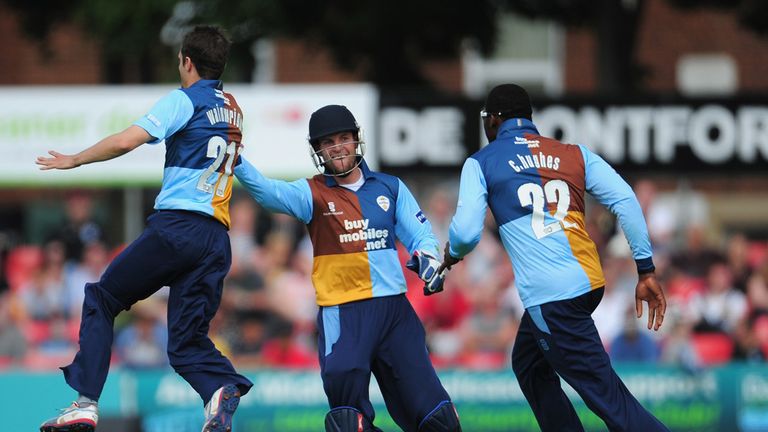 The ECB pitch panel has punished the county over a sub-standard strip for the Yorkshire Bank 40 fixture against Durham on August 15.
It was reported by the on-field umpires Trevor Jesty and Martin Saggers and the ECB inspectors agreed that it has "demonstrated excessive turn and should therefore be rated as poor".
Derbyshire won the match by 107 runs after skittling out the visitors for 110.
The punishment means Derbyshire will start next year's revamped competition on minus two points.
Derbyshire chief executive Simon Storey insisted there was no intention to gain an advantage.
"Whilst we have to accept the verdict, the pitch panel's review confirmed that there was nothing to indicate in advance that the pitch would behave as it did," he said.
"There is no suggestion of an intention to produce a favourable playing surface for the home side. Indeed, there was no way our ground staff could have predicted the resulting outcome.
"The fixture in question was played on the same pitch used for the Twenty20 game against Leicestershire at the end of July and it was prepared in the exactly the same way.
"Over the last 21 years, head groundsman Neil Godrich and his team have overseen the production of hundreds of high standard pitches more than suitable for county cricket at both Derby and our festival grounds.
"In line with current ECB regulations, in this instance the pitch panel had no choice but to uphold the umpires' initial rating and the club with an automatic penalty for the 2014 season.
"I can ensure you that this will only reinforce our desire and ambition to compete in next season's competitions."