An incredible day
David Lloyd was stunned to see 16 wickets tumble on a remarkable first day of the third Test.
Last Updated: 03/02/12 7:23pm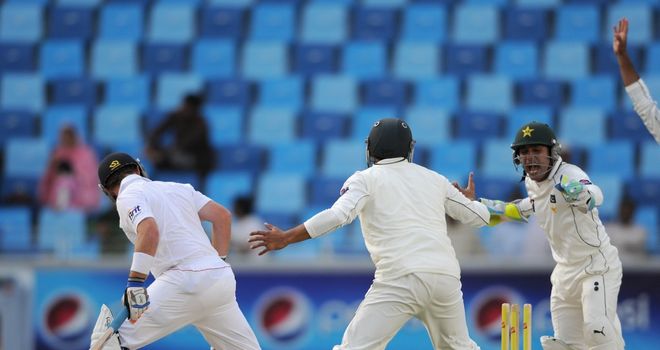 David Lloyd was stunned to see 16 wickets tumble on a remarkable first day of the third Test between England and Pakistan in Dubai.
England reduced Pakistan to 99 all out to take the upper hand before a disappointing batting display saw them end on 104-6, with Andrew Strauss and Jimmy Anderson at the crease.
On a pitch that was not doing a great deal, neither side could get to grips with the opposition bowling to leave a result in this Test looking a certainty.
Lloyd told Sky Sports News: "It's been incredible cricket, England's bowlers were once again on top of the Pakistan batsmen. I think both teams are fragile in batting but to look at England's performance they were exceptional.
"Pakistan were 99 all out and everybody was thinking this is plain sailing on a 400 score pitch, then bang, 104-6!
"In the Test matches that we've seen I think there's no blame on the bowlers, they've been excellent. The spin bowlers were excellent in the last Test match, it is the batting that has let England down.
"Both captains at the toss this morning - Misbah saying we'll bat first and Andrew Strauss then saying he'd liked to have batted first!
"All the batsmen are paranoid about the decision-review system (DRS), trying to get the leg out of the way and forgetting to hit it with the bat."
Struggle
Alastair Cook and Jonathan Trott managed just one and two runs respectively before Ian Bell was dismissed for five, Eoin Morgan for 10 and Matt Prior for six.
Kevin Pietersen appeared to be in decent nick but was trapped lbw by Pakistan's left-arm spinner Abdur Rehman.
"Some of the batsmen are out of form, they're struggling to beat the off-spinner which is playing on their minds and then the left-arm spinner Rehman nips in," Lloyd added.
"The other thing is Umar Gul picked up the first two wickets. England are really on the back foot and not looking like they want to play on this batting strip. It's a perfect strip."
On Pietersen, he added: "Kevin would say that he averages 37 against left-arm spinners and roundabout 50 against everybody else. But it's uncanny, when he comes in they just put a left-arm spinner on and he seems to get out. He's got to overcome that somehow.
"I thought he played pretty well today, unlucky once again but his 32 runs came at a bit of a lick and he was looking to get down the pitch.
"Strauss has played well because he's gone forward and looked to use his feet from time to time.
"I think it's last chance saloon for a number of them. They've had three Test matches, if it doesn't work here we move on to Sri Lanka to play two Tests and we might see new faces, such as Ravi Bopara. Don't discount Samit Patel.
"Somebody's surely got to get a century, a batsman on either side, but they don't look confident and they're worried sick about this DRS."