A top ton
Michael Atherton praised a 'special' knock from Alastair Cook on day one of the first Test with South Africa.
Last Updated: 20/07/12 8:38am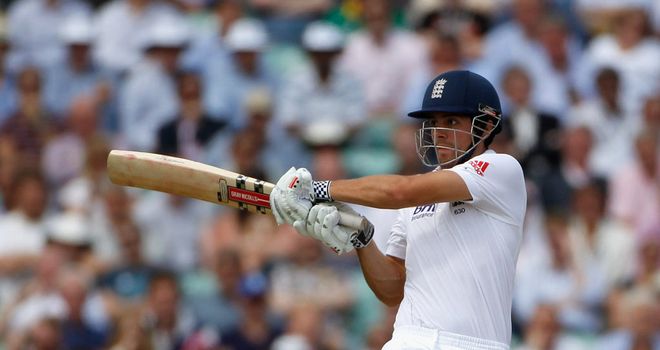 Michael Atherton was full of praise for Alastair Cook after England's opener guided them to a strong position at the end of day one of the first Test.
With captain Andrew Strauss out fourth ball Cook needed to deliver for the hosts and he duly did, finishing the day on 114 not out after reaching his 20th Test century with a stylish display.
Contributions from Jonathan Trott (71) and Kevin Pietersen (42) helped England to 267-3, with Ian Bell alongside Cook at the crease on 10 not out.
Essex man Cook had gone 16 innings without a ton but, according to Atherton, this was one of his best, scored at an important time for England.
"This was a special innings," Atherton told Sky Sports. "As an opener there are certain times when you want to produce and the first innings of a Test is always important; the first innings of a Test of a series is important; and obviously the first innings of a series as big as this one is very important.
"So he can feel that he's produced when it mattered. You could see from his celebration, which was slightly more expansive than usual, that this was a special hundred for him.
"He was very disciplined outside the off stump, forcing the bowlers to bowl at him and then being very strong through the leg side and he was more fluent than normal, too. Obviously he was watchful to start with following the early dismissal of Andrew Strauss but from lunch onwards he was really fluent and he played about as well as he can play."
Discipline
Former South Africa ace Shaun Pollock agreed and admired Cook's discipline: "I was impressed with how selective he was," he said. "He waited for the South Africans to come into his zone. I sat there and on three or four occasions thought: 'gee, I'd have had a go at hitting that through the covers,' but that's why he plays at the top of the order and does it so consistently well."
The South Africa camp will of course be less satisfied with the day's proceedings, but Pollock pointed out that with England's slow scoring rate the match was far from over.
"South Africa will be a little bit frustrated but what they will say is: 'yes we didn't do that well, only taking three wickets, but they didn't go at a rate of knots'. England are still under three an over for the day which means they haven't got away from us. If we can pick up a few early wickets on day two, and bat well, we can get ourselves back into this."
Undercooked?
Pollock also said it was too early to say the Proteas were underprepared for the series: "When you get a result like that you're going to say they're undercooked but you can only judge a surface once both teams have batted on it," he said. "We'll have to wait and see how England goes."
Atherton concurred - and pointed out the Oval pitch has given players plenty of surprises in the past.
"The key question is: 'how is the pitch going to change?' We saw a pitch here in 2009 that changed dramatically as we went into the late part of day two and day three so that really is the issue. If it doesn't change I'm sure England will find it tough going as well and South Africa, with their batting line-up, will fancy their chances of putting a big score on the board. But if it suddenly goes - as it can do at the Oval if it's a bit dry on top - then it's a totally different ball game."