Test of character
Bumble and Beefy have high praise for Jonny Bairstow as the third Test is finely poised.
Last Updated: 18/08/12 6:32am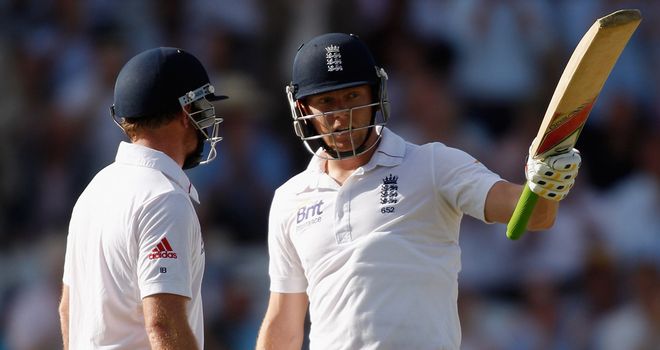 Bumble and Beefy have high praise for Jonny Bairstow after Day two at Lord's.
Bairstow's unbeaten 72 helped England dig themselves out of trouble in the third Test against South Africa.
After wrapping up South Africa's first innings for 309, England were 208-5 at the close, largely thanks to a stand of 124 between Bairstow and Ian Bell for the fifth wicket.
The hosts had been in deep trouble at 54-4 before the middle order pair came together to frustrate the South African attack for much of the afternoon, and with all the talk and drama of Bairstow replacing Kevin Pietersen, the youngster certainly stepped up to the plate.
"It was a test of character, said Bumble.
"The skill is there - he would not be playing in this Test match if the skill was not there. But he came in with four wickets down and fifty odd on the scoreboard and South Africa really gunned for him - they gave him a real working over. But he stood up to it and I thought he was brilliant, absolutely magnificent.
"Tomorrow he will have to start again but he would have answered a few question for himself - he's coming in for Kevin Pietersen - I don't want to go all through that again, he is not Kevin Pietersen but he is a young kid making his way and we have seen the character of the man against a really good attack at Lord's. It's a big tick."
Sir Ian Botham agrees with Bumble about Bairstow and believes that the test match is finely poised.
"Bairstow played very well - he really watched the ball which I really liked. He showed patience and strength. He could have got carried away but he didn't - far from it. They attacked him early on but that did not work. Once they started bowling fuller and straighter to him he worked it away very well. He played well. But I am not going to say too much because of the curse of the commentator!
"To walk off to standing ovation in just your fourth Test at Lords overnight, not out on 72 - he will never ever forget that.
"I think it is going to be a cracking test match whatever way it goes now.
"It is going to be a very interesting game and a real test of nerves and character - I think it is going to be a thriller. This game is very evenly poised, but day three is the day when someone usually puts their nose ahead. One of these sides are going to be much happier than the other on Saturday night - it just needs a bit of magic from someone."