Letting it slip
Sir Ian Botham and Michael Atherton felt dropped catches cost England dear against South Africa.
Last Updated: 21/08/12 12:25pm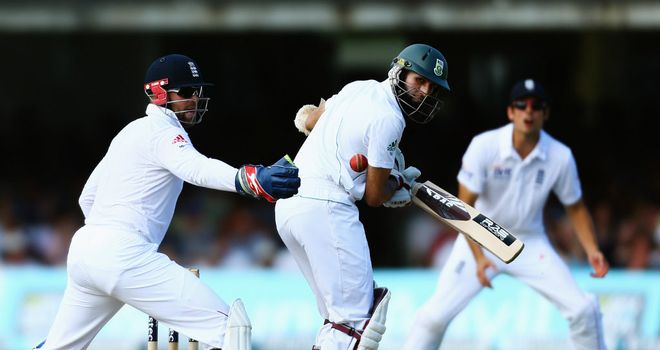 England have dropped down the Test rankings, but were a succession of dropped catches the reason for their demise?
Sky Sports experts Sir Ian Botham and Michael Atherton believe so after calculating that no fewer than nine South African batsmen were dropped by Andrew Strauss's side during the three-match series.
Hashim Amla was one of the main beneficiaries, having been put down by the England skipper on 40 at The Oval on his way to 311. He then enjoyed a similar reprieve from Matt Prior at Lord's when he was dropped with two runs to his name, before completing another century.
And Botham says those mistakes left England with too much to do in both matches.
"In this series, the one place they've really let themselves down has been the catching," he told Sky Sports.
"There's been nine catches dropped in this three-match series. Jimmy Anderson was involved in a few of them, which you just wouldn't expect because normally he's very safe.
"Amla on his own benefitted to the tune of 390 runs with those two dropped catches. He was dropped on 40 at The Oval and went on to 311 and was dropped on two at Lord's and made 121.
"One person benefitted from 390 runs and that is a big number of runs scored against you that you've got to make up."
Margins
Fellow Sky Sports expert Atherton admits he has been surprised by England's profligacy, as their fielding had been the cornerstone of their rise to the top of the ICC rankings.
But he says that in a tight series those small margins are the difference between victory and defeat.
"It's an unwelcome trend for England," Atherton said.
"One of the key aspects of their rise to number one in the rankings has been the brilliance of their fielding.
"If we go back a while to that Ashes series in Australia they were quite outstanding in the field generally and in that slip cordon. As Ian has highlighted there's been a fair few catches put down.
"In the context of the third Test, the drops off Amla and De Villiers were absolutely key. On the third evening Prior dropped Amla on two down the leg side and he went on to get 121 and De Villiers was on eight when Anderson put him down at short midwicket and he went on to get 43 in a partnership worth nearly 100 with Amla.
"In a tight contest those mistakes are magnified and more important. Anderson's was a very simple catch; Prior's was more difficult, but having made the ground - and given that he's an excellent wicketkeeper - he'll be disappointed."
Lack
And Atherton suggested that a lack of consistency in key positions may explain why England have been less solid than usual in the field.
He added: "I suppose England have had to slightly rejig their slip cordon around Anderson, who's sometimes in there and sometimes not when he's bowling.
"He started doing it for Swann at the start of the series and now Strauss is doing it, so they haven't been as settled as they'd like to be in that slip cordon.
"Cook has started to come in now. He's no longer doing short leg, Taylor's doing that, so it's been a bit changeable.
"The best slip cordons are those that are rock solid. You look at the South African cordon, okay they're missing Mark Boucher but Graeme Smith and Jacques Kallis are in the top 10 catchers of all time in Tests, not taking into account wicketkeepers."