KP 'could return'
Nasser Hussain says Kevin Pietersen's international career isn't over despite the batsman's England snub.
Last Updated: 22/08/12 1:54pm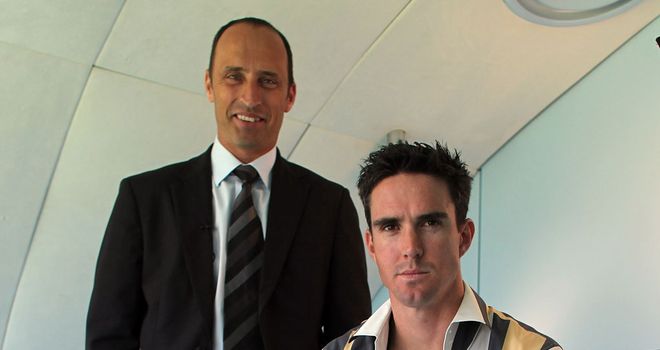 Nasser Hussain thinks Kevin Pietersen's international career isn't over, despite the 32-year-old's England snub.
The former England captain believes the selectors were right to leave Pietersen out of England's squads for the one-day series with South Africa and the ICC World Twenty20 after the batsman admitted sending provocative texts about team mates to South Africa players.
However, Hussain told Sky Sports that Pietersen - who scored 248 runs at an average of 62 as England won the 2010 World Twenty20 - could yet wear the Three Lions shirt again.
"He was player of the tournament last time - he was one of the reasons England won it - so England are going to be a lesser side without him. But there was no way they could pick him," said Hussain.
"I had a long chat with him [at the Oval on Tuesday]. I've heard both sides of the argument. I put a lot of trust in Andy Flower and Andrew Strauss, and Kevin has made a lot of mistakes - and I think he himself will admit that.
"But you can't say 'never to Kevin Pietersen' - that he'll never play again; let's have a little bit of time between now and whenever and give time a chance to heal the Pietersen rift with the England management."
Humiliate
Last week Pietersen apologised for sending "provocative texts to my close friends in the South Africa team".
But England coach Andy Flower has made it clear that Pietersen must agree to "face-to-face" and "man-to-man" talks before he returns to the England fold - something Sky Sports commentator Mike Atherton says has to happen as soon as possible.
"Andy said nothing that hasn't been said by the ECB when Kevin Pietersen apologised," reflected Atherton.
"The apology, for whatever reason, wasn't good enough, wasn't accepted - I don't know why, it seemed a fairly straightforward apology to me. I don't see why they need to drag it out and kind of humiliate the guy.
"Clearly they need to sit down face-to-face to sort it out and I hope they do sort it out. Get it sorted out! Don't let it drag on!
"No doubt Pietersen is at fault [for not talking face-to-face] and no doubt the ECB are at fault now as Andrew Strauss is going on holiday and there can't be a face-to-face meeting.
"Clearly given what's gone on it would have been very difficult for Pietersen to get into that Twenty20 squad or indeed the one-day squad.
"Hopefully a bit of time may do both parties some good and we will see him in India in November."
Annoyed
Sky Sports commentator Paul Allott suggested the onus is now on the ECB to get the respective parties together to 'thrash things out' - although that situation is unlikely to take place before the weekend as Strauss has taken a short break from cricket.
"It can be resolved but the ECB don't seem to want to do it too quickly otherwise they would have insisted that there was a meeting this week," said Allott.
"Don't forget that both Strauss and Pietersen are contracted to the ECB - it sounds obvious but they are: they are employed by them.
"If you need to thrash these things out, then you need to get the employees around the table and do it.
"They probably thought there's not much point as they are not going to pick him for the World Twenty20 squad and they are not going to play him against South Africa in the one-day internationals or the Twenty20s.
"It may be that a bit of breathing space of a week will let things cool down but I doubt it judging by what Andy Flower said. He is obviously particularly annoyed still and disappointed with the situation and it doesn't appear, from what he said, that it's close to resolving itself."