Mendis 'a real threat'
Paul Collingwood says Sri Lanka's Ajantha Mendis will be a handful throughout the ICC World Twenty20.
Last Updated: 19/09/12 10:52am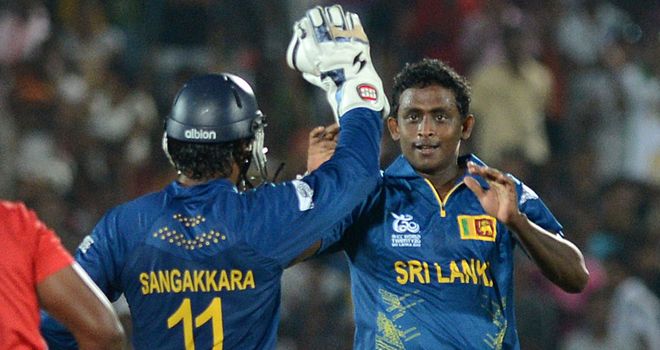 Paul Collingwood has warned that Sri Lanka's Ajantha Mendis will be a real threat throughout the ICC World Twenty20 after the spinner bagged 6-8 against Zimbabwe.
Mendis wreaked havoc to register the best-ever bowling figures in 20-over international cricket as the hosts cruised to an emphatic 82-run victory in the opening match of the tournament. Match report.
Zimbabwe could muster only 100 in 17.3 overs in reply to Sri Lanka's 182-4 as Mendis and Jeevan Mendis (3-24) proved too good in Hambantota.
"It's fair to say that Zimbabwe weren't picking him - and they weren't picking the wrong 'un from Jeevan Mendis either," said Collingwood, who captained England to the World Twenty20 title in 2010.
"Ajantha Mendis is a serious bowler. He's obviously bowling very straight, turning it both ways and he's going to be a handful right throughout the tournament.
"He's got three very good balls. He's got the googly, which turns quite a lot; the off-spinner doesn't turn much but he's got the cannon ball as well.
"When you're watching it out of his hand you are trying to pick him but then you've got to actually play it and the Zimbabwe batsmen couldn't do that.
"When we played against him a few years ago in the Champions Trophy, the game-plan was to try and hit him down towards mid-off and extra cover, actually, for the right-handers.
"He doesn't turn it a hell of a lot but it does skid on so getting that front pad out of the way is crucial because he does bowl very, very straight."
Impact
Mendis has now taken 46 wickets in 22 Twenty20 internationals at an average of 9.84 and few bowlers in the world can match his economy rate of 5.45 runs an over. Jayawardene reaction.
Yet although the 27-year-old has taken 62 wickets in 16 Tests, Sky Sports pundit Mike Atherton says he believes that the spinner presents more of a threat in the shortest format of the game.
"Mendis has outstanding statistics in 20-over cricket; there are only two bowlers in the top 50 who go for less than six runs an over," said Athers.
"But where he struggles in Test cricket doesn't have so much of an impact here. He doesn't bowl with any over-spin at all.
"Most spinners, whether it be off-spinner or wrist spinner tend to bowl with quite a lot of over-spin, so that creates some dip and some deception.
"Mendis doesn't do that. You'll see the ball coming down and it just rotates from side to side most of the time unless he bowls his googly.
"In Test cricket batsmen can sit on him and there isn't that deception but in 20-over cricket when you have to get after him, he creates problems."
Atherton added: "Zimbabwe were 250-1 before the tournament and you can see why; they were hopeless in the field, pretty hopeless with the bat as well.
"One can hope that they can only improve because they didn't provide any opposition for Sri Lanka."