England in a spin
Nasser Hussain blames England's inexperienced batting line-up for their "horror" defeat to India.
Last Updated: 24/09/12 12:13pm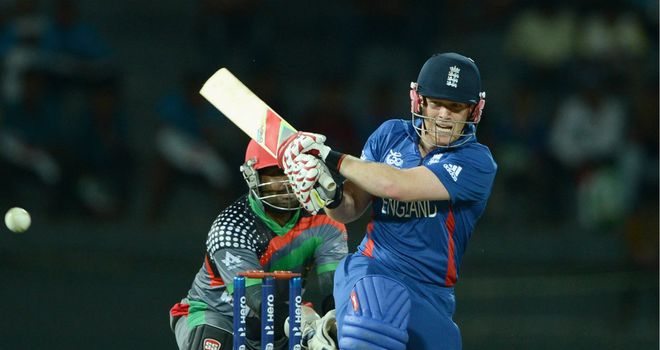 Sky Sports expert Nasser Hussain has blamed inexperience in England's batting line-up for their "horror" defeat to India in the ICC World Twenty20.
England were bowled out for just 80 in Colombo on Sunday - their lowest total in the shortest format of the game - after India had reached 170-4 from their 20 overs.
Once again England's batting line-up was exposed by spin with off-spinner Harbhajan Singh taking 4-12 - the best figures from an Indian bowler in Twenty20 cricket.
Four of England's top six batsmen playing against India were under 25 - with Luke Wright the oldest at 27 - and Hussain believes a lack of familiarity with the conditions contributed to their downfall.
Hussain told Sky Sports News: "It was an absolute horror show.
"The bowlers did ok but even they bowled a bit short. The fielding was of two degrees: you had the brilliant catch in the deep but some sloppy fielding as well and then in the batting there were too many dot balls and the playing of spin again was absolutely horrendous.
"So there are some issues. It is not a news flash that England can't play spin very well. It has been like that for a long time.
"It is just surprising how bad they were because in the tournament generally they have won and played some good cricket.
"There is not a solution overnight. They can't go and have a net and suddenly all the years of spin bowling issues suddenly disappear.
"What will concern the batting coach Graham Gooch is that it didn't actually turn big. I have been out here on a few tours when Murali was playing where they were big, raging turners.
"This just offered a little bit for the spinner. And the other issue is that Harbhajan played for Essex for a few months last summer and he did not do a lot, he didn't get a load of wickets, he didn't get 4-12 in four overs. So why was it happening last night?
"I think it was down to the inexperience in the line-up to be honest. They are all good young players but they are inexperienced in these conditions.
"So you are going to get jumps from great performances to horror shows as well."