Mystery chopper
Dominic Cork says England's woes against spin could be magnified by Sunil Narine on Thursday.
Last Updated: 27/09/12 10:22am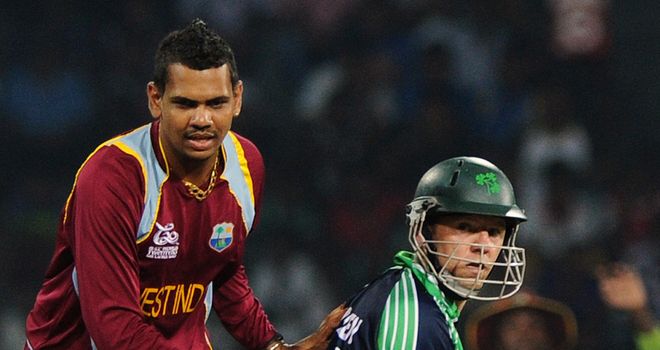 Dominic Cork says England's woes against spin could be magnified by the West Indies' Sunil Narine on Thursday.
Stuart Broad's side move into the Super Eights stage of the ICC World Twenty20 low on confidence after an embarrassing performance against India which saw them bowled out for just 80 - their lowest score in t20 cricket.
England's inexperienced batsmen were exposed by the spin of Harbhajan Singh and Piyush Chawla and Cork believes West Indies will look to take advantage of that by opening the bowling with Narine.
"Knowing Darren Sammy he'll get him straight into the attack," he told Sky Sports News.
"He's a mystery spinner, who can spin it both ways and he's done well in other competitions.
"In this competition he's done very well to get his wickets and also to put pressure on batsmen. That's what this competition is all about.
"Getting the likes of Ed Joyce and Brendan McCullum shows just what this character is all about and the West Indies do have box office players.
"England will have analysed him, will see exactly how he's going to bowl on these wickets and I do see the West Indies being a difficult side to get past.
Capitulation
Cork believes that England's players will be itching to get out onto the field to put aside the memories of the capitulation in their last game.
But he admits they have to resolve their long-standing problems against spin as quickly as possible.
"We are talking about quality spinners," he said.
"We're talking about mystery spinners and England have always struggled against the mystery spinner - Shane Warne or Muttiah Muralitharan - and Harbhajan Singh was brought into the India side to upset England.
"Piyush Chawla can spin it both ways, so give credit to Duncan Fletcher and MS Dhoni, who thought it was right to put these young players under pressure.
"Yes, there was nothing on the game, but of course there was something because Twenty20 is all about momentum and keeping yourself in the competition.
"Today is obviously a big game. We'll have to wait and see whether England can rectify those problems, but you've got to get straight back on the horse when things go wrong,
"You're still a good enough player to play for England. They'll be hurt, and I hope they are hurt from that performance because it wasn't good enough, but like Stuart Broad said, the competition starts against the West Indies.
"They have to beat the West Indies to get themselves into a proper position to go through to the semi-finals."