Lack of power
England must make more use of the powerplay overs, Paul Collingwood told Sky Sports.
Last Updated: 28/09/12 12:03pm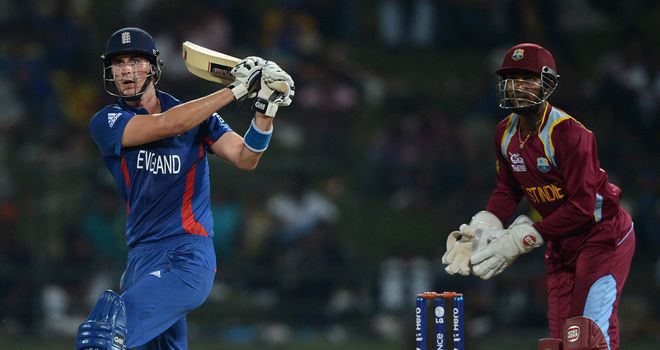 England must make more use of the powerplay overs if they want to be successful in the World T20, Paul Collingwood told Sky Sports.
Andy Flower's men lost their first match in the Super Eights to the West Indies by 15 runs. Big hitting from Johnson Charles (84 off 56) and Chris Gayle (58 off 35) fired the Caribbean outfit to 179-5 - a total which, despite a valiant partnership of 107 from 58 deliveries from Eoin Morgan and Alex Hales, was too much for the reigning champions.
Collingwood, who captained England to World T20 success in 2010, believes England must work harder to restrict their opponents with the ball and make better use of the first six overs, when fielding restrictions are in place.
"There are a couple of areas England need to look at," he said. "There's a concern about how many runs they're going for with the ball. If they could reduce the score to something like 150 or 160 that would help the batters and mean they weren't under as much pressure.
"The other area is the first six overs when England are batting. That seems to be a bit of a worry. There seems to be a trend there. England were 29-2 after their first six. The West Indies were 47-0.
"It took an amazing innings from Eoin Morgan to get England close but they've got to target that first six overs because they need to be up to something like 50 runs by the end of that powerplay."
Craig Kieswetter again failed to fire England to a good start and Collingwood believes, despite his tough task at the top of the order, the wicket keeper must start delivering soon.
"Kieswetter is a really strong player through the off side - that's his strength," he said. "But at the moment I'm a little bit worried. He's playing shots that are out of his bubble. It's hard because he needs to go out there and play the shots, he's got to take risks but now he has to score runs quickly."
Morgan, England's top scorer, only came to the crease after ten overs, but suggestions he should have come in ahead of Jonny Bairstow are tinged with hind-sight, said Marcus Trescothick.
"When somebody's got 71 off 36, it's easy for us to sit here and say 'why's he not been given the chance to face more deliveries?'" he said. "But Eoin Morgan hasn't had the greatest time of it in T20 cricket recently and hasn't really delivered like this, like we know he can.
"I understand the principle of putting Bairstow in first, trying to build it up a bit.
"Unfortunately now we're asking 'what if Morgan got another ten deliveries?' If he had we'd have got really close."
King Charles
However, Trescothick also paid tribute to Johnson Charles and Chris Gayle who, at the top of the order for West Indies, put on 103 for the first wicket.
"There was a good opening partnership for the West Indies and that's what you need in T20 cricket," he said. "Johnson Charles had a little bit of a slow start but he dove-tailed really nicely with Chris Gayle and when he had the opportunities to score big he really took that. He hit a couple of nice ones off Graeme Swann and really got the game flowing for West Indies."
Collingwood was also full of praise for Charles: "He didn't have to go that fast at the beginning of his innings with Chris Gayle at the other end. I actually thought he paced his innings really well.
"We also saw the power he's got. When he's trying to hit the ball for six it's interesting to see the momentum he takes into the ball - and that's something I think England could learn from. Early on we were trying to hit the ball square but they go into the ball and use their big frames."