Wright stuff
Paul Collingwood praised Luke Wright after he smashed England to victory over New Zealand.
Last Updated: 29/09/12 2:45pm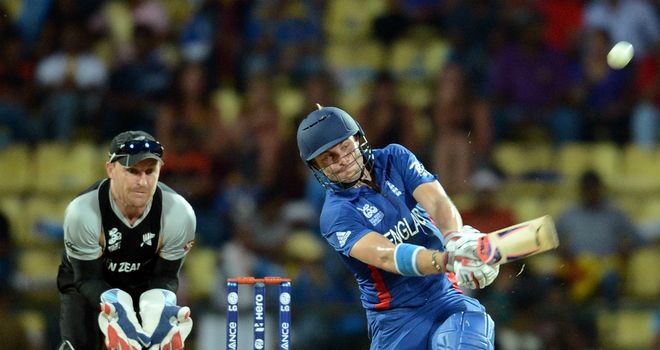 Paul Collingwood praised Luke Wright's hard-hitting innings after the Sussex man steered England to victory over New Zealand.
Andy Flower's side chased down New Zealand's 148-6 with the loss of just four wickets to earn their first win of the Super Eights of the World T20.
Steven Finn impressed with his 3-16 with the ball to restrict the Black Caps before Wright set England on course by smashing 76 off 43 balls - further proof of his development as a batsman, says Collingwood.
"He was brilliant," said England's 2010 World T20 winning captain. "He gave himself some time to get in but as the innings went on he showed his power. He's a big six hitter and that makes a difference in this format because you can make up your run rate.
"He used to be off-side dominant but he hits the ball a long way leg-side now as well."
Marcus Trescothick was also impressed with Wright's hitting.
"There was a little bit of a stutter at the start but then Luke Wright came in and dominated," said Trescothick.
"That's what we've seen from all the quality batsmen in this competition. People like Shane Watson and David Warner have smashed it to all parts of the ground and that's exactly what Luke Wright did for England."
Jimmy Adams believes Wright's form will give renew England's confidence in their batting line-up, after they were exposed by West Indies and India in their previous two matches.
"He's a strong lad but most of those sixes came off the middle of the bat," said Adams. "The few that didn't still cleared the rope.
"In the context of what England are looking for, they now have another batter in the top half dominating and this will give them loads of confidence going forward. They're going to need as many batters in that top five feeling good about themselves as they can, with some of the challenges coming up."
Fine fielding
Collingwood was also keen to highlight the good work England had done in the field.
"England set that victory up by the way they bowled and fielded," he said. "They restricted New Zealand to 148 runs and you're going to win most of your games if you can restrict teams to that sort of total.
"You can't keep chasing 180, 190. To do that you need all of your batters to pull something off. With chasing totals like 140 and 150 you can afford to have a couple of batsmen not on their best form."
Trescothick picked out the combination of young Danny Briggs and Steven Finn being vital to England's hopes in this competition.
"England got off to a good start with the ball," he said. "Steven Finn was brilliant. In the first couple of overs he and Briggs set the tone really well. Finn was bang on the money and he picked up a couple of early wickets that really put pressure on New Zealand.
"With Briggs bowling so well from one end New Zealand had to attack Steven Finn and that's not easy to do when he's bowling 90mph."