A right balls up
Dominic Cork says the law calling the ball dead when a bowler accidently breaks the stumps is nonsense.
Last Updated: 01/10/12 11:36am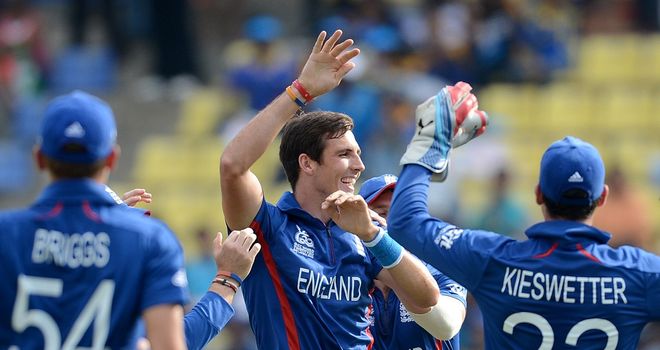 Sky Sports expert Dominic Cork says the law that the ball is called dead when a bowler accidently breaks the stumps is an "absolute nonsense".
New Zealand captain Ross Taylor was furious that his side were denied runs by Steven Finn's habit of breaking the wickets while bowling during their clash with England on Saturday.
A wide and a boundary were called dead balls after the England bowler, who took 3-16 to help beat New Zealand by six wickets in the World Twenty20 Super Eights, dislodged the bails.
While it benefitted the bowler on this occasion, Finn was the one left frustrated earlier in the summer when the England bowler got Graeme Smith out after accidentally breaking the wickets and the South Africa captain refused to walk.
"It is a nonsense. It is an absolute nonsense that has been caused by a change in the rules that goes back to South Africa this year at Headingley when Steven Finn got Graeme Smith out. He knocked the stumps over," Cork told Sky Sports News.
"I used to take out the middle stump sometimes with that leg. Some bowlers may clip the wicket with their hand, are we saying that is a dead ball as well?
"If it is off putting why don't players walk away? Players like Franklin and Smith who got out to that ball played at it. It doesn't affect you. Every time you take a wicket they are just going to say they were put off.
"It is the bowler's mistake but I don't think it puts the batsman off. What we are saying is that bowlers are not allowed to get wicket to wicket. If it was like that I would not have played cricket. That is why I say it is a nonsense.
"To me it is a rule that has been brought in because of one person, Graeme Smith. If he didn't moan this rule would not be here and we would be carrying on."
Apologise
While England continue their World Twenty20 campaign in Sri Lanka, the saga surrounding Kevin Pietersen's international future continues with reports suggesting he will have to make a "grovelling public apology" before he is welcome back into the England team.
Asked if Pietersen should apologise, Cork said: "If he wants to play for England? Yes.
"I have been calling for this for a while as well, if he can show a bit of humility whether it is in the press or to the players in the dressing room. Kevin Pietersen is England's best batsman. That is the simple truth.
"Without him the England side are obviously a lesser team. If he can do that, is happy to do that, let him do it and we will see how we go."