All hail Gayle
Nasser Hussain praised Chris Gayle's skill and power as he guided the West Indies into the final.
Last Updated: 05/10/12 6:24pm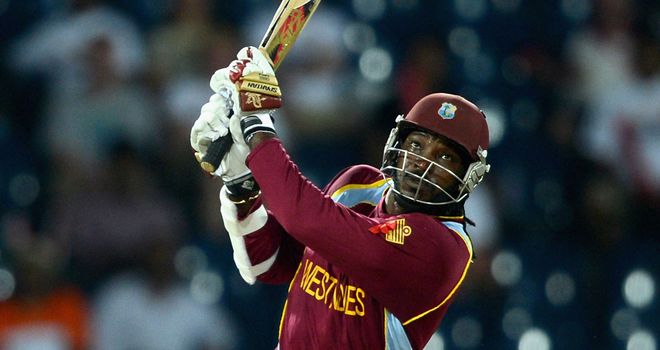 Nasser Hussain hailed Chris Gayle as a "legend" after he powered the West Indies into the ICC World Twenty20 Final.
Friday's second semi-final turned out to be a rout for the West Indies as they demolished Australia by 74 runs in Colombo with their big-name batsman once again proving to be the star of the show.
Gayle was denied the strike for long spells, but still managed to post 75 not out - including six sixes - despite only facing 41 deliveries.
And Sky Sports pundit Hussain said it was a fine display of skill as well as power.
"He only had 41 deliveries and he batted all the way through," he said.
"Generally if Chris Gayle bats all the way through he's going to get 120 or 130, but he was starved of the strike and hence he had to pick his bowlers.
"The moment anyone tried to bowl spin at him, he just belted it out of the ground. He set himself, didn't move around too much and when he did move around he didn't panic.
"He's just very cool; he's cool at the crease and cool away from the crease. He's just a legend!
"He's very, very strong and he's very, very good and he watches the ball very carefully. He doesn't move his head at all; generally his eyes and his head are very still.
"He watches it right onto the bat and there's a lot of skill going on. He's not just a slogger this lad, he's a proper player.
"He's got double-hundreds in Test matches and he's done it to everyone. He's not a bully; he'll do it to anyone. If you can do it to Brett Lee you can do it to anyone.
"He's a proper player and he's consistent. You look at someone like Boom Boom Afridi; he might have come off one in 10 in his heyday and now he comes off one in 20.
"Gayle comes off one in two, if not more! Nearly every knock in this tournament he's come off. It might only be a little cameo of 30, but it's 30 off 15 deliveries. He's incredibly consistent.
"The final needs Chris Gayle playing. Sri Lanka might not see it like that, but the final needs Chris Gayle in there."
Aggressive
The likes of Marlon Samuels, Kieron Pollard and Dwayne Bravo took the strike for long spells and fellow Sky Sports pundit Michael Atherton said they played a key role in the West Indies' success.
But he admitted that it was the powerful hitting of Gayle that really caught the eye.
Atherton said: "The other batsmen got a lot of the strike and therefore once the opener got out, Bravo and Samuels played aggressively between them and that took a lot of pressure off Gayle.
"If he wasn't getting the strike and they weren't scoring then it would have been a different situation.
"It is a completely different generation of batsmanship to when we played when you go in half-thinking about cautiously defending and protecting your wicket.
"In this form of the game there's an intent there right from the outset."