Aussies rule
Michael Atherton refused to criticise England's bowlers or tactics after they lost the World T20 Final.
Last Updated: 07/10/12 3:47pm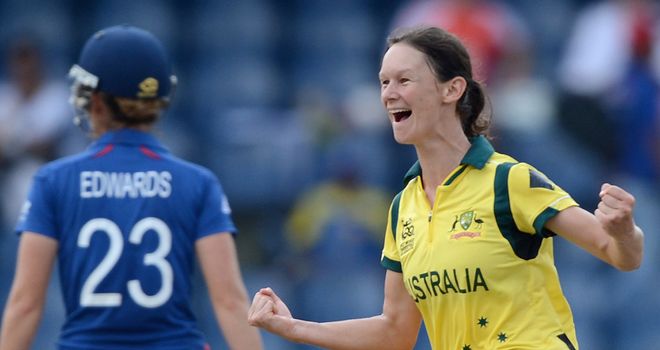 Michael Atherton refused to criticise England's bowlers or tactics after they lost the World T20 Final to Australia.
Charlotte Edwards won the toss, but her troops were soon on the back foot as Australia powered to 47 without loss from the opening six overs.
England launched a strong run chase, but were ultimately left with too much to do as they fell four runs short of Australia's total.
However, Sky Sports expert Atherton said the credit should go to Australia for a fine performance, rather than looking for deficiencies in England's approach.
"We had the two best teams, by far, in the final and it was a terrific advert for the women's game," he said.
"There was lots of dynamic cricket and I thought England did well to take it as close as they did after a difficult game.
"Charlotte Edwards wanted to do what they'd done all tournament long, which was chase - but in the conditions you'd say the advantage was with runs on the board.
"Nevertheless Australia really went at England in the first powerplay and got to 47-0 after six and from that point onwards they were in a position to dominate the game.
"England did well to take it to the wire, but Australia were too good for them today."
Confidence
England's confidence was shaken when Katherine Brunt was smashed for 20 runs from her two overs and Edwards later admitted that the team hadn't been as good with the ball as they usually are.
But Atherton felt they simply came up short against superior opponents.
"I wouldn't be overly critical of England's bowlers," he said.
"Australia played really well at the start and went at England. There were a couple of wide deliveries, but England didn't bowl badly there.
"That's six overs where you've got to give credit to the Australians. They came at England and disturbed them, but it was through their own good play rather than England handing them six overs on a plate.
"Charlotte Edwards said England hadn't been at their best with the ball and in the field throughout the initial stages in Galle, but we saw an improved performance in the semi-final.
"I didn't think England were bad today. I thought Australia played well."
Atherton was also unwilling to criticise Edwards' decision to bat second, despite the fine conditions in Colombo.
"You don't have to be rigid and flexibility's obviously a good thing," he said.
"Good sides need to be able to win on both sides of the coin, whether you're batting first or chasing.
"She won the toss and they'd won by batting first on a far worse pitch in the semi-final and it's obviously a method they like and feel comfortable with.
"I don't think you can be too critical of the decision to field first, especially when they got it so close at the end."