The Overview: Day 4
Cook's composure, the KP conundrum and Bumble's band names were the talk of the comms box as England rallied...
Last Updated: 18/11/12 1:35pm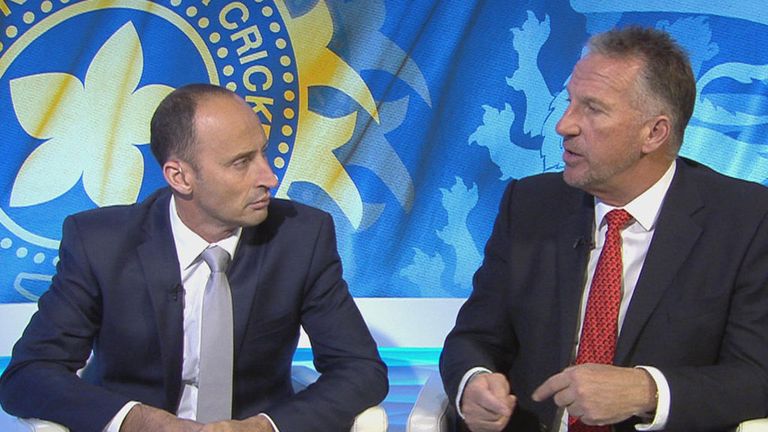 That was the key question as play resumed on day four in Ahmedabad with the tourists, following on, on 111-0 - still 219 runs behind India with 10 wickets in the locker.
As play began, Nasser Hussain said England must take inspiration from the performance of their openers...
Nass: "Alastair Cook and Nick Compton made sure that we did get through to day four and now all of the England batting line-up - and it is a long one - have to make sure that we get through to day five. If they bat out the day they'll be ahead - so there's a long, long way to go..."
Compton survived a stumping chance but added only three runs to his overnight 34no before coming unstuck... and spinner Pragyan Ojha then found Jonathan Trott's edge and bowled Kevin Pietersen...
Nass: "Zaheer Khan set Compton up beautifully. The first five deliveries are from around the wicket - he's left-arm, remember - coming in. Nick Compton has to shuffle across and cover the deliveries and in particular get his head over. Zaheer then comes over the wicket and Compton doesn't adjust much - just a little bit - which means that he has to play across his front pad. His head falls over and he's trapped lbw. It was outstanding bowling."
Nick Knight: "These conditions are a great challenge for Jonathan Trott because he can get a little bit heavy-footed and a bit predictable with his foot movements. His trigger movement is across the crease. It's very English or southern hemisphere if you like. It's not a technique that he's going to change overnight but it's something he has to be aware of."
Nass: "Is Kevin Pietersen a great player of spin? No. Is he a player that has played great innings against spin? Most definitely. He's lost his defensive technique against left-arm spin. He can't keep the ball out. Why? In the first innings we saw that Pietersen's hips were pointing towards mid-wicket and hence his bat is going to go in that direction. When he doesn't rely on that defensive technique, he comes down the pitch and gets very much off-side of the ball; he tries to get a long way across and kick the ball away and he's exposing his stumps behind him. In the second innings he plays a sweep shot and gets bowled around his pads."
Cook refused to crumble, though, and became the first captain to make hundreds in his first three Test matches as skipper - his 21st Test hundred helping England to 182-3 at lunch...
Athers: "The local feeling is that India have made just enough progress. Obviously Alastair Cook has been absolutely outstanding and at the heart of everything, I think, is a fundamental belief in his defensive technique. Compare his ability to stay in at the crease with Kevin Pietersen trying to manufacture a sweep because really he's got no fundamental confidence in his ability to get over that first 20 minutes. The second shot from Ian Bell - his second ball - where he drilled it beautifully through extra cover along the ground really highlighted the madness of his first innings dismissal."
David 'Bumble' Lloyd: "Cook's happy with his game - he's very, very well organised. He's 27 years of age, he's got 21 centuries, he's the opening batsman. Nothing fazes him. You can't say that he has a fear of fast bowling, he's coped brilliantly in this game with spin. He's got a fabulous record and he's going to get a stickful of runs."
Nick: "One other thing we mustn't forget with England following on is that he's captain for the first time on a permanent basis; he's got the burden of the team, the burden of the performance that his team has put in. He played nicely in the first innings too but he's got all that going on in his mind and it just looks as if it doesn't faze him whatever."
Not even the loss of Ian Bell and Samit Patel, it would seem, who fell lbw to seamer Umesh Yadav in consecutive deliveries...
Nass: "A lot of people, rightly, have been very critical of Bell's first innings shot because it was his first ball in the Test match. What you don't want is him doing that and then not going down the pitch for two or three Test matches because it looks ugly if he gets out again; that's a shot he has, if he sees it and wants to play it, let him. Just go and play it properly. You could say that Ian Bell has probably gone a little bit too far into his shell [against spin]."
Sir Ian Botham: Our technology suggested Samit was a little bit unlucky - the ball was clipping leg stump but there was an inside edge there. But fair play to Yadav - he's bowled as quick as anyone in the match with an old ball and got it to reverse late. Dhoni has handled his bowlers most of the time very, very well."
Bumble's thoughts, though, were more on spinning discs than rotating bowlers...
Nass: "We've had a few tweets and emails in about where Ojha is bowling from - some people saying 'is he bowling a no-ball because he's bowling so wide?' You're ok on the front foot when you are that wide, it's the back foot that's an issue...
Bumble: "There's a band called The O'Jays - I'm not sure any of those are left-arm spinners. 'Love train' - that was one of theirs.
Nass: "I'm trying to make a serious point about Ojha's no-balls and you're going on about the 'Love train'?"
Bumble: "I'm just musing. I'll tell you who is on around here in December in a place called Barnes - Zoot Money and Alan Price. Zoot Money used to be Zoot Money and the Big Roll Band. They don't have names of bands like they used to have: Harold Melvin & the Blue Notes, Reverend Black and The Rocking Vicars. Now they have names like N-Dubz and One Direction..."
England remained in deep trouble at tea, some 66 runs behind on 264-5, but with Cook (138no) and Prior (40no) digging in, Beefy's hopes of a bonus day off were diminishing...
Athers: "India are frustrated in the sense that they've been made to work a little bit harder than they were in the first innings, but that's not a surprise to me or people who have watched England over the last few years. The pitch hasn't disintegrated - there's enough there for the spinners but it's not a minefield.
"Cook has been quite superb - the bowlers are almost running up without hope, now, just hoping that he makes a mistake. The wonderful thing about the way Cook is playing is that he doesn't get stuck; I could imagine myself or Nasser playing on this pitch against a fairly defensive field. We'd get stuck. But the way that he manoeuvres the ball, particularly off his legs where he's absolutely world class, means he's been happily rotating the strike. But he can't do it all on his own and the ship is gradually sinking. Not only is he captain of the ship, he's shipping out all the water with the buckets as well."
England added 76 runs in 28 overs in the evening session, erasing their deficit and claiming a lead of 10 runs before finishing on 340-5. For the record, Cook closed unbeaten on 168 with Prior 84no...
Nass: "Well played the England captain; 501 minutes he's batted in the second innings. He's been on the pitch for all but three hours of this Test and there's a big smile on his face and rightly so. Every England cricket supporter is very proud of their captain at the moment. Matt Prior has been there with him, as he often is, and they've fought hard."
Athers: "It was an incredible achievement from Alastair Cook today. He looked so in control out there. It was very telling how tired the Indian team were tonight. They all sat down at the final drinks break of the day, slowing the over-rate right down in the final half-hour; it was almost as if they didn't want the overs and England didn't want the overs either - a kind of non-aggression pact out in the middle. But England have only just got their noses in front - they are effectively 10-5 - and India will come out a lot fresher tomorrow morning and it only takes a couple of wickets in that first session to make life very difficult indeed. But while Alastair Cook and Matt Prior - who tailors his game wonderfully now according to whatever situation England find themselves in - while those two are still there, there is a glimmer of hope."
So can England dare to think about grabbing a dramatic victory on day five?
Beefy: "Anything's possible - anything's possible if a bit of luck goes your way. But England really need these two to keep going for another 250 runs! In 1994, in Sydney, Australia had to chase 117 against South Africa but were bowled out for 111 by Fanie de Villiers. So anything can happen; you only need to take a couple of quick wickets and people can get a bit twitchy. But that's a little way off yet!"
Don't miss the fifth and final day of the first Test - live on Sky Sports 1 HD on Sunday from 3.55am.