Michael Clarke's hunger for Test runs extraordinary, says Mark Butcher
Michael Clarke's run-scoring feats are evidence of his 'extraordinary' hunger for batting, says Mark Butcher.
Last Updated: 22/11/12 3:51pm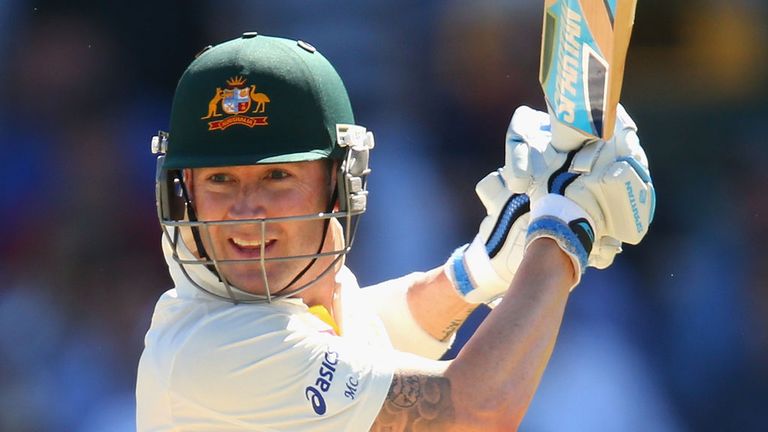 Australian skipper Clarke, 31, became the first man in Test history to score four double centuries in a calendar year as he powered his way to an unbeaten 224 on the opening day of the second Test against South Africa, in Adelaide.
The home side closed the day on 482-5 after opener David Warner (119) and Michael Hussey (103) both scored centuries but it was Clarke's masterclass that caught Butcher's eye.
"The purity of the stroke-play really is gorgeous to watch - great footwork, great technique, a flowing blade; it's really beautiful batting," said former Surrey and England batsman Butcher, who scored three centuries in 20 Tests against Australia.
"He's in the type of form that if you're lucky to get into it - and you've got the mental capability to keep scoring - you try to make the most of it. His hunger to carry on is absolutely extraordinary.
"The footwork at times was absolutely sparkling, particularly to the hapless spinners.
"You were almost surprised when he mis-timed one. It was just a phenomenal piece of batting. He doesn't seem to be getting tired, he doesn't seem to be making any errors of judgement and everything seems to be pinging off the middle of that bat of his.
"It's just absolutely remarkable and I think the captaincy has made a big difference to that.
"I know there are certain players for whom wearing the crown, as it were, is a little bit too heavy and makes batting a little bit more difficult but there are others for whom when they're looking at their batting in the context of the team as a whole rather than their own statistics, it just makes them blossom and allows them to really go on and do things that perhaps they never thought they were capable of in the first place."
Impressive
Clarke - who scored 329no and 210 against India in January - picked up from where he left off in the drawn first Test in Brisbane, in which he scored 259 not out, striking 39 fours and a six off 243 balls.
Former England all-rounder Dominic Cork told Sky Sports the manner in which Clarke has taken the attack to South Africa's highly-rated seam attack is particularly striking.
"I think what's impressive as well, and I'm talking from a bowler's point of view, is that he keeps coming at you and how he's actually been aggressive.
"As a fast bowler (which I wasn't) when you're seeing yourself getting hit back over your head, you know somebody's in form.
"These guys - the Steyns, the Morkels - are bowling 90-95mph but you know when a batsman's in form because he's coming at you and it's very difficult to knock them back.
"The only one little fault you can say with Clarke, and it happened at Brisbane and it happened here, is that if you can get a bouncer very close to his left ear he fends it away. That's the only place you could say he's got a little weakness at the moment.
Of Clarke's feats, he added: "When somebody individually in your team is having success it goes around the team and that's why I think we are now seeing an Australian side who have that little bit of arrogance that we've seen throughout the eighties and the nineties.
"They lost that a little bit when a few of their big players retired - the Warnes and the McGraths. Now it is starting to come back in."
Watch day two of the second Test between Australia and South Africa live on Sky Sports 2 HD from 11.55pm.