Stuart Broad looks very tired, says Sir Ian Botham, after first day of second Test
Stuart Broad isn't doing England any favours if he isn't fit to play in the second Test, says Sir Ian Botham.
Last Updated: 23/11/12 1:19pm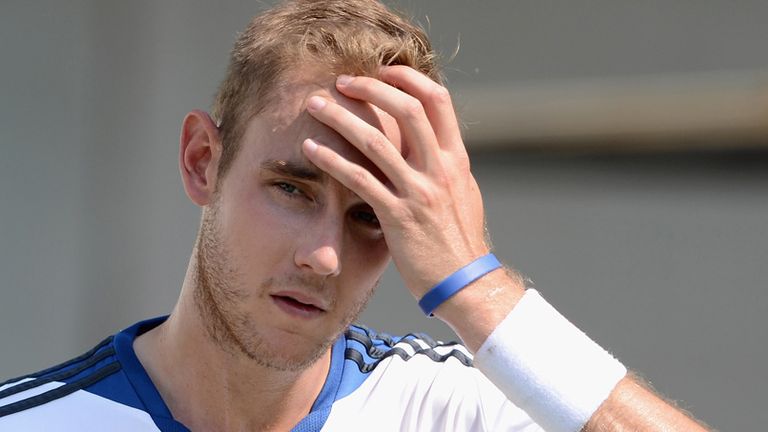 Broad - who missed practice on Thursday due to illness - looked under-par as he returned figures of 0-60 from 12 overs at the Wankhede Stadium, in Mumbai.
India, at one stage 119-5, closed the day on 266-6 as Cheteshwar Pujara (114no) and Ravichandran Ashwin (60no) shared an unbroken seventh-wicket stand of 97 to thwart the progress made by the tourists, who were buoyed by the performance of recalled spinner Monty Panesar (4-91).
But it was the form of Broad that was uppermost in Botham's mind.
"No-one wants to see someone who has performed so well for England struggling, but he is struggling," said the former all-rounder, who said after last week's opening Test in Ahmedabad that he would not pick Broad for the second match of the series, comments the Nottinghamshire all-rounder appeared to respond to on Twitter. Stuart Broad Twitter spat
"He looks tired and I'm not sure he's 100 per cent fit with the foot injury. There are a lot of things that go into the equation and I wouldn't have played him in this game - and I've been quite honest about that. I've said that because I just don't think he's there at the moment and I don't think it's right and, with Steven Finn not fit, I would have played [Stuart] Meaker because I just want someone different.
"I want someone with real pace; yes, he's definitely raw but he's quick and it would have given the batsmen something else to think about.
"It didn't happen; they played Broad and I don't think he's done himself any favours today. It's very difficult bowling over here but one thing you've got to do is give it everything and even if you're trying to reverse the ball, you've got to run in and give it everything you've got because reversing the ball at 78mph is ineffective.
"I don't think he's right. I don't think he's fit. He looked very tired. He's bowled 12 overs today. He had one spell, came back for a second spell and he looked tired.
"I always stand in the corner of the bowlers and I think over the years the batsmen have had a pretty rosy deal in comparison to the bowlers.
"But from a cricketing point of view - there's nothing personal here whatsoever, far from it - I just feel that he's not doing himself any favours and he's certainly not doing the team any favours. I think you've got to be ruthless occasionally."
No zip
Fellow former England captain Nasser Hussain agreed that Broad does look off-colour but suggested that it would be unfair to drop the 26-year-old so soon in the series.
"The only thing I would say against that is that in the last winter and when England have bowled in the sub-continent, [James] Anderson, Broad, Finn and [Tim] Bresnan have been exceptional and the batters let them down.
"Do you leave Stuart Broad out after one bad game in Ahmedabad when batsmen have batted badly for a long, long time yet stayed in the side? Would that be fair on Stuart Broad?
"But I agree with Ian - his pace is down, there's no nip, there's no zip. He's not going to get that many runs. Meaker's there fresh and raring to go. I guess if Finn was fit, he'd have probably played.
"England have slightly shot themselves in the foot by making him vice-captain - I would personally have gone with [Matt] Prior on that role and I hope that's not keeping him in the side."