Michael Atherton says India got the better of England on day one, thanks to Cheteshwar Pujara
Cheteshwar Pujara's serene display ensured India had the better of day one, says Mike Atherton.
Last Updated: 23/11/12 12:59pm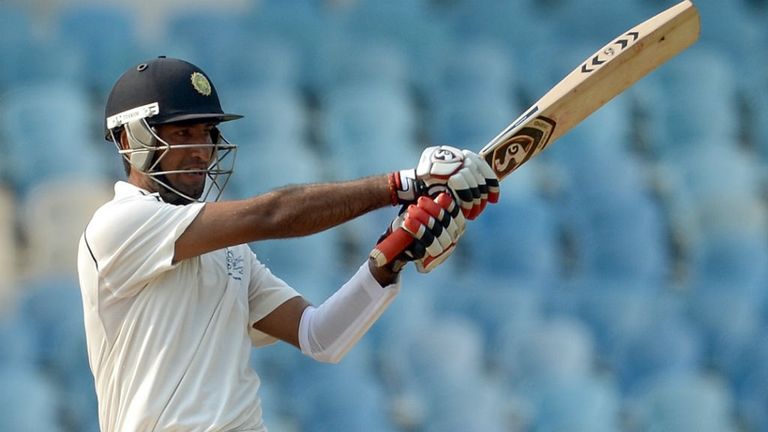 The India batsman has batted for almost 900 minutes in this series without being dismissed and his seventh-wicket stand with Ravichandran Ashwin saw the hosts recover from 169-6 before tea to 266-6 at the close.
Sky Sports expert Atherton felt England could take many positives from the day, but suspects the pitch will continue to suit spin bowling for the rest of the match.
And with India opting for three spinners, he says England's batsmen must step up to the mark if they are to capitalise on the good work of Monty Panesar (4-91) early on day one.
He told Sky Sports: "I don't think they'll be too unhappy. They haven't had a terrible day, but it's not quite as good as it could have been.
"They had India at 169-6 at one stage when MS Dhoni was out, so there was a real killer partnership at the end of the day between Pujara and Ashwin.
"The locals here, people who know the pitch like Ravi Shastri and Sanjay Mandrake who played here all their lives, think India have already got quite a reasonable score. They don't expect the pitch to die, as it did in Ahmedabad, and it will continue to spin and bounce.
"Therefore if India can get anything over 300 or towards 350 they think they'll be in a pretty strong position.
"The general consensus here is that India have got their noses in front, but it wasn't a bad day for England.
"It depends how the pitch goes. My experience here, which is limited, says that when you've got red soil like you've got in Mumbai then the pitch will break up and be good for spinners as you go through the game.
"But if it goes like Ahmedabad and dies and goes slow you should be okay to hang around and score a few runs.
"The key - and we seem to be repeating ourselves a little bit - will be England's first innings. If you do not get first innings runs here in the sub-continent and you're chasing the game from a long way out then you're dead and buried.
"But if England can be competitive on first innings then anything can happen."
Pujara will resume on day two unbeaten on 114 and Atherton says England's bowlers will struggle to find the technical weaknesses in his game - because he hasn't displayed any so far this winter.
"He looks superb," he added.
"I sit there watching him, thinking 'are there any flaws?' No doubt Mr Hussain can pick out some flaws but I can't, watching him bat.
"He looks so serene at the crease. He's got a beautiful temperament and he's very serene in the way he defends. He's brilliant off his legs and anything straight he whiplashes through midwicket.
"He plays spin superbly and gave one half-chance to James Anderson in the gully, but really has not looked like getting out. It was a remarkable performance from him.
"I was trying to tot up the minutes from him. It's something just short of 900 minutes now without being dismissed against England. He got runs in a warm-up game against them as well and has a habit and a liking of getting big scores."
Correct
England are yet to win a Test match when Panesar has been selected alongside Graeme Swann, but Atherton says the selectors were correct to bring in a second quality spinner.
And while he felt he was slow to get into his stride, his hailed his dismissal of Sachin Tendulkar as a "perfect moment".
He said: "He perhaps bowled not as well as he could at the start, but got increasingly better and it was a moment of brilliance to get rid of Sachin Tendulkar. He did pretty well to get four wickets.
"The fact that within his first eight overs he picked up two wickets - which is more than England's seamers had throughout the whole of the match in Ahmedabad put that selection into context.
"It's a pitch where you need two spinners. India have upped the ante and gone with three, leaving Umesh Yadav out and bringing in Harbhajan Singh, a man who's got over 400 Test wickets bowling spin.
"India's three spinners suggests it's a pitch where you need at least two. England have got two-and-a-half with Samit Patel and they needed Monty Panesar today, particularly with Stuart Broad just a bit below his best as well."
The second Test between India and England continues from 3.55am, Saturday, Sky Sports 1 HD