Mike Atherton fears India may produce flat pitches for the final two Tests
Mike Atherton says he fears that India may produce flat pitches for the final two Tests of the series.
Last Updated: 26/11/12 3:09pm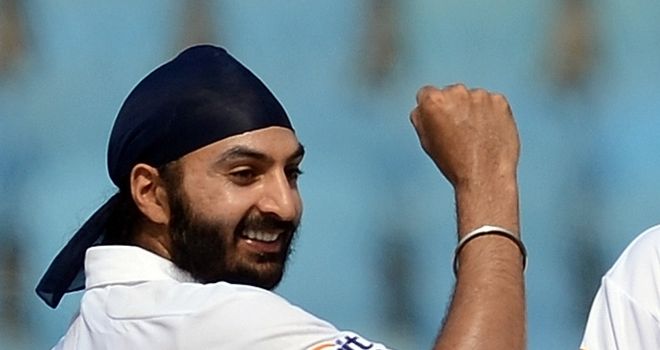 Monty Panesar and Graeme Swann excelled on a spin-friendly pitch at the Wankhede Stadium, taking 19 of the hosts' 20 wickets to help England secure a series-levelling, 10-wicket victory on day four.
As a result, Sky Bet have cut England's odds of claiming a first Test series victory in India for 27 years from 12/1 to 100/30 after the victory and Atherton told Sky Sports that India's skipper MS Dhoni and coach Duncan Fletcher have plenty to mull over.
"There's a week off: Dhoni and Fletcher will sit down and discuss strategy, I'm sure," he said.
"Will they ask for a rank turner again? It won't be so easy to get a turner in Calcutta as it is here in Mumbai. It's winter-time there, a little cooler; the pitch will hold together. It doesn't have the red clay and the red soil that we see here in Mumbai so it will be a different type of surface.
"I'm sure India will go back to a two seamer, two spinner attack - particularly if [Umesh] Yadav is fit - and I should think England would just bring in Bell for [Jonny] Bairstow.
"So India are now in a bit of a stew and as we look forward to the next two games. My great fear is that they are going to do a U-turn on their strategy and ask for flat pitches, which will detract from the brilliant cricket that we've seen here.
"We've only seen three-and-a-half days but the cricket has been outstanding to watch. I hope we don't get really flat pitches in Calcutta and Nagpur - I hope we get pitches that do something and provide the entertainment that we've seen."
Above
England's highlights included a 206-run stand between man-of-the-match Kevin Pietersen (186) and skipper Alastair Cook (122), which tilted the Test heavily in the tourists' favour.
Both players now have 22 Test hundreds to their name but it was Pietersen's 233-ball innings, which contained 20 fours and four sixes, that particularly caught Atherton's eye.
"Pietersen's innings was on a level above anything else I've ever seen - certainly in the sub-continent from an England player," he said. "I can't think of a better innings I've seen out here.
"In a funny way one of the most important things was that he faced quite a bit of Harbhajan Singh at the start of his innings; I think 14 of his first 18 deliveries were from Harbhajan. He'd been working on playing back-foot defensive shots in the build-up to this game because he's normally somebody who likes to think 'forward' all the time.
"Harbhajan, with his length and his bounce, just allowed Pietersen to stay on the back foot quite early and it just got him going. I'm not saying he wouldn't have done it had he faced Pragyan Ojha, but I just think it was quite a nice start for Pietersen - it got him into his innings after the horrors of Ahmedabad."
Combination
India resumed the fourth day on 117-7 in the second innings and could only muster 142 despite Gautam Gambhir's 65, as Panesar (5-61) and Swann (4-43) again held sway.
"Panesar was quite outstanding," said Atherton, "bowling at pace was the key thing on this pitch and Graeme Swann, at the other end, increased his pace as well.
"He got better and better through the game. I didn't think actually that in that very first spell, in which he picked up that wicket of [Virender] Sehwag and produced a great wicket to get rid of [Sachin] Tendulkar, he bowled as well as I've seen him bowl before.
"He didn't quite find his length but as he got into the game he bowled better and better.
"He's slightly fortunate, I suppose, that whenever he comes into a team because England want two spinners it's always because they perceive that the pitch is going to spin so he's always got helpful conditions to bowl in whereas Swann as the first-choice spinner often plays on seaming pitches and has to do a job for the seamers at the other end.
"But what a thing for England to have out here in India where all of the talk has been of spin - suddenly we are saying England have got better spinners than India.
"The stats tell you that 19 wicket out of 20 fell to spin for the first time since the late 50s and Jim Laker and Tony Lock, which is kind of regarded as England's greatest spinning combination and now you are looking at Swann and Panesar up in that league."
You can see live coverage of the third Test between India and England from Kolkata at 3am a week on Wednesday, on Sky Sports 1 HD.