Won for all: England excel in Mumbai
Our pundits analyse the key second Test performances
Last Updated: 26/11/12 4:25pm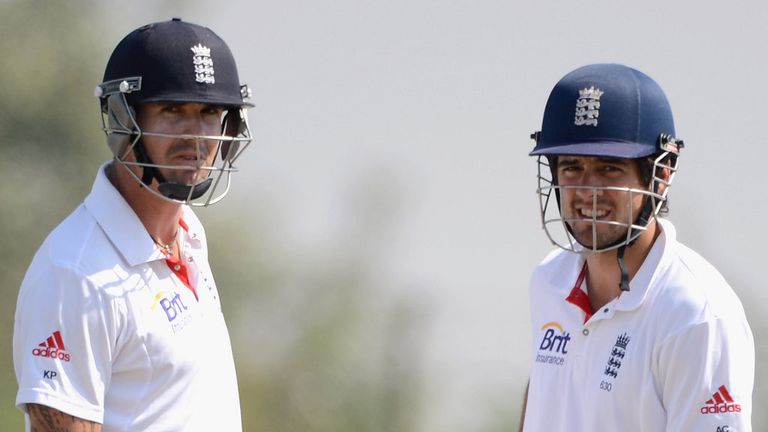 Kevin Pietersen took the man-of-the-match honours for his magnificent 186, but there were plenty of stand-out performances - not least Alastair Cook's century and 19 wickets combined from spinners Monty Panesar and Graeme Swann. VIDEO - England 'bossed it'.
Our cricket experts, Nasser Hussain, David Lloyd, Ian Botham, Michael Atherton and Nick Knight were all keen to have their say on where the match was won and lost - not to mention where the defeat leaves India, and Sachin Tendulkar's Test future in particular.
Check out their views below and then let us know if you agree with them or not - and why - by posting your comment on the message board.
Nass on Alastair Cook...
"It's not so much the shots and the runs that he got, it was how easy it was for him on this pitch. Just half a day later everyone was really struggling - it was a 'spitting Cobra' of a pitch. He looked at ease at all times on the surface even with rough outside his off stump. He looks in brilliant nick; he balance looks as good as I've ever seen it. He's in fantastic form.
"A few days ago I said that he's not a natural player of spin - which makes his performance even better. Someone like Ian Bell, I think is a natural player of spin. At times he lets you down but he plays spin naturally, as does Sachin Tendulkar. But Alastair is having to work at shots all the time; even at this late stage of his career with 22 hundreds, he's working on shots and he's getting better and better. He played the sweep and the shot over wide mid-on well in this game. He got a six and a little smile came to his face, so he's learning shots to play all the time."
Nass on Monty Panesar...
"Under pressure in the first innings, he got good players out and set the tone for the game. I know Swann backed him up and he's a very good bowler but Panesar set the tone by getting Sachin, Sehwag and Kohli out to make India 118-4 and put to bed all England's thoughts of Ahmedabad.
"At times he was unplayable; Graeme Swann said this was the best pitch to bowl spin on by a country mile. At times in that second innings - and I know Beefy's been a bit critical of the batsmen - but I wouldn't be too critical of the Indian batsmen in that second innings. I thought that a combination of a brilliant pitch to bowl spin on and two brilliant spinners - Panesar in particular - [won the game]. No-one would want to play Panesar on that pitch - it was turning, bouncing, some were skidding on with slip, gully, silly point and short leg. Every dismissal was in play. I thought he was absolutely outstanding."
Beefy and Nass on Panesar's partnership with Swann...
"Bowlers hunt in packs - it's a team effort: Lillee and Thompson, Lock and Laker. Swann and Panesar work together magnificently. I think Monty's more suited to the ball when it's newer - he's got those big hands and he gets them around the ball so the lacquer doesn't affect him as much. I think Graeme Swann is quite happy to wait until the 10th/12th over to come in on a wicket like this. It's about working together and applying pressure together. Swann and Panesar worked in tandem and India had no answer to it."
Nass: "I don't think playing second fiddle bothers him; he's not going to his hotel room tonight saying 'Monty's out-bowled me' or 'I should be the No 1 spinner' or 'Monty might get picked ahead of me'. Swann is a very honest sort of guy; he was honest about the batsmen - when asked why haven't you won more games when you two [Swann and Panesar] have played together, he said 'well, sometimes the batsmen have let us down'. He does turn it at pace as well. The one thing Shane Warne said when he saw Graeme Swann was that his greatest asset is that he turns the ball at pace."
Nass on DRS...
I'm wondering if this Test match might change the BCCI's mind about using DRS. It was actually [India coach] Duncan Fletcher who came up with the whole idea. Will he now be brave enough to go in there and say shouldn't we have it 'on these types of pitches and in these conditions?' India is a hard place to umpire - there are men around the bat, little inside edges are difficult to pick up - even big inside edges. I was commentating on the first innings and I thought one was absolutely plumb out lbw. I shouted 'that's out!' and it hit the middle of the bat. So it's not easy!
"The last two games have made Aleem Dar look a poor umpire when he's not. Now, whether he's become reliant on DRS, we'll have to see. The players have had to change their techniques a little bit, so whether with DRS he thought 'I'm in a little bit of a comfort zone, it will be reviewed' or whether it has put him under more pressure, I don't know. But umpires are like players - they go through form and Aleem Dar is having a poor series."
Beefy on Tendulkar's future
"I'll be prepared to gamble that Sachin Tendulkar will get a hundred in one of the next two Tests because I think that's the kind of player he is. We are talking about probably the best player - in modern times, certainly - to have played the game. The records are there and he goes on and on and on. India would be mad to leave him out at this stage, absolutely mad. That's my interpretation of it.
"Sachin will do exactly the same as [Australia's] Ricky Ponting. Ricky is man enough to make the decision [about when to retire] - and he will make it, he'll know when the time is right and Sachin will do the same. Rahul Dravid did it, as did Sourav Ganguly and all the great Indian players, and I think the time will come when the greatest of them all makes the decision. He will know when. It might be the end of the series but I think India have to give him until then."
Beefy and Nass on the third Test...
"Kolkata has always been a high-scoring ground. I know they've changed it a bit now, they've revamped it, but India have scored 600 in their last two Tests there. I don't have a problem with Ian Bell coming back. No-one else has done anything else. Samit Patel isn't going to bowl very much, if at all, as he didn't in this game and, for me, I'd play Bell even if you play him down the order at six. I'm quite happy with that if you don't want to change the top. The bowling is the problem. On that kind of wicket you've got to have someone with genuine pace - that's because you can get it full and reverse, which it will do because it scuffs up over there. Stuart Broad has done a great job over the years but he's out of form. I'm not sure he's match fit.
Nass: "England were a side under pressure yet they've come here and won by 10 wickets so you can never judge what the future has in store for us. I think it will be a low, slow pitch; I think it will be hard work for the bowlers. England have still got some decisions to make - Ian Bell comes back into the side, for me. I know that's not for everyone. They've got to sit Stuart Broad down and ask him 'where are you going, Stuart?' I wouldn't write Stuart Broad off because when you do he comes back and shows you what he can do, but they need to have an honest conversation with him about where is at the moment with his bowling. They need to get Finn fit and get him into the side. So England still have some decisions to make but better to make those decisions when you've just won a Test match by 10 wickets."
You can see live coverage of the third Test between India and England from Kolkata at 3am a week on Wednesday, on Sky Sports 1 HD.