South Africa's fight makes them Test's best, says Robert Croft
South Africa's ability to fight to the finish makes them worthy of Test cricket's No 1 ranking, says Robert Croft.
Last Updated: 03/12/12 11:59am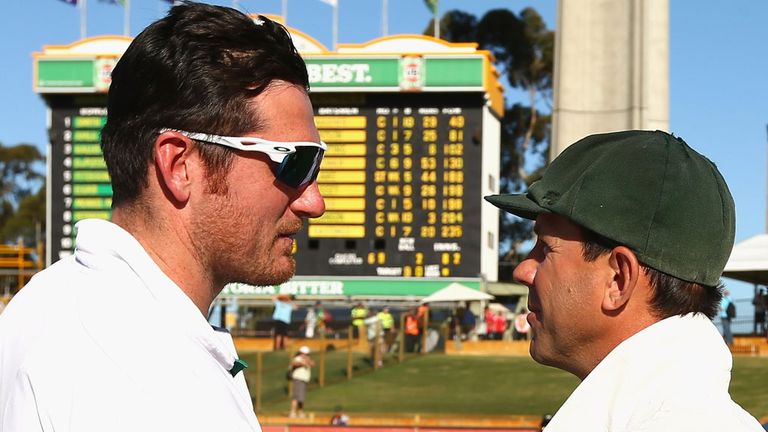 The Proteas remain top of the pile after securing a series-clinching 309-run victory over Australia on the fourth morning of the third Test, in Perth.
The tourists wrapped up a commanding victory despite being bowled out for just 225 in their first innings after choosing to bat.
But just as they showed great resilience to draw the second Test, so they fought back at the WACA bowling Australia out for 163 and then racking up 569 in their second dig.
"That, for me, sums up why they are No 1 in the world - because they weren't having it all their own way throughout this series," former England spinner Croft told Sky Sports.
"A lot of sides that we've seen recently have handed it back when they've been challenged and they haven't been able to match up.
"At Adelaide, South Africa were right up against it and nobody really gave them a prayer of saving that Test and emotionally they came to Perth in a better place than Australia did.
"They fought hard, they got through it and when they were on top - that pod of three quickies that they have, playing at Perth, they were breath-taking, they were brilliant, and they won the game in the end for South Africa."
Momentum
Former England all-rounder Dominic Cork highlighted the combined potency of South Africa's seamers as crucial to South Africa's series win - Dale Steyn and Morne Morkel taking 30 wickets between them in the series, with Vernon Philander providing strong support in his two Tests.
But he told Sky Sports that even their efforts might have been in vain had Francois Du Plessi not produced an heroic knock at Adelaide to stop Australia going 1-0 up in the series with one to play.
"Their attack was very good on quite a good, flat, true wicket - normally you would see batsmen really flourish in those sorts of conditions.
"But it wasn't the fact that they took wickets, it's how they bowled; they bowled with consistency, they bowled with aggression when needed and they made the batsmen play all of the time.
"I've watched all three Test matches. It's about momentum: I thought South Africa would win this Test series a little bit easier than they have done, but I think Australia fought back.
"The turning point for me was Francois Du Plessis; that one performance from that one guy in that second Test in Adelaide took the series away from Australia, because they believed they were going to win that Test match and that gave that group of players the inspiration to go to Perth and perform like that."
Rebuilding
Ricky Ponting's final innings in Test cricket ended in single figures when he was caught at slip off Robin Peterson for just eight - but the former Australian skipper still finished with an average of 51.85 from 168 Tests.
Michael Clarke, who replaced Ponting as skipper, described Ponting's exit as "a sad day for Australian cricket" and Croft told Sky Sports that the man at the helm now faces an incredible challenge to improve Australia's fortunes with so few senior players in the ranks.
"It is very tough for him," said Croft. "Australia are in a big rebuilding stage because they've got to find new batters now and even some of the younger batters coming through haven't cemented their place in the team.
"There are question marks over their bowlers. Yes, they have potential, but we are not seeing a heck of a lot of performance. Clarke's got a major rebuilding job to do."