The Overview: Day 3
Trott's return to form, England's solid preparation and Cook's bizarre dismissal... Get the pundits' take
Last Updated: 07/12/12 1:40pm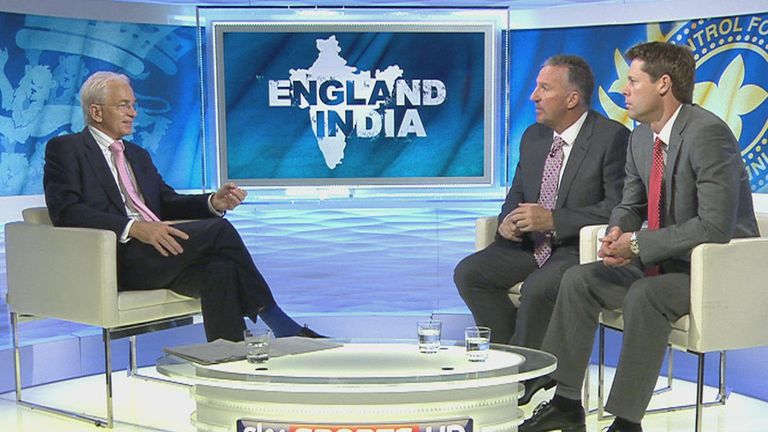 The visitors ripped through India's batting line-up on day one and, so far, are serenely chasing down India's tally of 316, reaching 296-1 at lunch.
They were given a let-off, though, when languid India seamer Ishant Sharma spilled a caught-and-bowled chance that would have sent century-hogger Alastair Cook packing, and the problems for the home sides continued to mount...
MIKE ATHERTON: "The reaction from Ravichandran Ashwin to the dropped catch said it all; he was down on his haunches, hands on knees, realising that having bowled at Cook for forever and day, he might have to bowl at him for another day! Caught and bowled chances are never easy and Sharma is a tall man, maybe his hair got in his way, but it was as easy as you were going to get.
"And where does MS Dhoni turn now? There is a bit more happening with the pitch - one delivery jumped up to Cook when the new ball was taken, one kept low from Zaheer Khan and there has been a bit more spin for Ashwin - but they are all positive signs for England."
India's shoddy fielding came off the back of a tepid first-innings batting display, but there was a difference in opinion amongst our esteemed pundits about why the hosts faltered with the willow...
ATHERS: "We talk about first-innings runs with England time and again but India didn't do what they should have done and they have got themselves to blame for a lot of the dismissals; Virender Sehwag's run out, Gambhir Gambhir's nick, Yuvraj Singh's lazy hit to cover. England bowled well but a lot of those wounds were self-inflicted. India now look demoralised and somehow make their situation look even worse because of their standard of fielding; they are not as athletic, agile or interested as other teams.
NASSER HUSSAIN: "I disagree with Athers somewhat because I think England bowled and fielded brilliantly to get India out and now they are doing what we have asked them to do in the subcontinent for years and something they didn't do in the UAE against Pakistan: get first-innings runs, and as I said yesterday, if the top three set it up, the middle order will come in and increase the tempo."
The methodical Jonathan Trott got back in the runs on Friday morning, playing in his usual stubborn fashion to notch 87 before he clipped behind to Dhoni off the twirl of Pragyan Ojha. Could the Warwickshire man's early toils on the tour have been down to superb bowling or exceptional fielding? Not so, says Athers...
ATHERS: "I think Trott was beginning to get a bit twitchy; he changed his bat sponsor before this Tour and as he is a man of habit, I don't whether that has played on his mind. He'll be pleased to get a few runs under his belt and he looked comfortable when India took the second new ball and it came on to the bat. He looked at home when they bowled wide to him as well."
NICK KNIGHT: "Trott has struggled to start against spin; he has been smothering off stump with his movements across the crease but today his feet were positioned outside the leg stump and he presented the bat. He has not come across the crease, which if the ball turns, gives short leg/leg gully a chance. He has basically said to himself: 'I'm not getting success so I have to work on something different and not come around the ball'. Jonathan has gone into the nets and adjusted his technique, ever so slightly."
NASS: "We have to be careful not to pigeonhole someone and people say he doesn't play spin as well as the quicker stuff, but Benedict's stats show he averages about 66 against spin and 40-odd against medium pace and quick stuff, but the moment they took the new ball he got his fluency and stroked it nicely."
NICK: "If you look at his dismissal in isolation, you will say he didn't need to play at it but at this phase of play it is pretty difficult to play spin, because some are turning and some are scooting on and even Kevin Pietersen has struggled to know which balls to play at."
In a sea change from the first Test in India and virtually all of their trip to the UAE in the spring, England look like accumulating a mammoth first-innings total, and they will keep on doing that, says Sir Ian Botham, if the score-hungry skipper remains in form...
BEEFY: "I think it is still a mystery to everyone why England capitulated so easily in the UAE; Pakistan spinner Saeed Ajmal bowled some unorthodox deliveries but there was no reason they should have played as badly as they did. I think they have had a long look at themselves, particularly from the front with Cook, who has developed his game so much in the last nine months. He now has the shot over the top which acts as an escape valve; he can now put the fielders back and keep the scoreboard ticking over - and if he keeps getting big scores the team will get big scores."
NASS: "The pitches are better in the UAE; Indian tracks are great to bat on, while the pitches in the UAE looked old and tired; and Ajmal, say what you want about his action is the best spinner in the world and a lot better than what we have seen from India, and the third thing going in England's favour is preparation. They went to India a lot earlier, played a lot of warm-up games and players got a shed-load of runs; Andy Flower admitted he got it wrong in the UAE preparation-wise and he has put that right this winter."
India coach Duncan Fletcher always has plans and he would have had a distinct one for Cook. Shame for the hosts that it's not working, then...
NASS: "Fletcher would have said to the Indian bowlers to pitch it up to Cook so he couldn't cut and pull, but he has played the ball down the ground really well and driven superbly. He has played his shots in the classic England v which not his typical v, while he has changed against spin, too; he is playing Ashwin right out in front and using his feet. He wasn't picking Ajmal so he couldn't charge him and so he sat back and cut, but because he is picking Ashwin he is playing beautifully."
BUMBLE: "Cook has 23 Test hundreds now, but with Pietersen just one behind, it will be interesting to see whether the rock-steady play of Cook and the debonair, box-office play of Pietersen generates more hundreds."
Oh no, disaster. Cook is run out, for the first time in his career, by a lethal throw from Virat Kohli after failing to touch down his bat at the non-strikers end when on 190...
ATHERS: "I suppose Alastair is allowed one lapse of concentration in just over 26 hours of batting! Knowing Cook, he will be pretty disgruntled with himself, but Kohli, who is the one outstanding fielder in the Indian side and a real livewire, whizzed it in and Cook, trying to take evasive action and get out of the way, was short of his ground."
BUMBLE: "I love the fact that quirky things like this happen in the game and I'll read you the law: 'The batsman is not run out if he has been within his ground and subsequently left it to avoid injury'. The key thing was that Cook had not grounded his bat, so well done to umpire Rod Tucker for noticing that."
England closed on 509-6, with Pietersen (54), Samit Patel (33) and Matt Prior (40 not out), to extend their lead to 193, and Beefy and Nass were in agreement as to which team will be buoyant...
NASS: "The Indian bowlers will get up thinking: 'Crikey, we've still got to bowl at England's batsmen, the Indian batsmen will get up thinking: 'Crikey, we're still in the field'. Definitely England's day."
BEEFY: "Dhoni will have plenty to ponder tonight and will be watching that wicket because it is starting to turn, bounce and get uneven, which is what England need. They will be a happy team."
Catch day four of the third Test from 3.25am on Saturday on Sky Sports 1 HD.
Don't miss any live and exclusive cricket coverage this festive season. Click here to visit Sky Sports' Festive Calendar.