The Overview: Day five
The end of Ashwin, a slight wobble and Bell back to form...our pundits have their say on the final day...
Last Updated: 09/12/12 4:56pm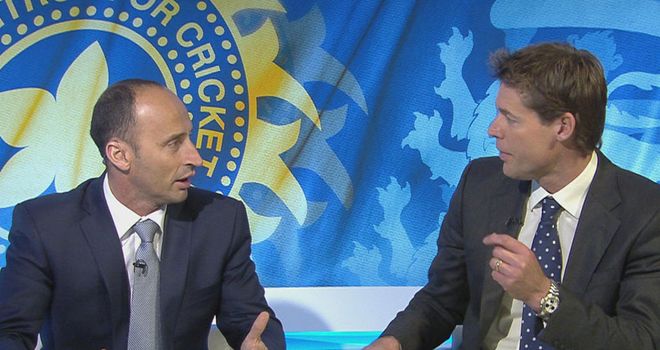 After a superb performance from England's bowlers on day four of the third Test, they were frustratingly unable to end India's resistance.
But, with the hosts ahead by just 32 runs with nine wickets down, and England victory and 2-1 series lead was surely inevitable.
Nick Knight foresaw no problems ahead of play - although he conceded he would like to see India remain at the crease a little longer so Ravichandran Ashwin could get a well-deserved century for his battling display on Saturday.
Knight: I obviously want England to win but I thought Ashwin was outstanding yesterday, 83 not out. He held England up. In truth none of us thought we'd be sitting here at the start of day five, so congratulations to him. He has a Test match hundred to his name, so he knows how to get to three figures and it would give him and India some hope going forward.
Ashwin moved into the 90s with consecutive fours off Steven Finn in the first over of the day, but it took just four Jimmy Anderson deliveries at number 11 Pragyan Ojha to end the India innings and leave the all-rounder stranded just short of his second Test ton.
Bumble: Ashwin has played splendidly. England wanted a go at Ojha and Anderson has clipped the bail. It must be the win! I've never seen that before! India are all out, leading by 40.
Nasser: That is the original 'top of off-stump' that! Just clipped it and off it went. It was a very good over - or four deliveries - from Anderson. Now England need 41 to go 2-1 up after a great effort in the field yesterday.
Alastair Cook and Nick Compton had knocked off the 58 runs needed to win at the end of the second Test without trouble. With just 41 to get this time round surely they wouldn't have any problems at all...
Nasser: Gone, gone, gone!
Alastair Cook was stumped off Ashwin to make it 4-1 and then Jonathan Trott was trapped plumb in front by Ojha leaving England on 7-2.
Bumble: The fat lady is back in her hutch!
And next over, with Bumble and Nass reminiscing about England's 46 all out against the West Indies...
Nasser: England are 8-3!!
Bumble: India are loving it. There's a definite knick and Ashwin's got 2-for. England are rocking and they still need 33!
Nasser: Ian Bell, a man completely out of nick comes to the crease...
Knight: This wasn't the plan!
Beefy: This is a cunning plan from England. They're pretending not to be able to play spin well so they get a turning wicket in the next game...
However, a cautious Bell took a few balls to play himself in and then took the attack to India, scoring a run-a-ball 28 with Compton providing steady support at the other end as England reached their small target in just over 12 overs.
Knight: Ian Bell finishes it off with a little cameo. He'll be delighted with his performance but England as a team can be very proud of themselves. That was another outstanding performance by England and they go 2-1 up in the series. It's been an outstanding all round performance from England and there are now lots of questions for MS Dhoni and his team - it has been another performance by them.
Athers: There would have been some red faced journalists if that had gone down the pan this morning, but there was never really any danger.
Beefy: All credit to England. 1-0 down and now 2-1 up. Where do India go now? England can have a nice day today, enjoy the moment have some r&r round the pool this afternoon. The travelling England fans will party.